Death Valley National Park Hike - January 2021
After windsurfing at Mohave Lake with Frank Kaplan for about a week, Frank split for home and I went to Death Valley National Park. I had a couple of hikes planned but only hiked this one due to the threat of snow accumulation on the way home to Poulsbo. WHAT A FANTASTIC HIKE! Slot canyons, painted hills, hoodoos, Borax! I did this loop in a clockwise direction. Started from the Zabriskie Point parking area, then hiked down Gowen Gulch, then along the west edge of this area by Badwater Rd, then back via Golden Canyon with a side spur to the base of Red Cathedral. In total it's about 7.5 miles. Temps were in the mid 50s when I started and peaked probably in the low 70s. Perfect hiking temps. Clear blue skies with the sun low it being January. Started at about 9:30 AM. Didn't encounter anyone else until I reached Golden Canyon. Some day I'll return and do the Mosaic Canyon trail and others. But for now, what a hike!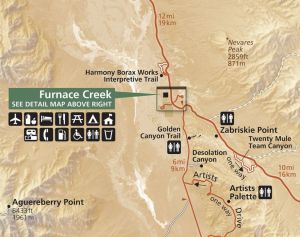 Overview map showing the Zabriskie Point parking area, where I started.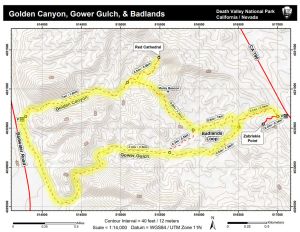 Detailed map showing my route in yellow.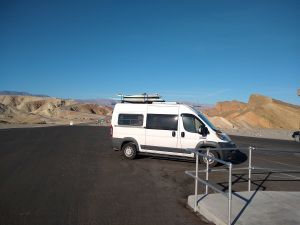 My van in the parking area.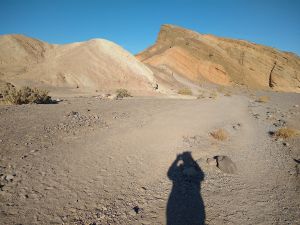 Just starting out, heading towards these upturned, layered formations.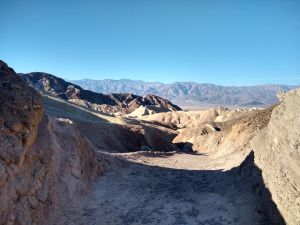 Shortly after starting, you go through this little passageway and see these amazing painted hills with mountains far in the background.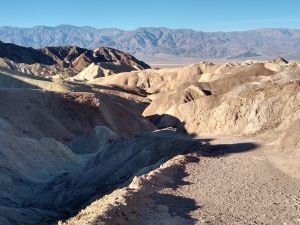 I was so overwhelmed by seeing these that I sat down and just looked for about 5 minutes. I never do that. It was really incredible.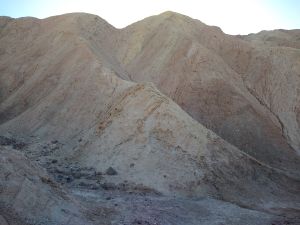 Heading down towards Gowen Gulch.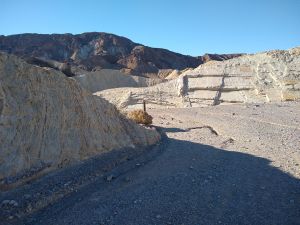 In Gowen Gulch. Zoom in on those white slabs flanking the sandy bottom. I felt compelled to touch them.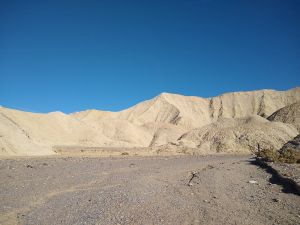 Looking back up the gulch.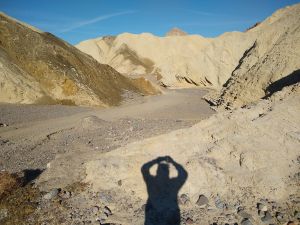 Fun stuff ahead.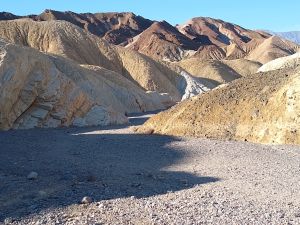 Oregon has some great painted hills, but these had a neat chocolate color to them.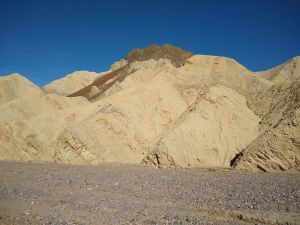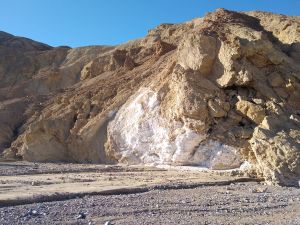 That white stuff is Borax (I think). You can break off pieces that crumble lightly in your hand.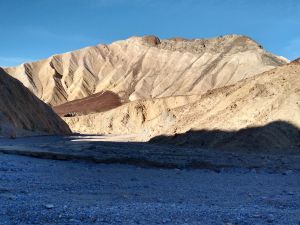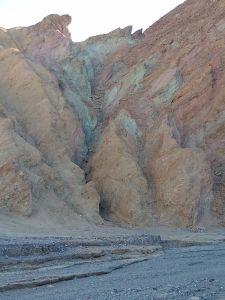 I liked the green/red contrasts of these rocks. Copper? Iron?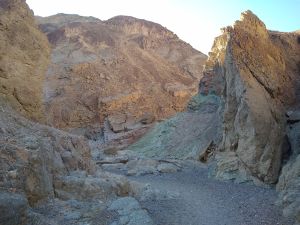 It was really a geological playground.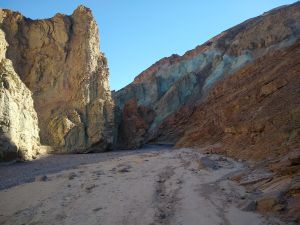 Mysterious passageway to go through.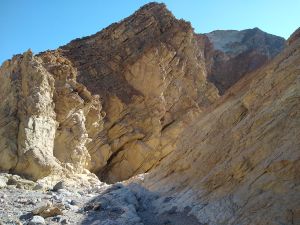 About to encounter a drop off.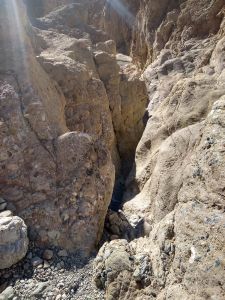 Drop down into a slot canyon.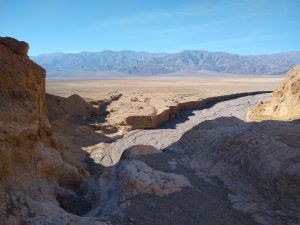 This is the west end (bottom of) Gowen Gulch where it comes out to the valley floor. Must be fun to see this in a heavy rain.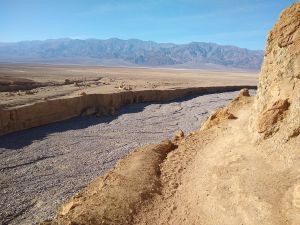 The trail veering right out of the gulch.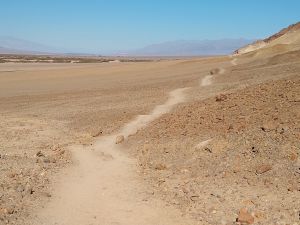 Here's where the trail flanks the interesting rock formations, and heads to the Golden Canyon parking area. I think it's a little over a mile on this section.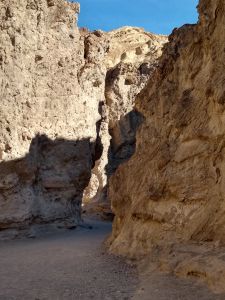 After the Golden Canyon parking area you head up a slot canyon/wash. Slot canyons are so great.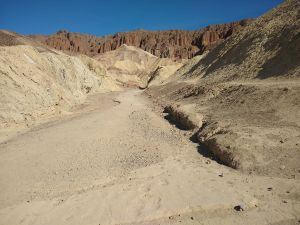 Heading up the wash with Red Cathedral in the background.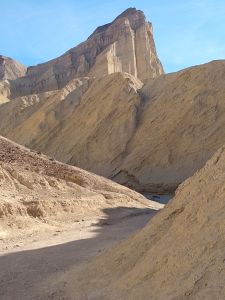 This peak must have a name, don't know it though. Spectacular.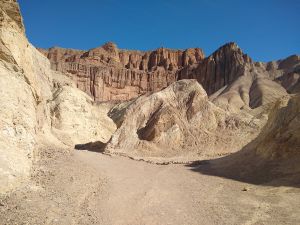 Getting closer to Red Cathedral.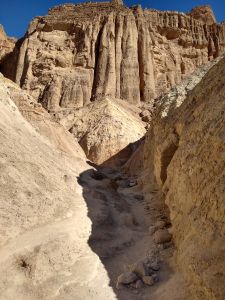 The side spur gets up to the base of Red Cathedral, but it entails some crawling through a tight slot canyon.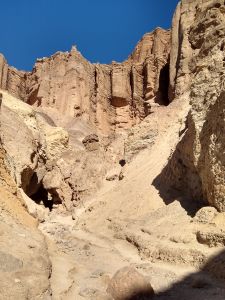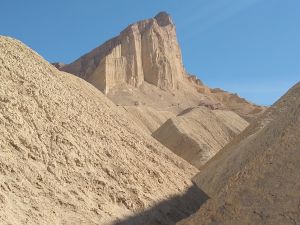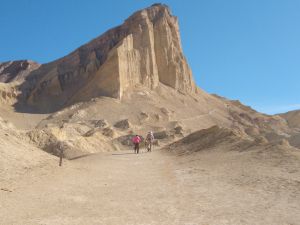 Hikers shown for scale. At this point I started encountering other hikers. Not too many, and most were really friendly.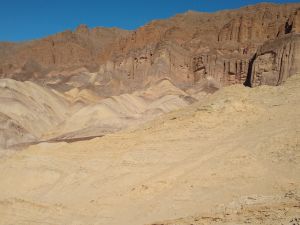 Looking back towards Red Cathedral.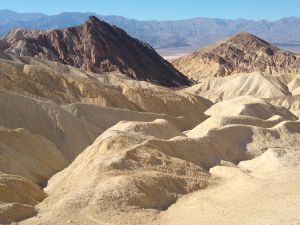 Painted hills, mountains.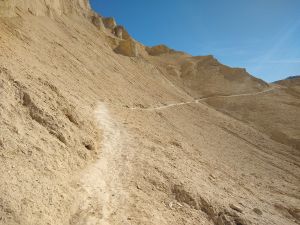 Gowen Gulch was all downhill, Golden Canyon was mildly uphill, but then you have to make up the elevation loss here.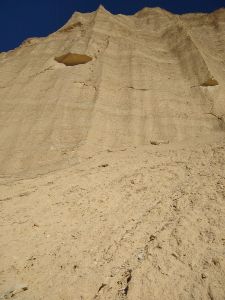 Looking up at that sharp peak from its base.