Joshua Tree National Park Hike - January 2021
After windsurfing at Mohave Lake for about a week, Frank Kaplan and I set out on this day hike in Joshua Tree National Monument. I've seen it referred to as The Grand Loop. Best done clockwise, it's about 7.5 miles long. There's an inner loop called The Maze Loop, but this one lengthens that hike by including the North View Trail and the Window Loop. The parking area is small, and we barely squeezed in our 2 Promaster vans. We were warned by rangers that there's a reason why it's called The Maze Loop, and that people get lost there. I actually found the trails to be well marked and easy to follow. Some parts are sandy washes, but it's easy to follow footprints to stay on track. It was cloudy and in the low 50s when we started. That's actually a great temperature for hiking. I wore a hoodie, jeans and hiking boots and felt appropriately clothed the whole time. Even had my hood up for some of the time. Sunlight for dramatic lighting on the boulderscapes would have been nice. Maybe I'll be back some day in better light.
The vegetation there is pretty spectacular. Amazingly pink barrel cacti. The joshua trees themselves were pretty cool, also other cacti and yucca plants. The boulders were pretty surreal at times. Fun trail to hike! Good views of surrounding valleys. Frank was having trouble with feet and knees, and decided to bail on the hike, and the rest of the trip. So at the fork where the North View Trail connects to The Maze Loop, we said our good byes and he took a right and I took a left. I haven't done much hiking alone, and it was really nice. Incredibly quiet. Would do it again.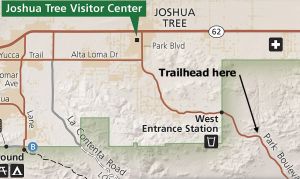 Overview map showing location of trailhead. It's on the north side of the road at the top of a rise about a half mile SE of the West Entrance Station.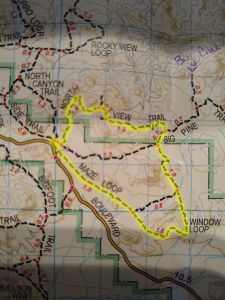 Yellow highlight shows The Grand Loop.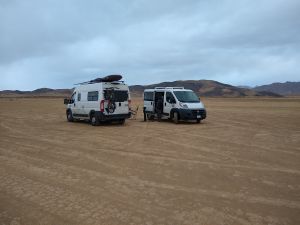 Our vans parked on a dry lake bed on BLM land a couple of miles north of the park. A ranger warned us about camping there - human waste, people parked where they shouldn't, people shooting guns. A nice young guy outside of the ranger station assured us that it was totally fine to camp there. It was. We had no trouble whatsoever. Super quiet too. To get there, go east on Rte 62, about 3.5 miles east of the center of the town of Joshua Tree and turn north on Sunfair Rd. Then go north 2 miles and turn east on E Broadway. Go 1 mile east on E Broadway, passing the solar panel farms, until you encounter a line of phone poles running north-south. A crude dirt road goes underneath the poles. This is Cascade Rd. Go north on Cascade Rd. until you see tracks forking off to the right to the lake bed. Camp there on the lake bed.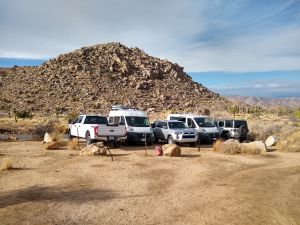 The trailhead parking area.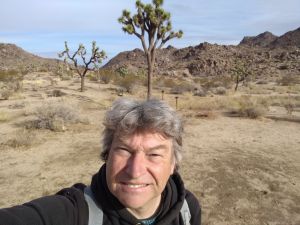 Moi at the beginning of the hike.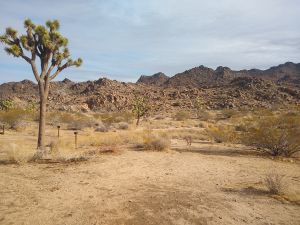 Looking north towards the trail beginnings.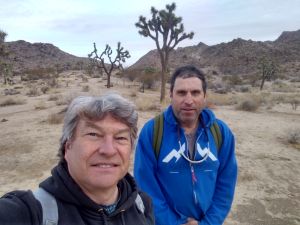 Frank and I.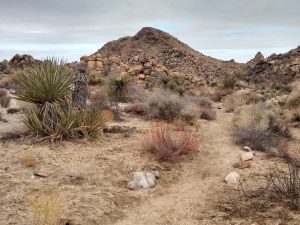 Starting out on the North View Trail.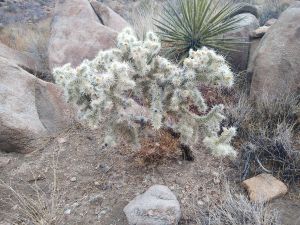 Pretty white cacti.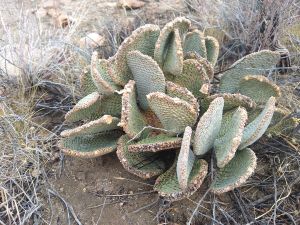 Zoom in and look closely at the texture of these cati leaves.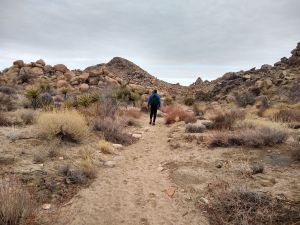 Frank on the North View Trail.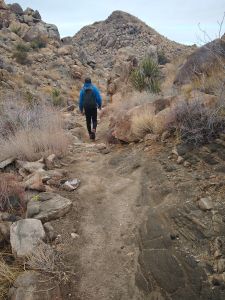 Frank again.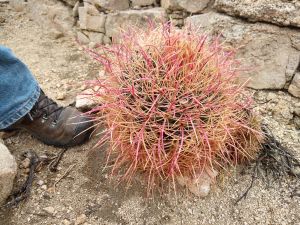 Pink barrel cactus. There were many that were much pinker that this one.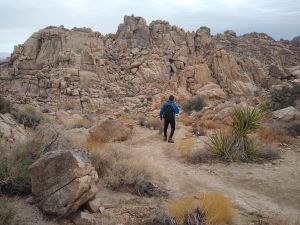 Approaching some boulders.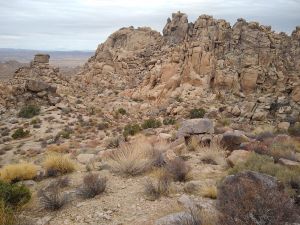 The boulders were very cool, but I can't help say that I thought they'd be more exotic.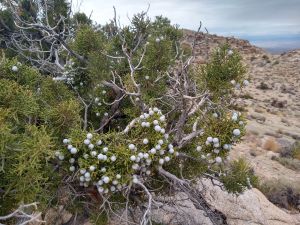 Close up of a juniper tree.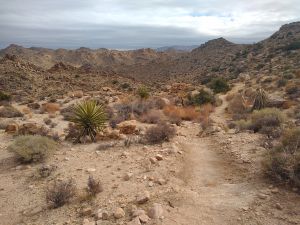 Fun trail to hike on.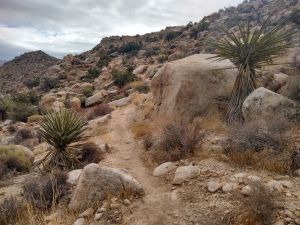 Yuccas and boulders.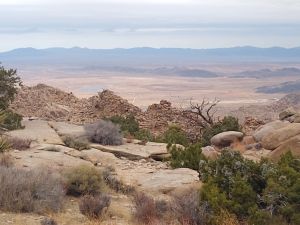 The valley floor to the north. The dry lake bed where we camped is visible.

Pink rock with green center.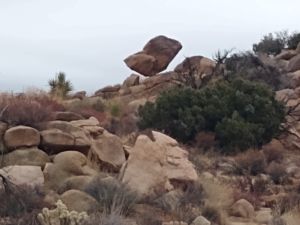 A bizarrely balanced rock. It was about as big as a VW beetle.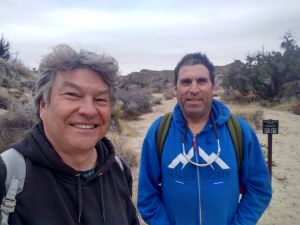 Departing shot, where Frank went right and I went left.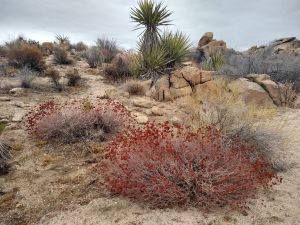 These red bushes were pretty cool.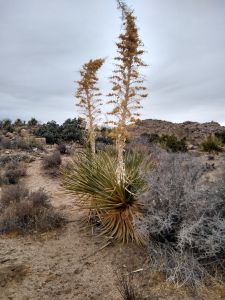 Flowering yucca.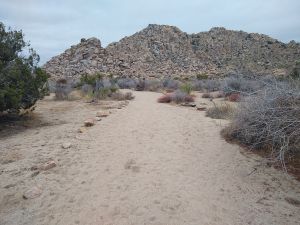 Much of the trail were like this sandy wash. Not too bad to hike on.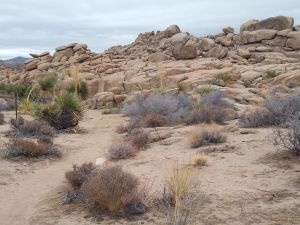 Boulders, boulders and more boulders.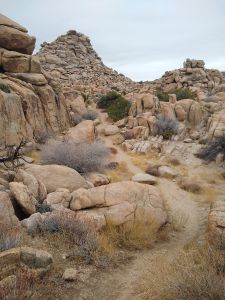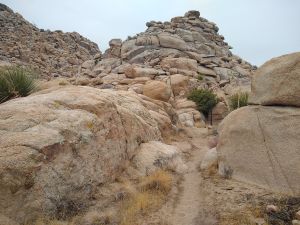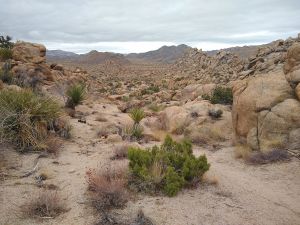 Heading south now.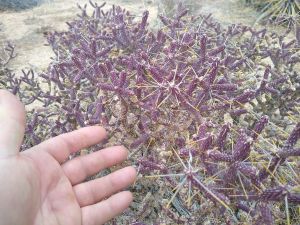 I liked these purple cacti a lot.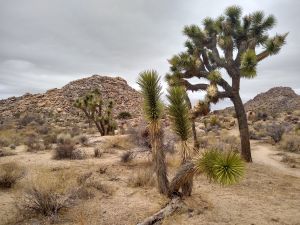 Joshua trees.

More purple cacti.