Joe Kochanowski's Homebuilt Bents
From Joe:
"My goal is to build and ride a fast practical bent with crash protection, weather protection and some cargo capacity. I realize that there will be more than one bent design much like there are more than one type of car available at any used car lot. I have built more than 50 bents in the past twenty years in my search for a better bent. My current collection of bents is more than 25. I also have a large collection of used bike junk, tools, and building materials that I have accumulated. I am not married so I can do things like overhaul a car engine in my living room without anyone complaining. I do not have a busy schedule like everyone else in town seems to have except for Cannonball, a yearly bike race from Seattle to Spokane. My flagship bent is a bent streamliner called the Moby that was first raced more than twenty years ago. It has been made road worthy and can reach almost 50 mph on flat roads and cruises at 35mph all day. I studied at an art school and learned some good work habits but am not an expert at math. I have worked at a bike shop for most of my employment, but now I work at a job that allows me to do more daydreaming."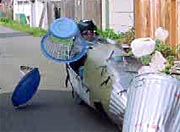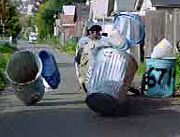 Videos of Joe performing the crash test with his Moby bent.
---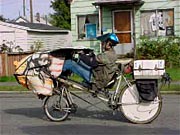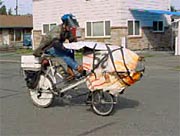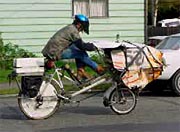 Videos of Joe changing seating positions as he rides.
---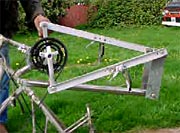 Video of Joe's semi-linear drive. Note the pedals mounted on the horizontal aluminum bars.
---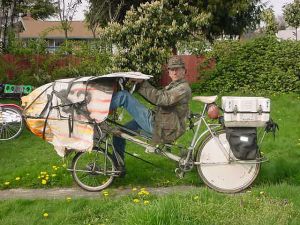 The two position bike, Joe seated in the recumbent position.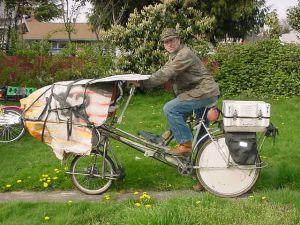 Seated in the wedgie position.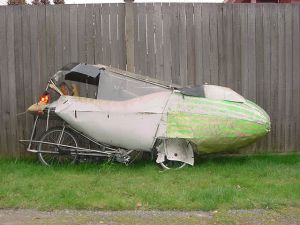 This is the bent that replaced my two position bike for commuting. It was better because it has complete rain protection that would keep my whole body dry warm and clean in the rain. I could also open the fromt of the canopy for better vision and ventilation. It is also self centering while it is moving in crosswinds up to about 35mph. It is now obsolete since it has too much weight on the front 16 inch wheel despite having front and rear suspension. It has some lightweight rain proof cargo capacity in its nose. Good ramming capacity in traffic. I hate this bent and do not ride it anymore.
Seated in the wedgie position.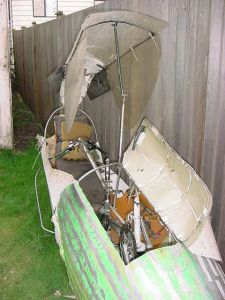 Access doors to nose cargo area and crank area for easy maintenance.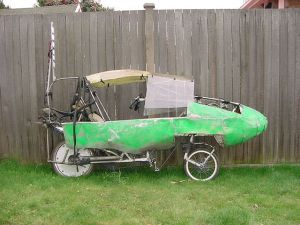 "Fifty percent" bike with canopy open in position for best vision in rain for rider. Front fairing was designed to be very small. The pedals would rotate outside of the fairing in an attempt to keep the leading edge of the vehicle as small as possible. Chassis is half steel and half stainless steel.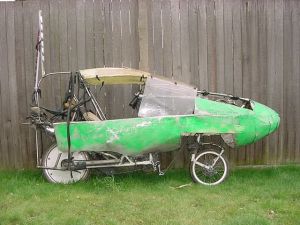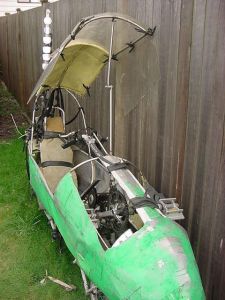 Moby # six Monster bent with a clean flight record where no cars dare to challenge its place on the road. Its so big and menaceing that everyone gets out of its way. Picture of canopy is missing since we have had the dryest winter here ever. Roadster configuration. This is my current wet weather commuter. The chain stays very clean since ther is no way anything from the front wheel can get on the chain. It also has some chain guard plates that keep some crud from the rear wheel from accumulating on the chain. The body and chassis are one piece stainless steel tubing. This is how I should have been building every bent, just like my Super Seven. This bent is not fast since the nose is dirty. Lack of time prevents me from making the nose clean. At 150 pounds unloaded it does not climb hills very fast either. But nobody is ever going to steal this monster since it is only for one size rider and is not easy to ride since it is heavy. It has excellent rain protection. cargo capacity and ramming capability. It is very stable on rough roads due to its long wheelbase, low seat height, suspension and light weight loading on the front wheel. 26 inch rear wheel and 20 front. 81 inch wheelbase. Seat height is low enough for rear landing gear-hands.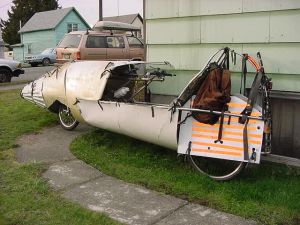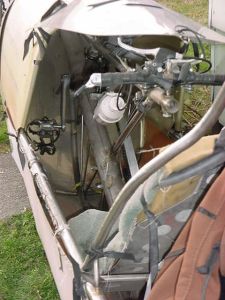 Moby #six interior Bulkhead between front wheel and cockpit keep rider dry. Chainguard prevents blackleg.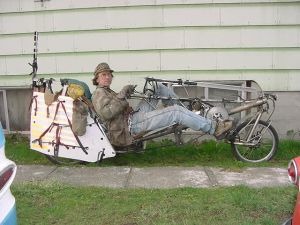 Moby #five. Unfaired moby bent with stainless steel chassis and suspension. Goes for light off road and rough roads. Good cargo capacity on tail.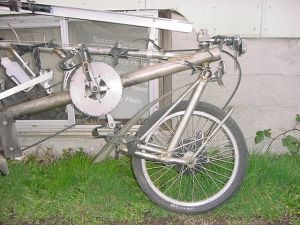 Suspension on #5.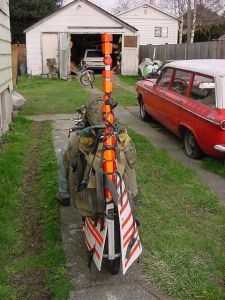 #5 tail reflectors lit up by camera flash.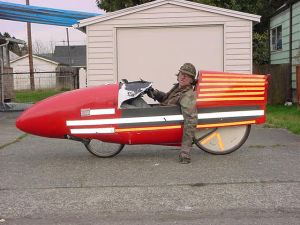 Red bike with rear landing gear down.left arm. Most recent streamliner. Clean nose with flat wrapped tail and sides. 28 mph cruising speed. 41 top speed. 20 inch front 700c rear four different people built this bent.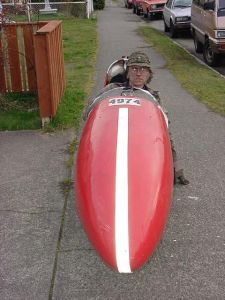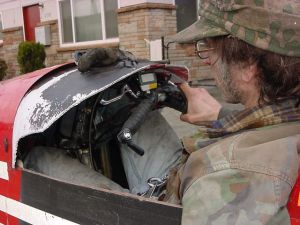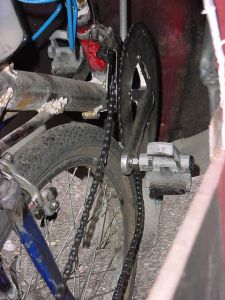 Red bike wheel chain interference. This is still a roadworthy bent. It made from seattle to Portland and return last year-400 miles with no problems.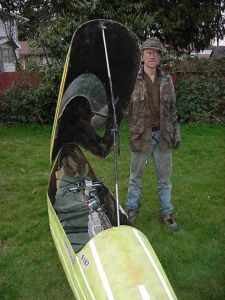 Original moby with canopy open.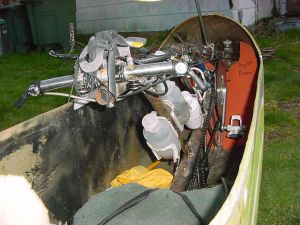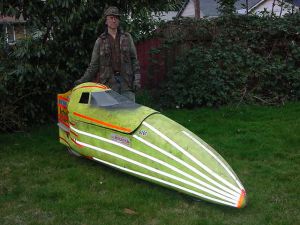 This is what a good bent looks like. It is a clean aero shape. This bent has a top speed of 50mph and a cruising speed of 35 on flat roads. Riding this bent is like flying a British classic like a Spitfire or Hurricane. It is a piece of bent history. It was raced in the 80s with a good record of wins. It is very stable in crosswinds and moves in a straight line unlike swb bents. I built a stronger chassis to make it more roadworthy. There are no front landing gear doors. It uses rear landing gear only-hands and arms. Despite this problem It is still roadworthy. I have commuted a few times with it and passed a lot of cars. It holds my fastest time for getting to work.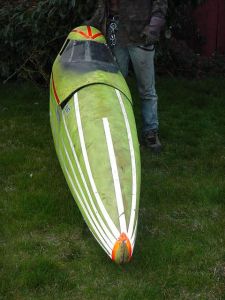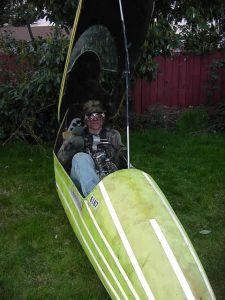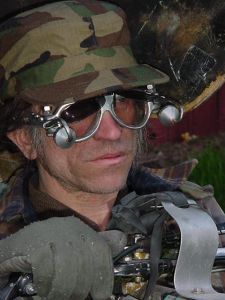 Moby "helmet" There is little room for a helmet inside the low canopy just like a WW2 fighter plane. I am more comfortable with a hat that has some foam sewed into it.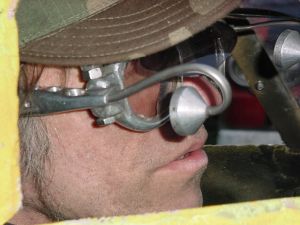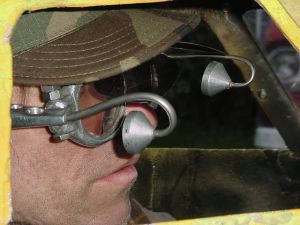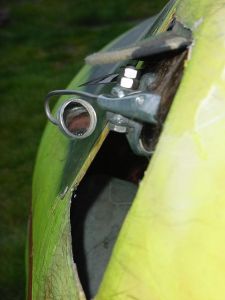 Rear view mirror mounted on glasses of moby rider. With the canopy closed there is no other way to see backwards.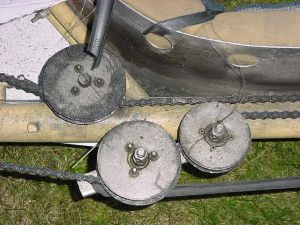 Chain pulleys just like the ones on a tour easy except much larger. This uses a sliced innertube for a spring. My suspension and some body panels use sliced innertubes. I still think the chain management like a Tour Easy has is the best way to go. There are none of those complicated internal hubs, and the bike will still run without a rear derailleur.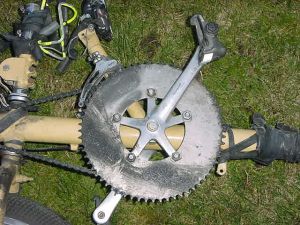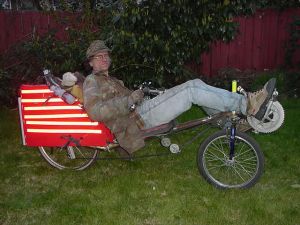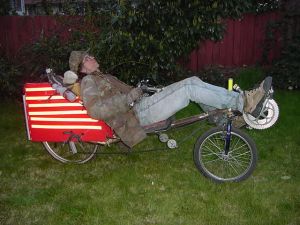 This my newest bent. This is the position that I found that climbs hills better that any other bike. I am laying almost straight and pulling on the handlebars. I call it the deadlift position. I can push more than twice my body weight with one leg. I am currently looking to build a moby style bent with this position. It should climb hills well and also be more stable in crosswinds since it will have a shorter height. This picture shows the rider wearing around the house head gear and shoes. For riding I use the glasses with mirrors and a helmet. I also wear clipless shoes. This picture shows a worn 52t chainring rivited to the 65 for reinforcement.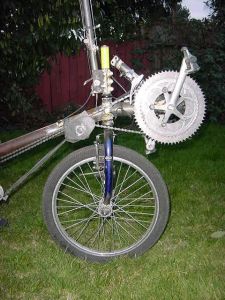 Tiller in up position for easy entry and exit.

Jim with front landing gear leg down.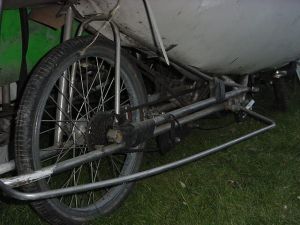 Rear suspension.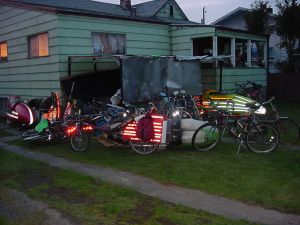 Someone has to put all this junk away at the end of the day.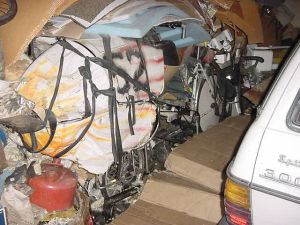 Two position bike buried in my garage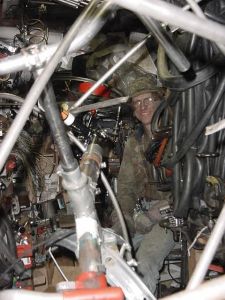 This is where everything gets built. I wish I could spend more time here, but I also spend a lot of time collecting this junk and riding it around.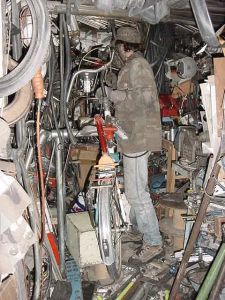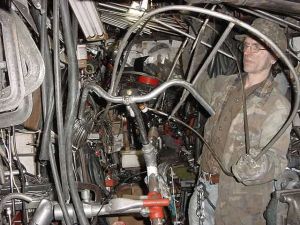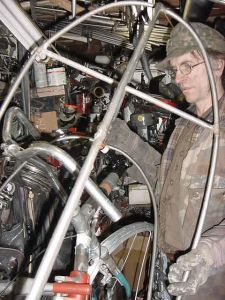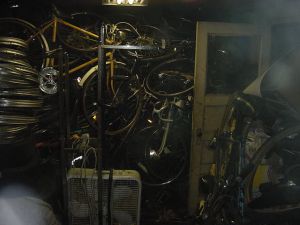 Another room full of bike junk. Believe it or not, this pile just got straightened up.