Take Apart Travel Bike
After a trip to Europe with my son Max that included cycling in Germany, France and Italy, I decided to sell my aluminum/carbon K2 road bike and build a take-apart travel bike for touring, and have that as my main bike. I thought about buying a Bike Friday or an Airnimal, but I remembered reading an obscure post somewhere about someone who built a take-apart bike that was very small when disassembled. I scoured the internet and found recent info that led me to Drew Devereaux's Portable Bike. I emailed him and he said it was ok with him if I copied his design for a one-off version. He's built about a dozen bikes like this, so I thought, "why make mistakes with my own design?". I ended up making mistakes with his design, but fixed them for the most part, and did a few things differently. Anyway, see pics below for what I came up with. The first time I rode this bike it felt strangely familiar, and I love it. It's set up now with an upright position, but the bars could be lowered a lot. I like it the way it is now, very comfy with a nice view of things as you ride. Perfect for touring. I still need to make front and rear racks, and will do that soon.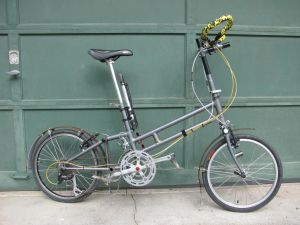 Fully assembled, ready to ride.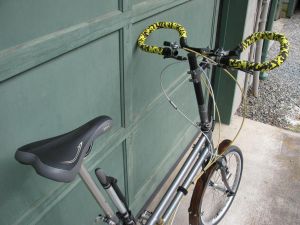 Comfort saddle and trekking bars.

52-28 tooth chaingring range. Old school platform pedals with toe clips.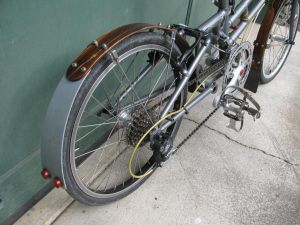 Durable mud flap made from 5 gallon paint bucket plastic. Note the cool dual reflectors. Cedar-epoxy laminate fenders.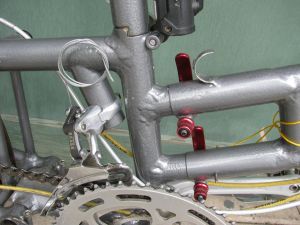 Center joint showing intersection of detachable tubes. Note notch at bottom of removable seat tube to make reinstallation easy.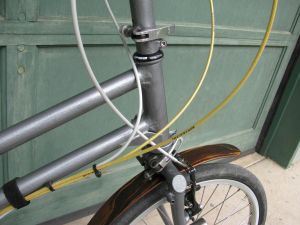 Head tube with removable stem tube above and removable fork below.

Trekking bars. So comfy. Friction shifters.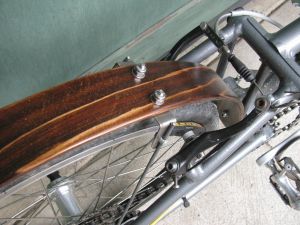 Cedar fenders and v-brake.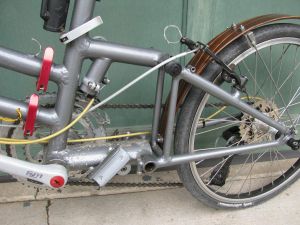 Center of bike with plastic tube to hold seat post when disassembled. Pinch bolts visible on pivot axle at back end of fat, ovalized tube.

Super adjustable stem, up-down and fore-aft.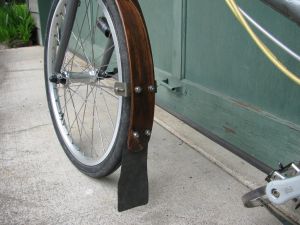 Inner tube mud flap up front.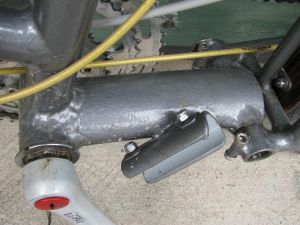 Gray plastic conduit tubing for seat tube holder, mounted on ovalized tube.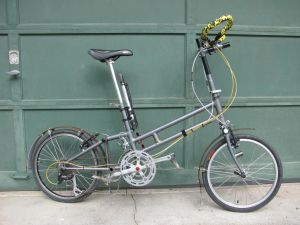 Assembled...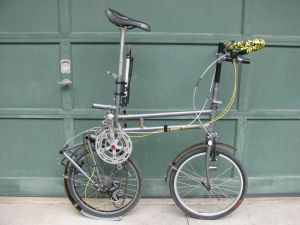 Back wheel folded under. Note back wheel resting on plastic mudguard.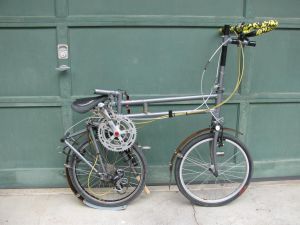 Seat post/tube removed and fit into plastic tube.<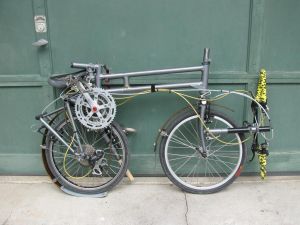 Handlebars/stem removed and fit onto tube on right fork leg.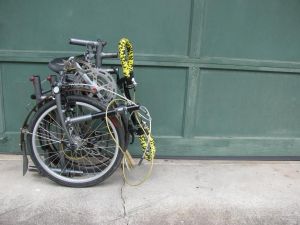 Fork fit into rear triangle pivot axle.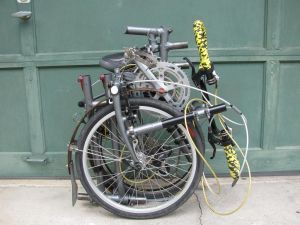 The whole mess, close up.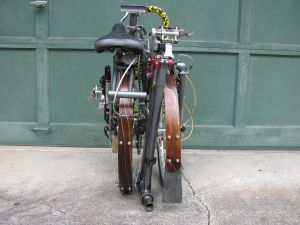 From the back.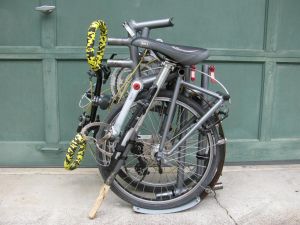 From the other side.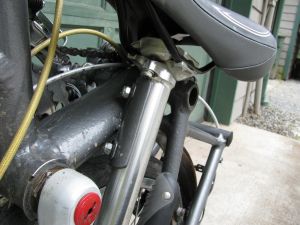 Close-up showing seat post in plastic tube.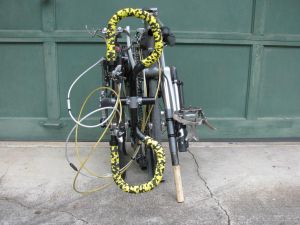 From the front.