Jim's home | Motorcycle home | 10k Home
Sent from Cross Village, MI
From my bootleg campsite I headed north up the east coast of Michigan's "thumb". It's a north pointing peninsula in the lower part of Michigan. Rte 25 runs along the coast, then above the thumb Rte 23 follows the coast. The map makes both roads look like you'll have expansive views of the water while riding along. Not so. The roads typically run at least a few hundred yards inland, but more often further inland. Private estates and many, many trailer parks line the shores, so you get only occasional glimpses of the water. There are some scenic overlooks, and parks in the center of small towns that allow a view or access to the water, but you have to stop to enjoy them. Still, it's nice riding and I got to see a lot of Memorial Day vacationers bustling around their waterfront houses.
---
Views of Lake Huron: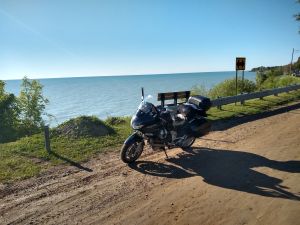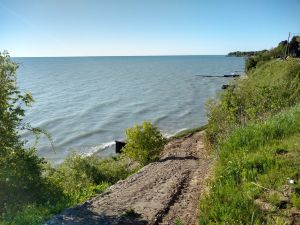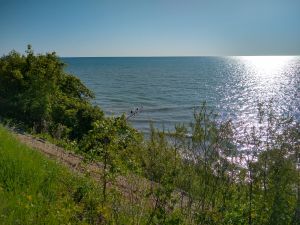 ---
I stopped in the town of Lexington to better see Lake Huron. It's a pretty, historic town with a beautiful waterfront park. I walked to the end of the jetty, which afforded nice views.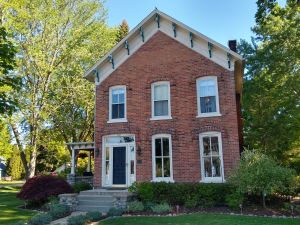 Nice older, brick home in Lexington.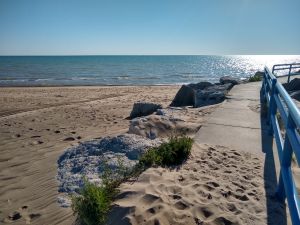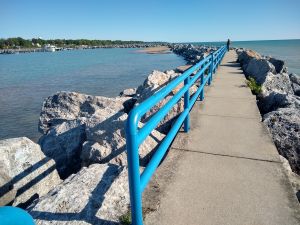 Jetty walk at Lexington's waterfront park.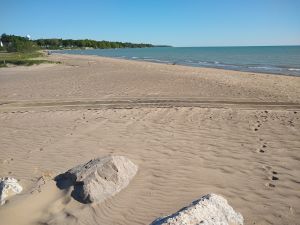 Beach at Lexington.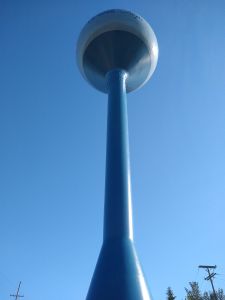 Lexington's water tower. I found that most towns east of the Mississippi have their own water towers. You can see from a distance that you're approaching a town by seeing its water tower. You can tell how big a town is by how big the water tower is. I like that.
Seeing the Pointe Aux Barques lighthouse was pretty cool. Various plaques described the grave dangers of navigating the Great Lakes. Lake Huron, which I was riding along is apparently the deepest and most dangerous. So many boats and lives lost on these lakes.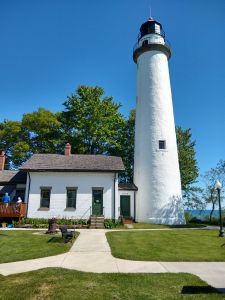 Pointe Aux Barques lighthouse.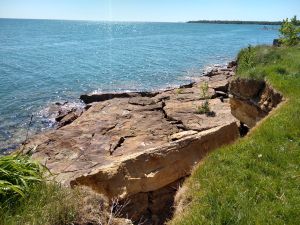 Rocks near the lighthouse.
At a certain point above the thumb on Rte. 23 I headed west and cut across to the famed Tunnel of Trees. It's a 20+ mile long road that goes along the shores of Lake Michigan. The south end start in a charming and wealthy town called Harbor Springs. The grand old houses were the best I've seen on the trip. The Tunnel of Trees road is narrow with no centerline and stunningly beautiful. About a third of it really is a tunnel of trees. Beautiful views to the water.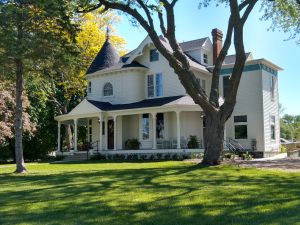 A nice house in Harbor Springs, MI.
---
Photos of the Tunnel of Trees road: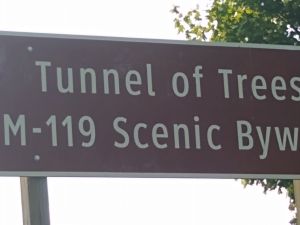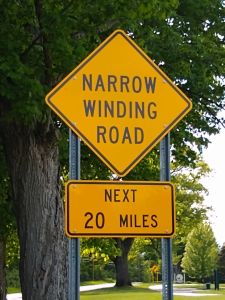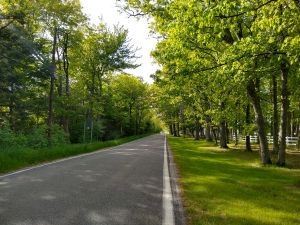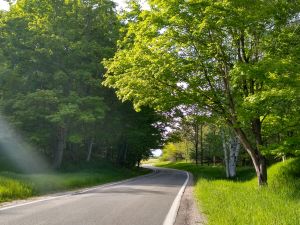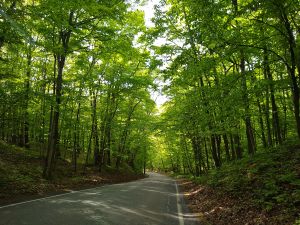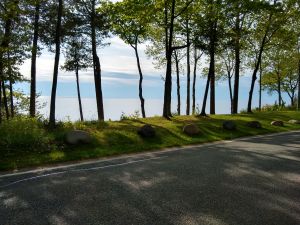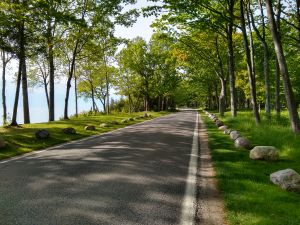 ---
Then it was time to head to Nancy's farm nearby. Tom, from the Wild Guzzi forum, arranged for me to camp at his sister's farm. She texted me an asked if I had any dietary restrictions. I then realized I wouldn't be cooking dinner that night. She offered a spare bedroom too. It turns out that Nancy studied French cuisine in Paris, and also taught cooking there for a number of years. She has a restaurant which is temporarily closed due to COVID, but does catering. Her former boyfriend, another motorcyclist was there, along with 2 friends, Mary Ellen and Becky.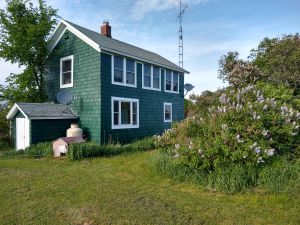 Nancy's farm.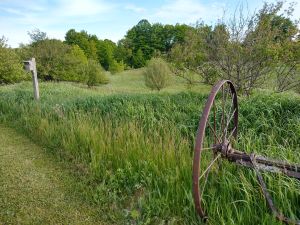 It's on 40 beautiful acres.
After settling she asked if I'd like something to drink. I suggested wine. She brought out 3 or more bottles of Georgian (eastern Europe) chilled whites that we drank in an optimal order. All delicious. Her dining table reminded me of scenes from Downton Abbey. I knew dinner would be good when I saw the desert spoons oriented sideways at the top of each plane. Nice cheeses for appetizers. Dinner was superb. BBQ'd salmon, asparagus, avocado/artichoke heart salad. Rhubarb pie with ice cream for dessert. I couldn't believe it. Nancy lived in Paris in the late 1980s for about 8 years. While working there at one point she only made 65 francs a day on good days. A beer at a cheap place was 25 francs.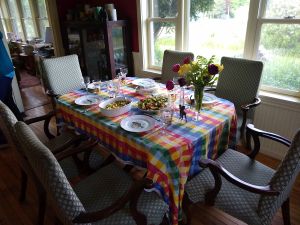 Nancy's table.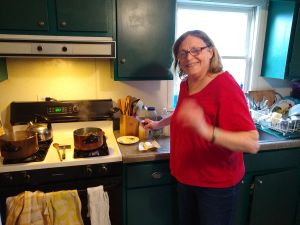 Nancy in her kitchen.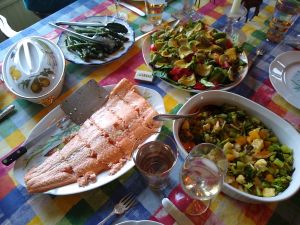 What a spread.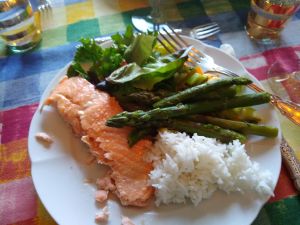 Dinner!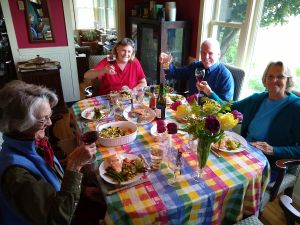 Nancy, Chris, Becky and Mary Ellen.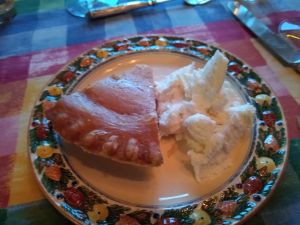 Rhubarb pie and ice cream for dessert.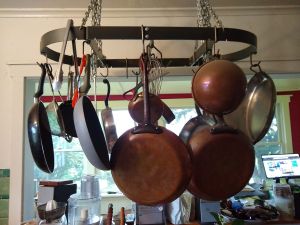 Nancy's pots and pans.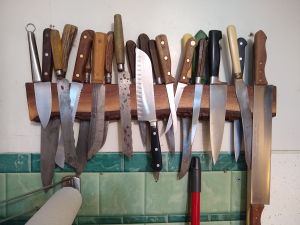 Her knives.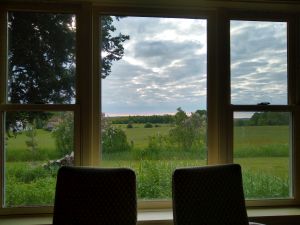 View out the dining room window.
Anyway, visiting with new friends was great. I told Nancy that a night like that is restorative after camping alone. When I described my encounter with the big, black cat, she said Michigan has panthers, and that must have been one. That reminded me a short poem by Ogden Nash:
If called by a panther, don't anther.