Ride around Hood Canal - 3/2021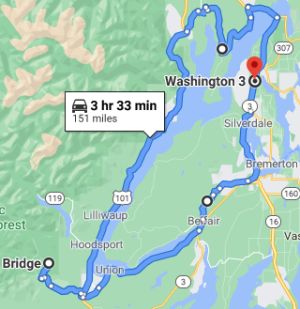 After days of sub-50 degree weather and frost on the ground every morning, the forecast called for a high of 57 degrees with mostly sunny weather. I suggested a ride around Hood Canal (a classic ride for this area) with a stop to eat oysters on the beach. John Greenfield wanted to get some more time on his new Moto Guzzi V7 Racer, and he likes oysters, so we met at his house at about 10:30 AM. It was still in the upper 30s when we left. Bundled up with a down coat under my leather riding jacket. Winter gloves plus heated grips made for a warm ride. We did the route clockwise and took the back way from Gorst to Belfair via Old Belfair Hwy.
For a diversion, I suggested we check out the High Steel Bridge near the town of Union down by The Great Bend of Hood Canal. It was built as a railrod bridge for logging and rises 375 feet above the river below. Neither of us had been there and it was worth riding 8 miles round trip on dirt/gravel forest service roads. The ride by the West Skokomish River on the way there was particularly beautiful as it would by farms and fields. Daffodils and cherry trees were blooming and the sun felt great.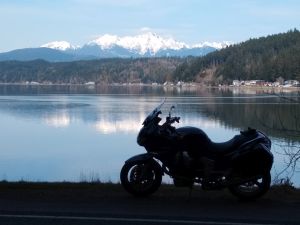 On the side of the road approaching Union with the snowy Olympics in the background. North shore drive visible on the other side of the canal.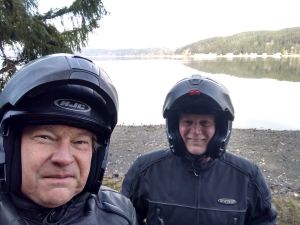 John and I hamming it up at same location.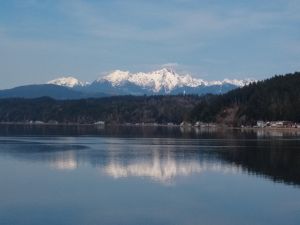 The snowy Olympics.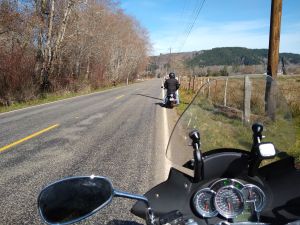 West Skokomish Valley Rd. It reminded me of old Virginny where I grew up.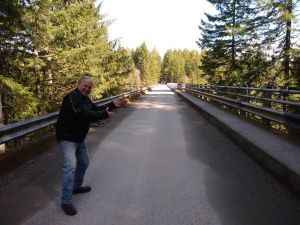 John on the High Steel Bridge.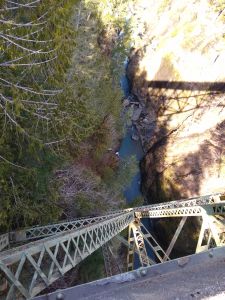 Looking straight down 375 feet. We walked to the other side of the bridge and collected a bunch of rocks. Then amused ourselves by throwing rocks into the water below.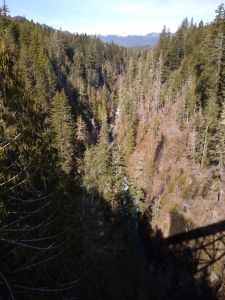 Looking up towards the Olympics from the bridge.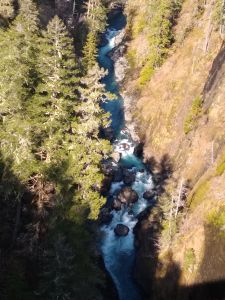 A view down. The water was beautiful, and no doubt barely above freezing.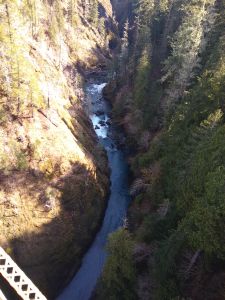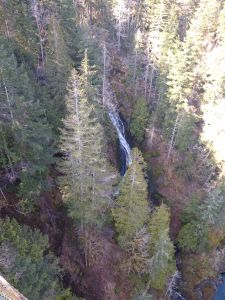 A waterfall.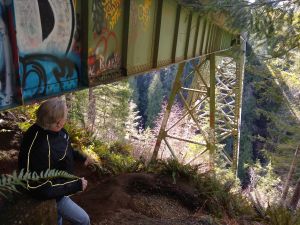 John inspecting the bridge's underpinnings.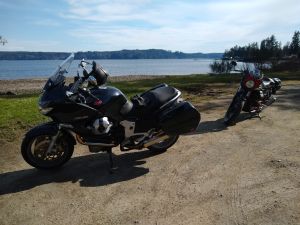 After lunch in Hoodsport we stopped at a small park by the water to eat some oysters. Our bikes in the foreground.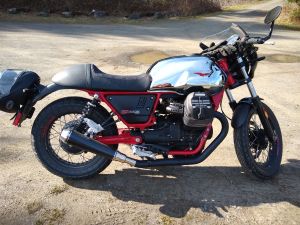 John's V7 Racer. Random people stop to comment on this bike. I think it's the chrome tank and the red bits that do it.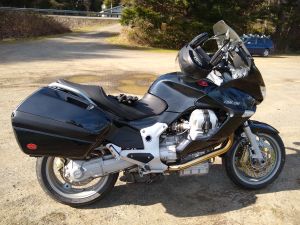 My Norge, which was performing flawlessly after doing a startus interruptus fix.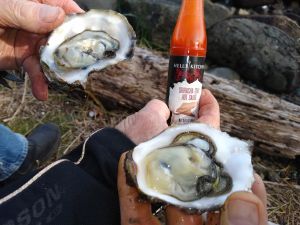 Delicious oysters. March is a good month for oysters. It's cold so they're not milky. Nice sweet flavor with these and not too salty.

John with his hot sauce.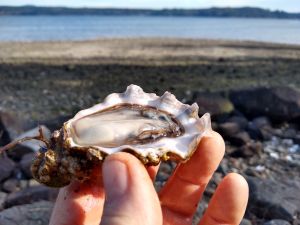 Yum!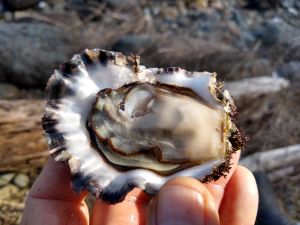 More yum! I liked the black edge on this one.