Neah Bay Motorcycle Ride - Sept. 22, 2006

The road to Neah bay rates up there as one of Washington state's exceptionally good rides. From the town of Joyce, westwards, there are curves abound. Plenty of technical twisties for anyone wanting to wear rubber off the sides of their tires. The scenery is beautiful overall, and spectacular at times, especially when the road flanks the Straits of Juan de Fuca. Sometimes there's just a few feet between the road edge and the water. Traffic is light to moderate for the most part west of Port Angeles.
From Hood Canal Bridge, it's a full day with lunch, gas and scenic stops, but do-able from Seattle with ferry trips included. Basically you just take Rte. 104, to 101, then spur off to Rte. 112 west of Port Angeles. Worthwhile side trips or alternate routes include:
A side trip up to Hurricaine Ridge in the Olympics
Winding through various connector roads through Chimacum or Port Ludlow to get from the bridge to Discovery Bay
Going left on South Point Rd. soon after crossing Hood Canal Bridge to go through the Toandos Peninsula, by Dabob Bay and up north of Quilcene, back to 104
A logical lunch spot is in Seiku. It's on the Straits, and there are a few pretty good restaurants with nice water views. Gas is plentiful, in Port Angeles, Sequim, Joyce, Clallum Bay, Seiku and Neah Bay. Once you arrive at Neah Bay, there are two worthwhile things doing. One is the brief trip up a gravel road to the trail leading out to Cape Flattery. Very dramatic cliffs line the coast here with pounding waves, especially during storms. The other is to take the road along the ocean, south, to Shi Shi Beach trail head or there-a-bouts. The ocean views are stunning.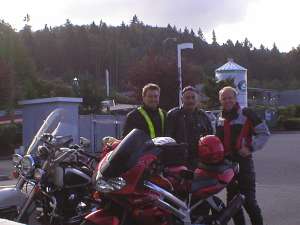 From right to left, Dave Sutter riding an Aprilia Falco, Shawn Hartley riding an ex-Police Harley Davidson, me riding my new Honda ST1100. Leaving from Poulsbo, on a sunny, fall weekday morning.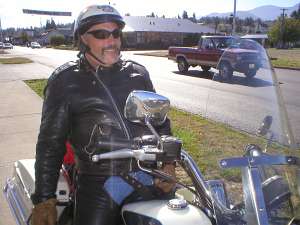 Shawn demonstrating his sleeping bag backrest.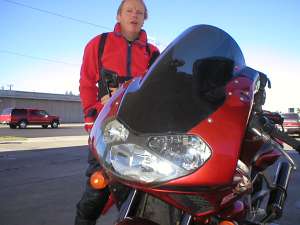 Dave on a gas stop in Sequim.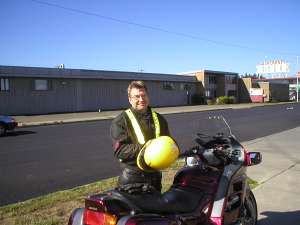 Me doning my helmet at the gas stop in Sequim. I found that the ST1100 got 45mpg on its first tank of gas since I bought it.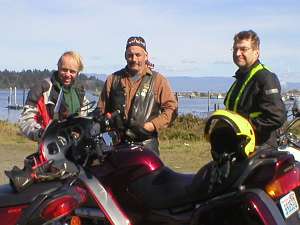 After arriving in Neah bay.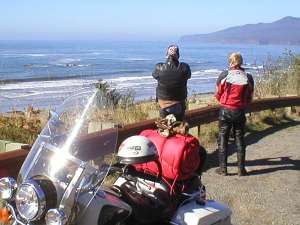 Shawn and Dave taking in a view of the Pacific.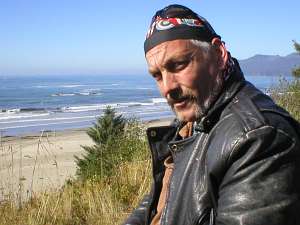 Shawn.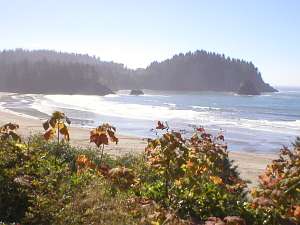 Looking south. The beach is part of Olympic National Park. It's great for backpacking, which you can do year-round.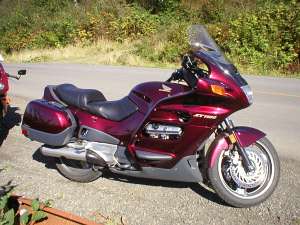 My ST1100.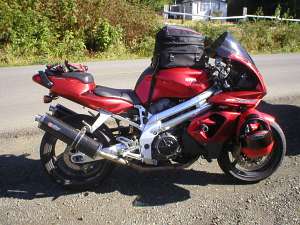 Dave's Falco.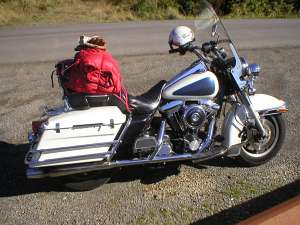 Shawn's Harley.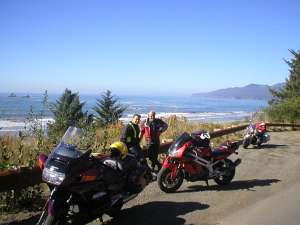 By the sea. Cape Flattery in the background.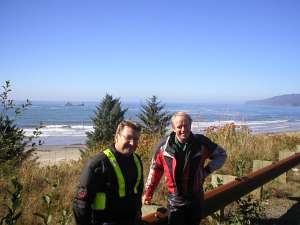 Dave and I, with sea stacks in the background.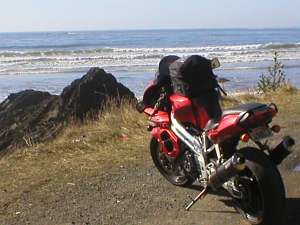 Dave's Falco, with tank bag fully expanded.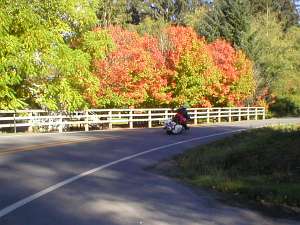 Shawn blazes by some turning maples.