Motorized Raleigh 20 Folding Bicycle
January 2008: It's been about seven years since I built my Honda GX31 motorized recumbent bicycle. While I loved that bike, I and only a few others were able to ride it due to the skill required to ride a short wheelbase recumbent. I wanted a motorized bike that my wife and sons could easily ride. Specifically, a bike that could be used to go grocery shopping with, and return home up one particularly steep, nasty hill near our house.
I had a 1960s era Raleigh 20 folding frame lying around for a few years that I'd meant to build up into something interesting, and it struck me that motorizing it would be fun project. My plans were to cannablize the recumbent, but my friend Paul Gallagher saved it for the Jim Gallant museum that he said would be built some day, by buying it for enough cash to afford a new Honda GX35 engine and a gear reducer from Staton Inc. The new engine is 4 CCs bigger than the recumbent's, and 1.6 HP instead of 1.5. The Staton Inc. gear reducer is a wonderful thing that solves a lot of problems. David Staton designed it with an 18.75 to 1 reduction, which is pretty much perfect for motorizing bikes with small 4 stroke engines. It's rugged, well built, but a tad heavy at eight pounds.
The recumbent had gearing for its motor, and worked well for climbing hills and going fast on flat ground. I wanted the same thing for the Raleigh 20. However unlike the recumbent, there was no room for a jackshaft to power the back wheel, so it seemed reasonable to make a front wheel drive system. This turned out well since the motor and drivetrain don't interfere with pedalling at all. Like the recumbent, you can pedal with no motor, motor without pedalling, or pedal and motor at the same time. Indeed, it is easy to ride. My 10 year old has no problems riding it with or without using the engine. Likewise it'll haul a lot of groceries too. But most importantly, it's really fun to blast around on. Top speed on flat ground seems to be about 28 or 29 mph, but it'll climb super steep hills. Love that gearing.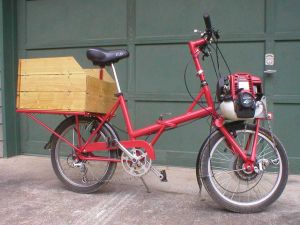 The Raleigh 20, with motor and cargo box.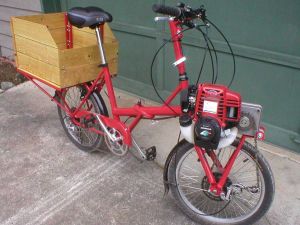 View of the front with engine. The engine is easy to start while riding. You barely have to bend down to grab the pull start handle. The seat is a "Cloud 9" brand. It's *extremely* comfortable. My 10 year old son lusted after it, so he got one for Christmas for his bike.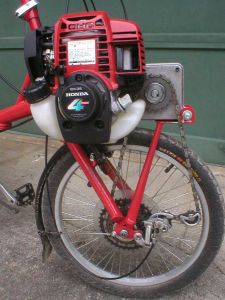 The geared, 5-speed front wheel drive uses a conventional freewheel with a vintage Suntour VGT derailleur. You shift it normally as you would with any pedalled derailleur. Keep the engine turning the chain while shifting (throttle on), but go easy on the throttle while shifting. If you've ridden a motorized bike without gears, I'm certain you'd like the gears. They're very fun to operate.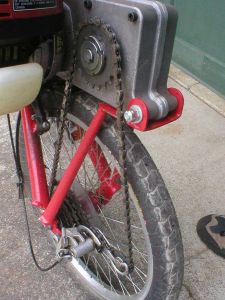 That's a 22 tooth cog on the gear reducer. You can tune the speed/hill climbing range of this by swapping out the drive cog. I tried a 20 tooth cog for a while, but I like the top end speed of the 22 tooth cog. This drive train has been super reliable so far.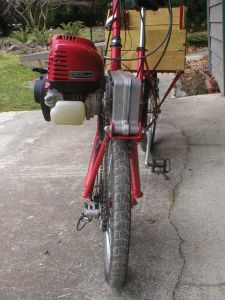 A front view. Despite the engine being off center, the handling is fine. There is a sense of extra weight on the front wheel, but it goes away once up to speed.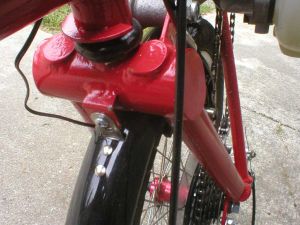 The custom fork was tricky to build. Besides normal considerations (rake and trail), the fork is asymetric due to the wheel dishing, and it needs to be extra strong due to the pulling force of the engine. The steerer tube and tops of the fork blades are double sleeved for strength, and extend all the way through the crown. Note the quarters used to cap the fork blades.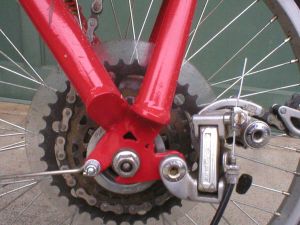 I got the fork blades on a tour of the now-defunct Vision recumbent factory. They're pretty beefy and had dropouts that were most of the way there for what I needed. I had to braze on the bent steel plate for the forward struts, and the derailleur hanger.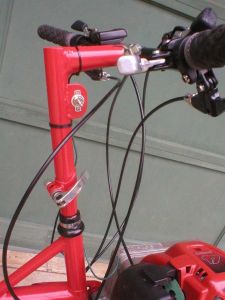 The telescopic stem was a bit challenging. Various sleeved and brazed tubes insert into the headset and tighten via a wedged "dog" as common on most old school stems. A stem with a long tube slides over that and tightens with a quick release bolt. You can raise and lower the handle bars by about a foot with no tools.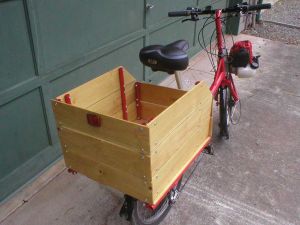 My friend Dave Sutter was kind enough to cut strips of Locust wood for the cargo box. It's tougher than Oak and is rot resistant. Cool stuff. The box was designed to haul at least two bags of groceries at a time. It'll actually hold more.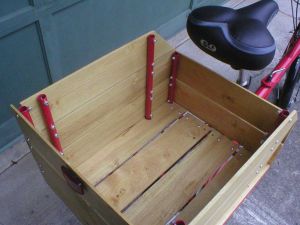 All four sidewalls are removable. The metal tubes that the wood slats are bolted to are 1/2" electric conduit, and fit into conduit connectors that were brazed to the lower frame. The tubes fit into the connectors and can be tightened with the connectors' set screws. Works great.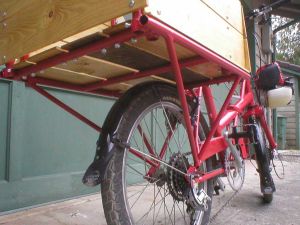 The lower frame for the cargo rack is made from 1/2" electrical conduit (top section), supported by pieces of seat stay material. It's big, but not too big.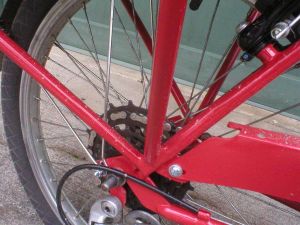 A close up of where the rack's supporting stays connect to the Raleigh 20's seat stays.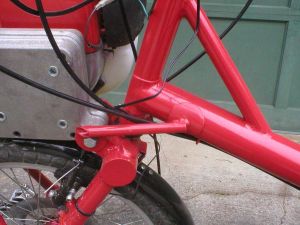 The engine and gear reducer's weight made the front wheel flop over and tip the bike over when the bike was leaning on it's kickstand. I added this pivoting brace to stop the front wheel from flopping over sideways. It works great. Since adding it I found that you simply have to rotate the steering all the way to the right, and the bike will stand up by itself. Doh!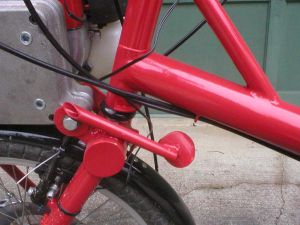 The brace pivoted down for riding. It'll interfere with steering if you leave it up. The diagonal tube connecting the head tube and down/seat tube is my addition. I didn't trust the strength of the orignal mono-tube construction for a motorized front wheel drive.