ATP Factory Tour
The Vision recumbent company is no longer in business. However, back then...
A forward from Nick Hein:
The Seawheels bike building group took its (approximately) annual tour of the ATP Vision Recumbent factory in Lynwood (Seattle) WA.
We've been taking the tour annually since ATP has had a place of their own, roughly 7 years now. The company has grown so fast that none of the tours has been of the same building more than 2 years in a row. The company continues to expand with new models this year (primarily the Saber and TiSaber) and is expanding into assembly of uprights for other manufacturers part-time during lean times. In addition, last year they brought their wheel supplier, Winkel Wheel, in house - putting all of their bike manufacturing under one roof. This is in contrast to other manufacturers that are outsourcing more of their work. The reason for this contrast is that ATP custom-builds each bike and having all of the production processes within shouting distance of each other gives them the flexibility to fill custom orders quickly.
Joel Smith, the president, took us around showing us the production process and tooling. He also explained the stages the company has gone through getting to where they are now. The tour finished in the Winkel Wheel shop with an explanation of the wheel-building machine. After a question and answer period Joel graciously offered for sale a large collection of sample, surplus and overstock bike components at garage sale prices. In addition he offered to sell any custom components to builders such as idlers, seats, etc. Joel started his business in his backyard shed and remembers how difficult it was to make every little item and has done a great job of making things easier for local builders today.
I'd like to personally thank everyone who came out for the tour, and especially Joel and the other ATP employees who were there to answer questions, tell stories and share valuable knowledge.
Thanks again.
Nick Hein
Renton WA, USA
Click thumbnails to see videos of the amazing JET POWERED Vision recumbent bicycle.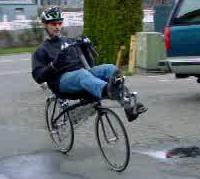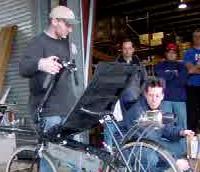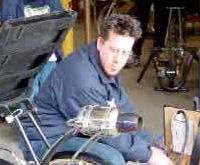 This was an unexpected source of entertainment. A Vision recumbent with a turpentine burning jet engine that develps 15 pounds of thrust capable of powering a rider to over 30 mph on level ground. It's loud, ear protection was provided before starting the engine. The turbine spins between 50 and 100 thousand RPM!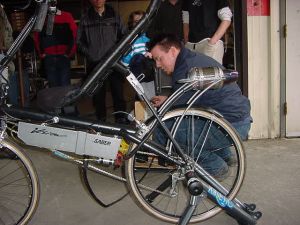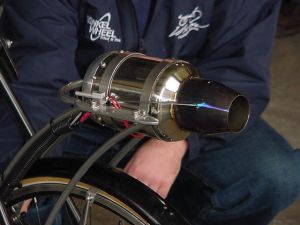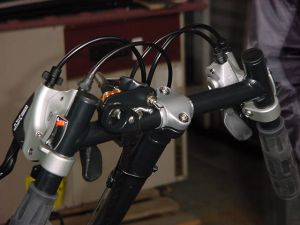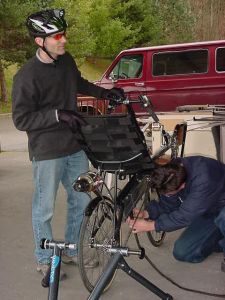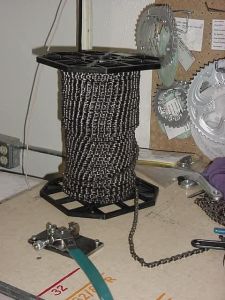 A zillion feet of chain, just what every bent builder needs.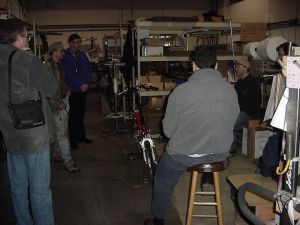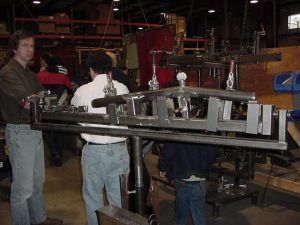 TIG welding jig.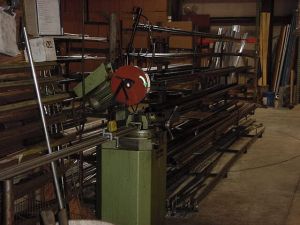 Racks of 4130 tubing.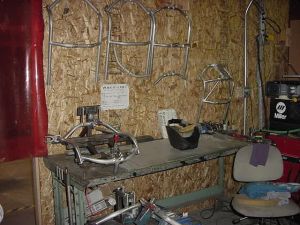 Seat frame assembly area.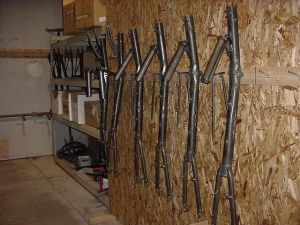 Frames after welding.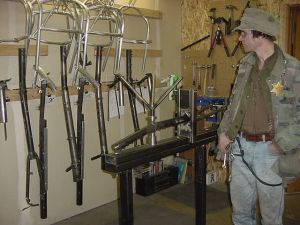 The inspection room. All construction flaws are attempted to be found here, before powder coating. Joe Kochanowski looks on.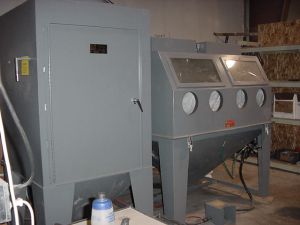 The sandblasting booth with the "fire hose" sand blaster.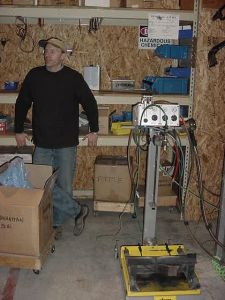 The powder coat machine.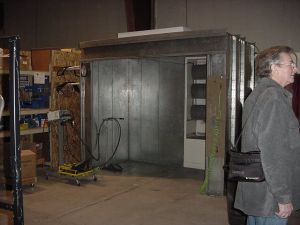 The powder coat booth.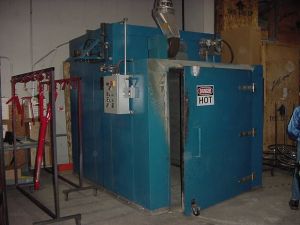 The powder coat oven. A popular place in winter time.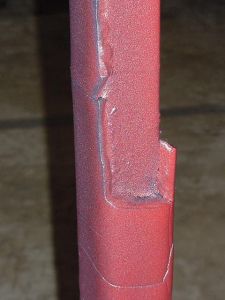 The powder coat rack, with years of powder coat build up.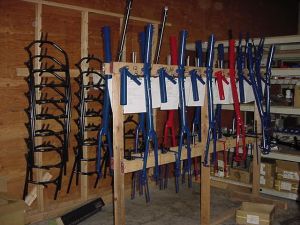 Frames after powder coating.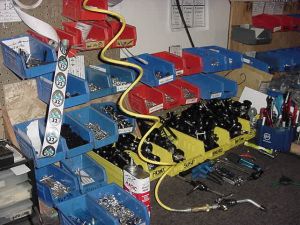 Parts bins on an assembly bench.

An assembly bench.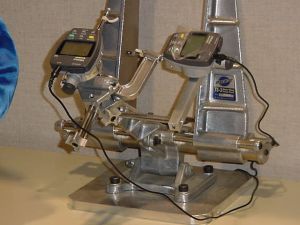 Wheel truing stand in the Winkel Wheel area.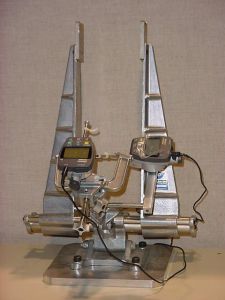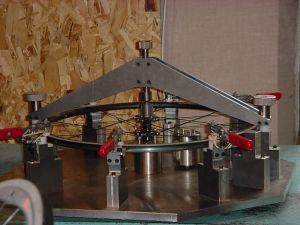 Assembly jig for one of the new Shimano 16 spoke wheels.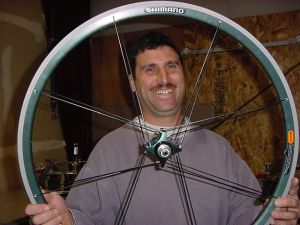 The future of bicycle wheels according to Shimano. Frank Kaplan not included.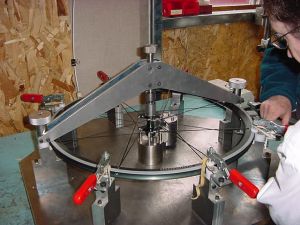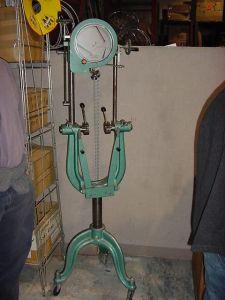 Real man's wheel truing stand.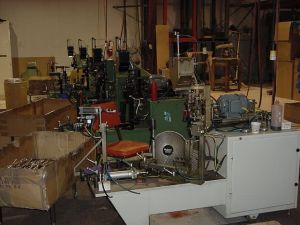 Wheel assembly stations.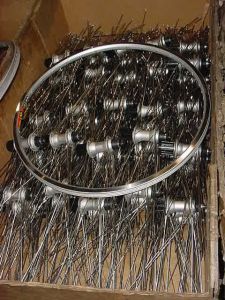 Laced hubs, ready for the assembly stations.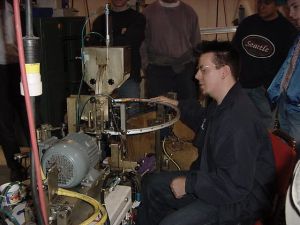 Lacing a wheel.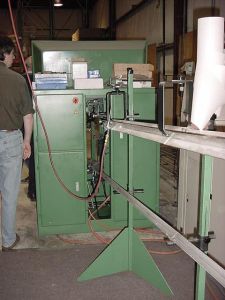 The wheel truing "robot".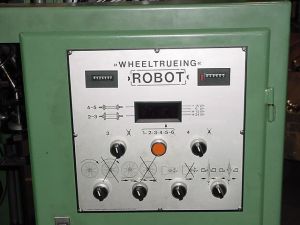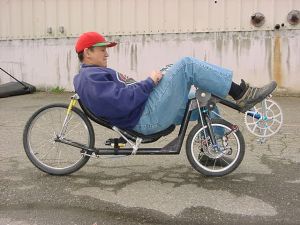 Tony brought his Pharo bike that was recently converted to front wheel drive with prototype fork dropouts from Fool's Crow. I got to try it, what a cool bike.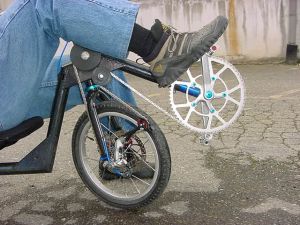 This shows the twisting chain drive twisting.