Jim's home | Motorcycle home | 10k Home
Sent from Aux Arc Park campground, Ozark, AR
I left Santa Fe, NM yesterday morning after having breakfast with Rich, his dogs and his parrot. He's owned the parrot over 40 years. They live to be 60. I asked Rich if he thought the parrot would outlive him. He said maybe, and that the parrot's in his will! Anyway I set off east and south bound and found a fun little 30ish mile curvy road before I hit Interstate 40. I new this was going to be the grueling part of the trip. Straight superslab across eastern NM, northern TX and then OK. I thought about stopping at the Moto Guzzi dealer in Oklahoma City, but my back tire continues to have tread. Next MG dealer was in Tulsa. So I made it to the Super 8 motel in Tulsa after riding about 650 miles. It wasn't as boring as I expected. Interesting to watch the dashboard temperature gauge go from 46 degrees to 60. New Mexico's mountainous red earth and scattered sage yielded to Texas' flat grass pasture land, feed lots and massive wind turbine farms. The low hills, green fields and scrubby oaks and pines appeared in Oklahoma. Kept a pretty constant 80 mph. Had my goose down jacket on under my leather jacket, and used my winter gloves that day. Strangely, at the end of the day I felt less stiff and sore and could have driven longer.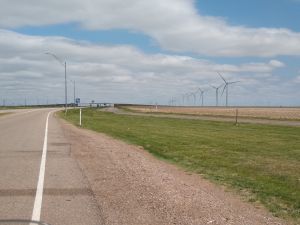 Endless wind turbine farms in Texas.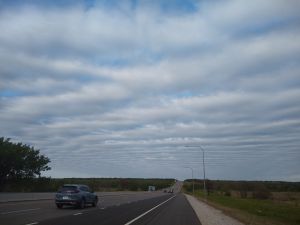 Interesting cloud formations heading into Oklahoma.
Cloudy and cool this morning with rain in the forecast. Headed east on another superslab until I reached Rte 10 south from the town of Kansas. It's rated as a good motorcycle road, and a scenic road. It was both in spades. So nice to get back on a 2 lane road. It wound along the Illinois River. Parks with boat launch ramps were named so and so "Hollow". An occasional dead armadillo was on the side of the road. While standing next to a guy in the bathroom with all my gear on he said, "Ain't gonna miss you in that helmet.", referring to my hi viz yellow helmet. What a place! Heading further east the rain set in hard. On with the rain gear. Thought I'd shelter in a brew pub and try get some BBQ. Found Penguin BBQ in Fayetteville, next door to Crisis Brewing (heh heh). Got a couple of their IPAs on tap with my pulled pork sandwich and a rib. Delicious!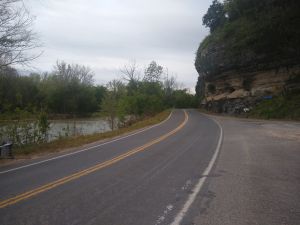 Rte 10 south from Kansas (the town), OK. A wonderful road after riding interstate highways.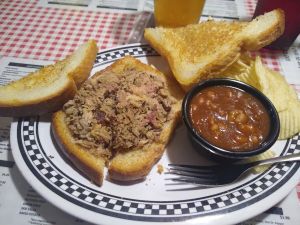 Pulled pork sandwich from Penguin BBQ.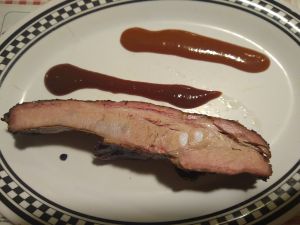 "That's the way BBQ is supposed to look." says my friend John.
I want to start riding the good Ozark roads with the "Pig Trail", this areas most famous motorcycle road. So, I head south out of Fayetteville on a nice road to Alma, and then east on another backroad to the town of Ozark. Am now in an Army Corps of Engineers campground on the Arkansas river outside of town. Met a nice guy in the grocery store parking lot who owns a Honda Goldwing. He was interested in my Moto Guzzi. The park that I'm in is called Aux Arcs, which is French. When I pronounced it ohs arcs he correct me and said "aux, like auxillary". The guy's a native and doesn't know his town and area name are French. I didn't press the point.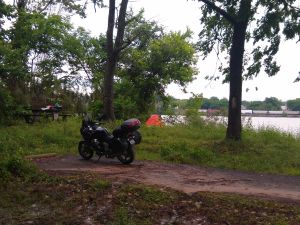 My campsite at the Aux Arcs campground just outside of Ozark, AR.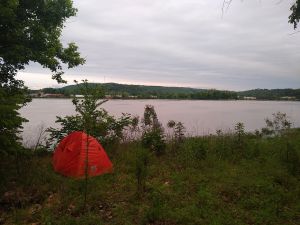 Right on the Arkansas River overlooking train yards in Ozark.
Anyway, the rain's let up, otherwise I'd be in another motel. Happy to be here in the campground. Pig Trail and hopefully many other great roads tomorrow.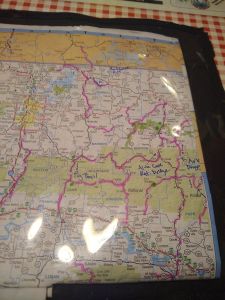 My map with good roads in the Ozarks highlighted in pink.