My Oxford Top Case
I bought a scooter that came with an Oxford top case. It's the larger one, so 44 or 52 liters in volume I think. It's really handy on my scooter around town, and I used it to store camping gear on my Buell motorcycle on a 2 1/2 week trip to Colorado in August 2020. When I bought my Moto Guzzi Norge, I realized I wanted and would need a top case like it for touring on the Norge. I didn't want yet another top case to store in my garage, nor did I want to spend the money, or put more plastic into the environment. So I ordered another base plate from oxford and helped my friend John the Welder make a rack for it. Now I can put my top case on either the scooter or the Norge.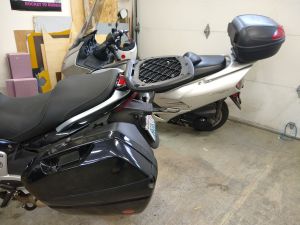 Norge and scooter. Top case on the scooter here. Base plate and rack on the Norge.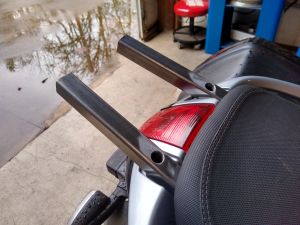 First thing to do was to make the pieces that bolt on to the holes in the aluminum grab bar assembly. They're 1" square tube, 1/8" wall thickness. They're held on by 4 allen head bolts.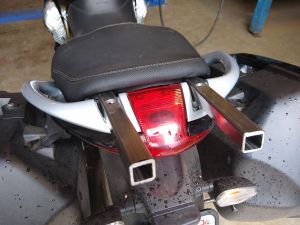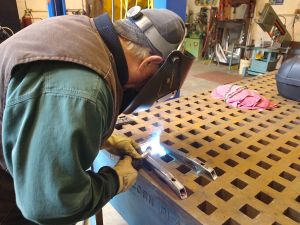 John the Welder, welding.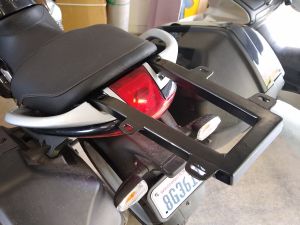 Finished rack. Used some 1/8" x 1" bar to make the slotted tabs for bolting the base plate on. Rattle can finish.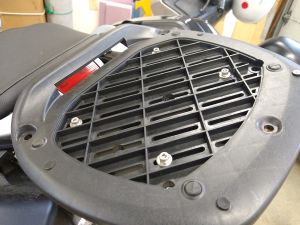 Base plate bolted on with stainless allen head bolts and nylock nuts.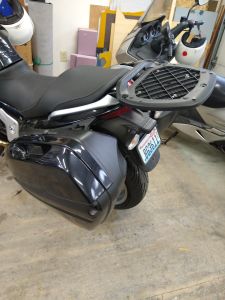 The finished product.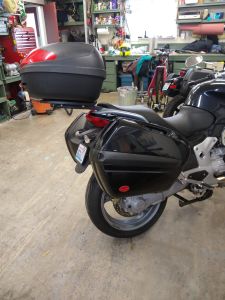 Top case installed.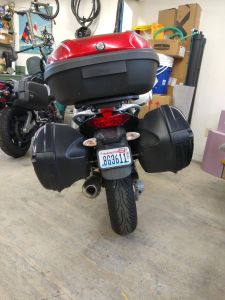 From the back.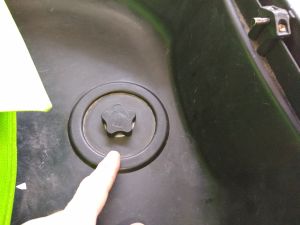 There's a molded tongue at the front/bottom side of the case that fits into a slot on the base plate, then you simply tighten down this thumb screw to secure the case to the base plate. It's really secure.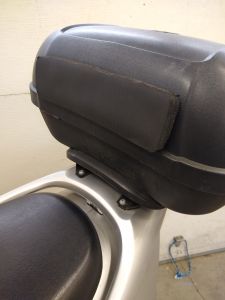 I also made a pad for a backrest out of an old sleeping pad.