Jim's home | Trimaran home | Canoe conversion home
Sailing at Ft. Flagler 10/2006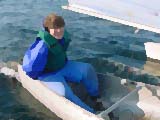 Video of Max sailing, viewed from a lawn chair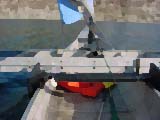 Video looking forward from the pilot's seat
---
These pictures are from a day up at Flagler state park on Marrowstone Island near Port Townsend. 15-25 knot winds were predicted, but only about 10 knots materialized. Still, it was fun. We did take the boat out to Appleton Cove, site of our maiden voyage prior to this after most of the refitting, but the lawn chairs weren't mounted then, and they really add a lot to the boat.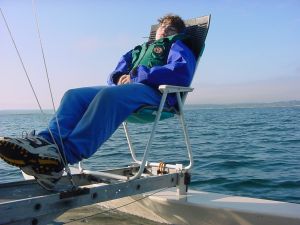 Maybe these lawn chairs are too comfortable. Max practically fell asleep while we were sailing. They do keep you nice and high off the water so you don't get wet, and with the foam sleeping pads are very cushy.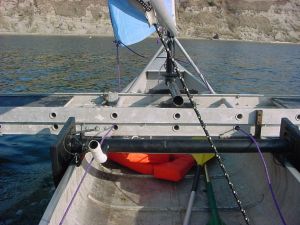 A view looking forward from the pilot's seat as we head east towards the sandstone cliffs on the west side of Marrowstone island. Note how the jib lines are routed through the ladder holes. This was a brilliant idea from my friend Paul Gallagher. Thank you Paul!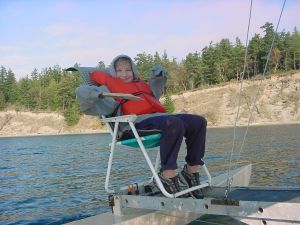 Evan, seconds before he became bored and insisted on playing on the sandstone cliffs. It is pretty fun to do that though.

Leeboards in the full-down position on a close reach.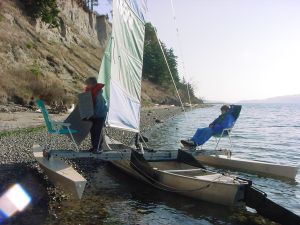 Beached by the cliffs. Nice to be able to sail it right up on the beach.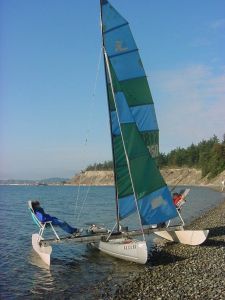 A view from upwind.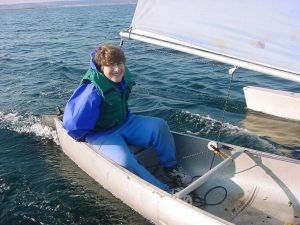 Max at the helm. Arrrgh matie.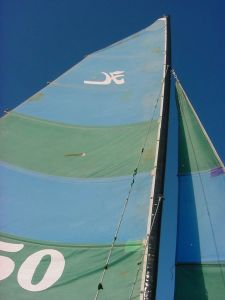 The mainsail fits beautifully in the new mast track.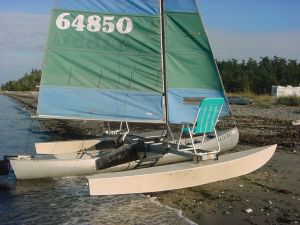 Beached again after sailing out of the outlet of the bay we were in, and around the point to a different boat launch ramp. We sailed on an outgoing tide and I was a tad concerned about making back to land on the off-shore wind with the tide against us. No problemo though.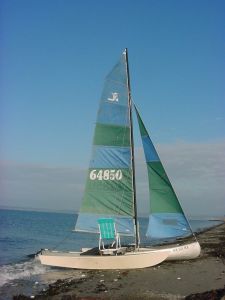 It was a nice day to sail.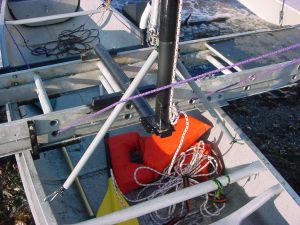 The gray plastic tubes sloping down from the mast base keep the jib lines from tangling in the mast base.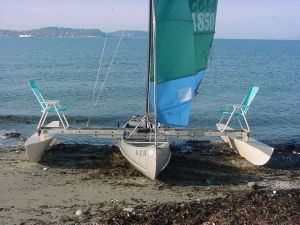 Front view, showing chair positions. Unfortunately the mainsail blocks the view from one chair to the other, so passengers can talk to each other, but not see each other.