Tough Jim converted to a non-foiling boat
New amas
Furling, self-tacking jib
Trampolines
Other changes
The foiling version of Tough Jim had issues. Most noteably aluminum parts broke when 2 people were foiling. This moment in the on board GoPro video when foiling captures when the end of the crossbar (aka) on one side developed a spiral crack, and the foil pivoted backwards. This caused huge drag and brought the boat to a full stop in about one second. My friend Paul was standing innocently near the aka and was thrown forward into the water. The boat immediately started accelerating again and he could see the foils coming at him. He dove deeper and escaped them. I depowerd and helped him back up onto the boat. Back on shore I examined the damage and realized maybe it's time for a change. Various other things broke too, like a winglet on the tip of one of the foils broke off twice. Once after being repaired with a *lot* of carbon fiber. So, do you want to endlessly repair your boat, or sail it?
2/1/2021 - Well, this boat is in a good state now. Hard to imagine doing any more significant changes to it. Ha ha. The conversion to a non-foiling boat went well. I was even able to sell my foils, t-foil rudder and amas to some courageous people who might build a foil boat for R2AK. Good luck, Godspeed, and safe travels to them I say!
I bought 2 hulls and some bits and pieces of a Nacra 5.2 catamaran. The hulls are 17' long and seemed in good shape. They also seemed buoyant enough to work as trimaran amas. "Real" trimaran amas have more buoyancy towards the bow than catamaran hulls. Given this, it was important to mount the amas forward rather than towards the stern. My solution seems to work. Would have been nicer to get the amas a little higher (2"?) off the water so one's always out of the water. But with moderate breezes one hull flies, and they're really slippery.
I made some improvements that make it much simpler to single hand sail, noteably a furling jib that's self tacking. All you have to do when tacking is turn the rudder and then move to the other side of the boat! Stowing or unfurling the jib takes seconds. It's pretty darn fast too and entertaining to sail. You could definitely capsize it in stronger wind though, so you do have to pay attention. Lots of room on the giant trampolines for lounging about. It's a pretty dry ride until the wind really picks up. I like it.
Since it's longer than 16 feet, I had to license it, which required getting a valuation for the Dept. of Licensing. I hired Tom Rose, a marine surveyer here in Poulsbo to do that. That was fun.

Onboard GoPro video of sailing, before the jib was made self tacking.
---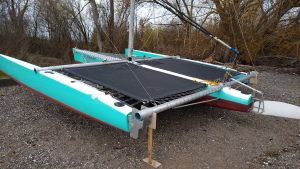 New boat!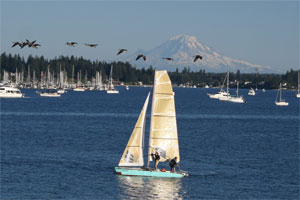 Sailing in Liberty Bay with son Max.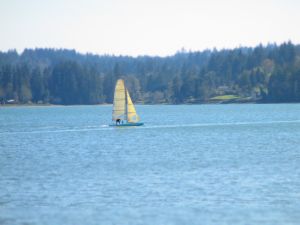 Me clambering around on board.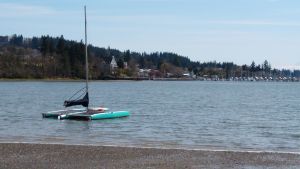 Tide high enough to get out, for now.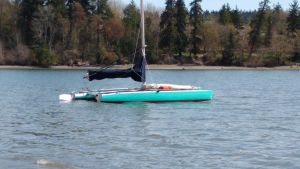 Come hither it says.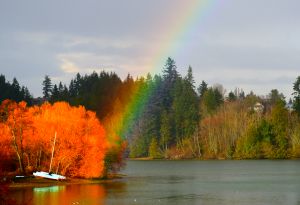 Pot o' gold at the end of the rainbow.