Motorized Bike Rally, Ocean Park, WA - August, 2008
Home | Saturday Night | Bikes, Engines, etc. | Ride to Leadbetter Point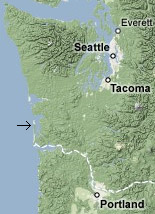 What hoot! Hopefully this year's motorized bike rally, held in scenic Ocean Park, WA, will be the first of many to come. We had a good variety of people and bikes in attendance. There were some serious custom builds, historic replicas, and a nice showing of kits. As you'd guess, some tinkering on bikes was needed throughout the weekend, but most problems that arose were dealt with successfully. Riders were well behaved as per Augidog's mandate, with no crashes or incidents with cagers. We lucked out with the weather and had beautiful skies with warm temperatures both Saturday and Sunday. Great for riding and hanging out in the park. Thanks to all that organize this event!
Please forgive any inaccuracies (names, etc.) on these web pages, as I'm relatively new to the Motored Bikes forum and got pretty confused matching internet usernames to faces to real names.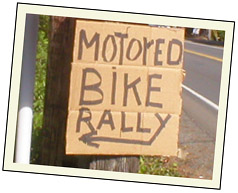 Upon rolling into town with my friend Frank Kaplan on Saturday morning, who did we see first? Van, from Alaska! He shipped his bike to Seattle and rode from there to Ocean Park. A mixture screw backed out on his carb about 20 or 30 miles from the rally, so he pedaled the last stretch into town. This thing is way comfy.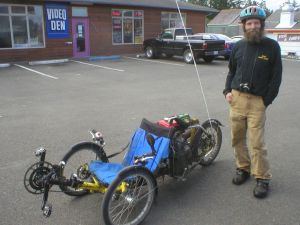 Van with his trike.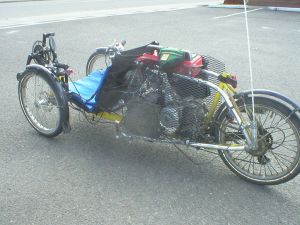 The trike, with a Lifan engine, with CVT transmission.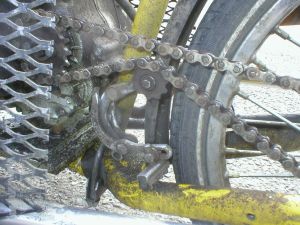 Innovative chain tensioner made from a centerpull caliper brake.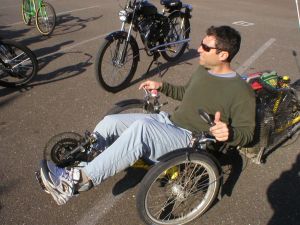 Frank takes a ride.
Pacific Pines Park was a great place for this gathering. Pretty much right next to the beach, and only a few blocks from Augidog's house. There was a good stretch of road leading to the park that worked well for trying out other folks' bikes. Quay did a nice job with the BBQ on Saturday.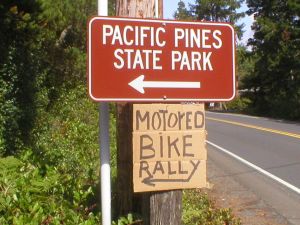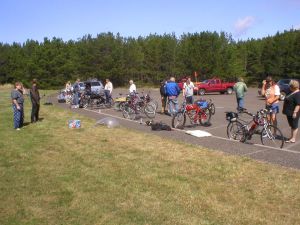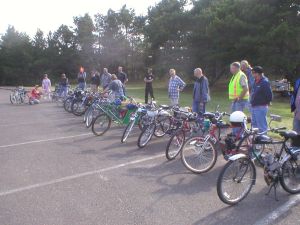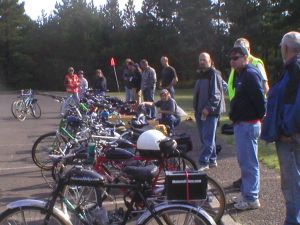 I hadn't ever ridden a motorized bike on a beach until Saturday. Frank and I took my Raliegh 20 and my cargo bike out the car access to the beach and blasted up and down the beach quite a ways. That was really fun. We had to do some sand clean up afterwards, but it was worth it.

Frank and I.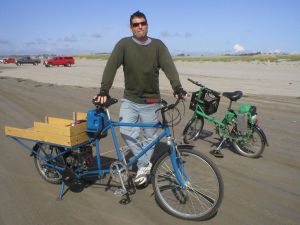 Frank and bikes.
Home | Saturday Night | Bikes, Engines, etc. | Ride to Leadbetter Point