Motorized Bike Rally - Saturday Night
Home | Saturday Night | Bikes, Engines, etc. | Ride to Leadbetter Point
After pitching our tents in back of Wavy's house and dealing with the sand in our chains, Frank and I headed up to the pizza restaurant (Luigi's?) near the park to eat with everyone. You could glimpse the ocean from the deck seating, which was nice. Beer was plentiful, also nice. After dinner we congregated at Augidog's and Wavy's houses.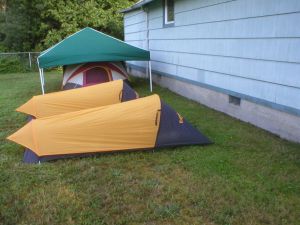 Our tents pitched out back of Wavy's house. Glad we got that out of the way early rather than after the night's festivities.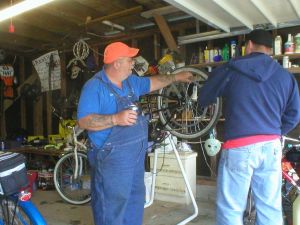 Wavy working on his wife's tandem. Well, she claimed it was hers.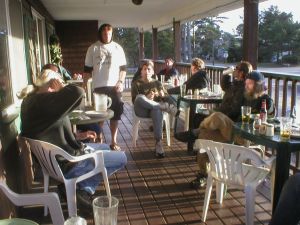 Dinner at the pizza place. The weather was fine for eating outside. Much pizza and beer consumed. Mmmmmm.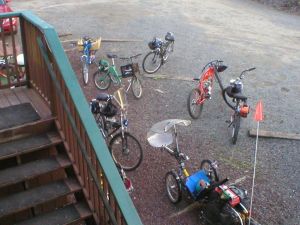 Bikes parked in the restaurant parking lot.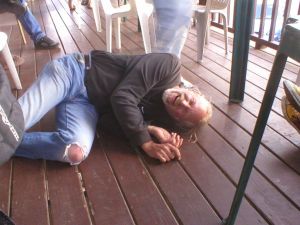 Augidog re-enacting the fateful pine needle (bearing) crash at the park. Let this be a lesson to all. Beware of pine needles at corners.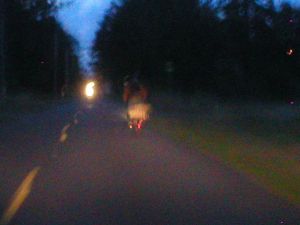 We had repair "event" with my cargo bike. This picture is of Frank riding the cargo bike, following Shawn to Augidog's house to make repairs. The starter cord broke and retracted back into the housing. I got new cord, but when reassembling it the spring came undone. Mitch instructed me on the fine art of winding starter springs (Thanks Mitch!). After two rewinds and various attempts at getting the spring to engage successfully in the slot in the plastic winder, Bill stepped up and got it reassembled successfully (Thanks Bill!).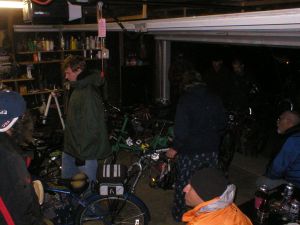 Back at Wavy's garage we found space to sit down amongst the bikes and shoot the breeze for the evening. Lots of male bonding, beer drinking and well...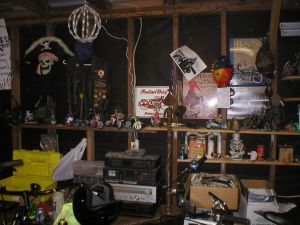 Wavy's shrine to motored biking. Very nice.
Home | Saturday Night | Bikes, Engines, etc. | Ride to Leadbetter Point