The Koi Pond
Page 1 | Page 2 | Page 3 | Page 4 | Page 5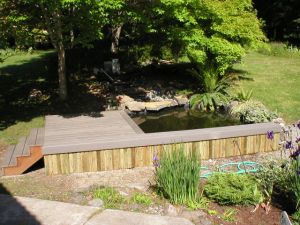 An overview of things as of May 18th, 2004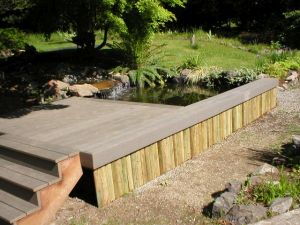 Just added this wood skirting to hide the concrete blocks yesterday.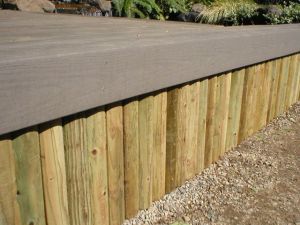 The skirting is made from treated landscape timbers. I liked the olive green coloring in contrast to the deck board color.

Coloring is irregular from one board to the next. I'd considered buying bamboo for this skirting, but this was cheaper and seems to look great.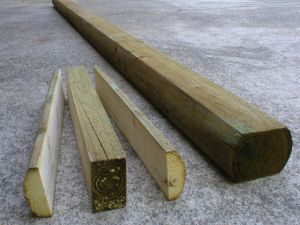 Lots of cutting is required to make the skirting boards from the timbers. Had to vacuum up plenty of treated (copper and arsenic) sawdust.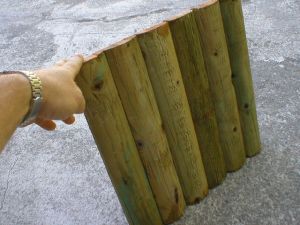 The skirting is made from panels that are simply set into place.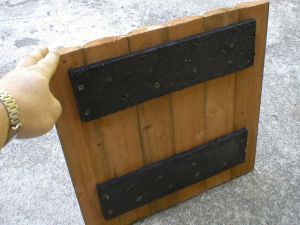 The back of one of the panels. The cut surfaces and ends are "field treated" with a preservative, thus the brown color.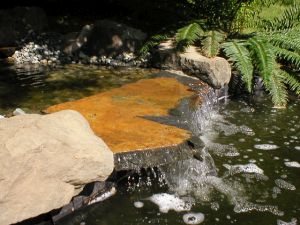 The two lower pools in the waterfall are functional and almost complete. Some landscape still to go. The Iron Mountain flagstone works great for spillways. I used mortar to seal gaps on the lower falls. Rinsed it with vinegar to dissolve the lime. But then I read about using expanding foam sealant and tried that on the upper falls. Seems to work great.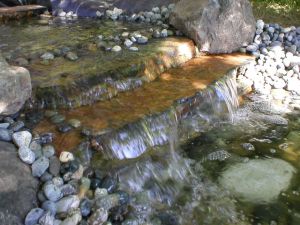 The middle falls, made from three tiers of flagstone.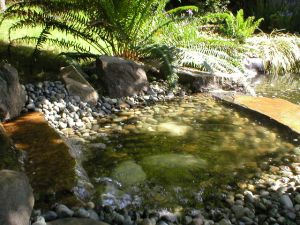 The lowest pool in the water fall. Varying sizes of river rock were used, including a few big stones to add some visual interest.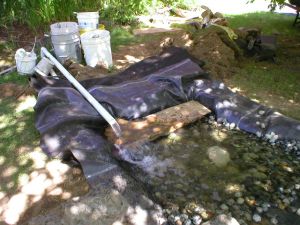 The upper falls and stream from the biofilter still under construction.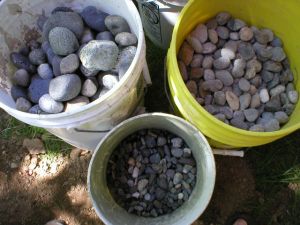 Three sizes of river rock sorted in buckets.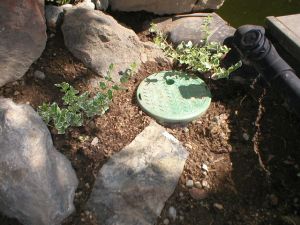 A close-up of the recessed valve box used for the drain in the lowest waterfall pool.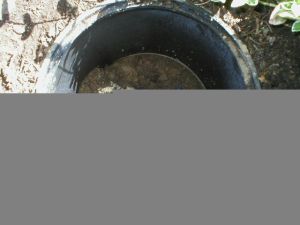 The waterfall drain valve.