Home Made 2 into 1 Exhaust for a Suzuki VX800
Finished Exhaust | Construction Pictures
The exhaust system for a VX800 weighs a ton. So to lighten things up, and give me something to do, I decided to make a 2 into 1 exhaust.
11/09/2004 - The exhaust system is now complete. It works and sounds fine. Not appreciably louder than the stock system, but probably 15 to 20 pounds lighter. Painted the pipes today with exhaust manifold paint bought from my local Coast to Coast Hardware store for about $7.00. The instructions said to operate the engine for an hour after painting, so I was forced to go on a ride today. Also used some muffler joint sealant under the pipe clamps.
Next project (after TIG welding the rear footpeg brackets back on), paint for the body work.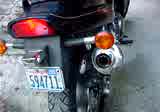 Click here to hear the exhaust.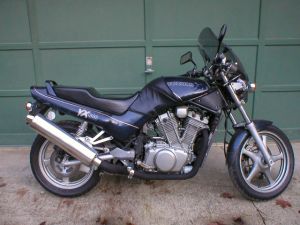 Right side.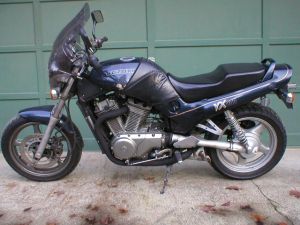 Left side.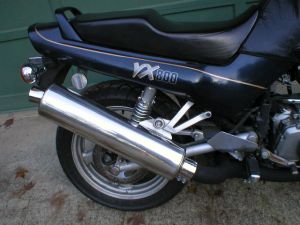 Close up of the can.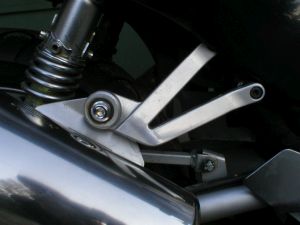 Reversed, cut-off rear foot peg bracket.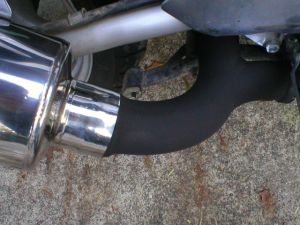 2 1/2" crush-bent elbow from the muffler shop.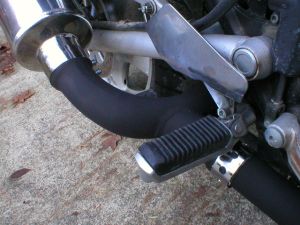 The right side pipe clamps into a "Y" joint off the big elbow.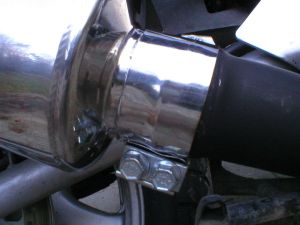 The guy at the muffler shop gave me a used band clamp that I trimmed down a bit narrower.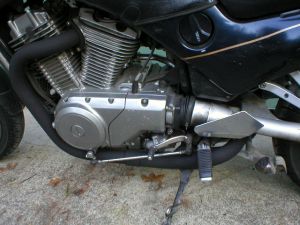 Left side view close up.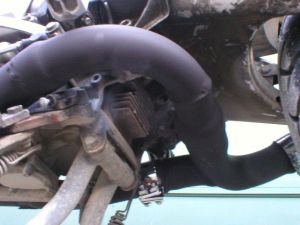 A store bought 2" 90 degree elbow on the left side meets a 2 1/2" to 2" reducer under the swing arm, and then connects to the big elbow on the right side.
Finished Exhaust | Construction Pictures