Custom Paint for my Suzuki VX800
Finished paint | Paint setup pictures
12/12/2004 - Just completed reassembling my beloved Suzuki VX800 after painting it. I used single-stage, PPG polyurethane automotive paint, and it turned out great. I did the body work, had some dings that needed Bondo in the tank and panels, and my friend Dave Sutter painted on the primer and the first attempt at the finish coat. His spray gun was set up for painting boats, so with a bit too much paint being applied we got some runs. The dust level was high in his shop too which resulted in lots of dust in the paint. I now have a very healthy respect for painters. It's fairly complicated and requires amazing attention to detail to get a run-free, glossy finish with minimal dust particles.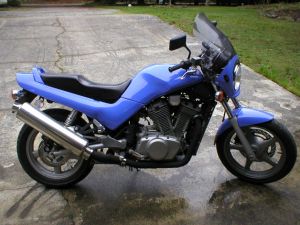 Nice shiny periwinkle. I was going for the color Triumph used on TR6s back in the 70s.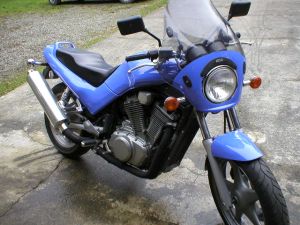 Painted the bottom part of my Givi windscreen to tie it in to the bodywork.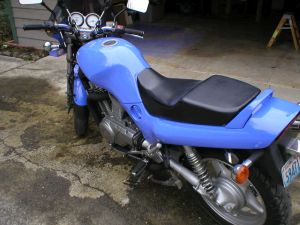 Nice n' shiny. :-)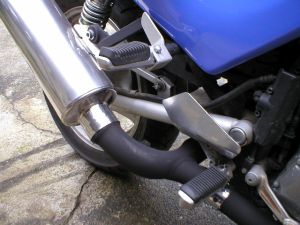 A close up of the new rear footpeg arrangement. Due to the location of the muffler with my custom exhaust, the rear footpeg mounting bolt now doubles as the attachement bolt for the exhaust hanger bracket. This raised it up a bit, which is fine since the only people who ride on the back are my kids!
Finished paint | Paint setup pictures