Jim and Paul's Big Exciting Eastern Oregon Motorcycle Ride - Day 2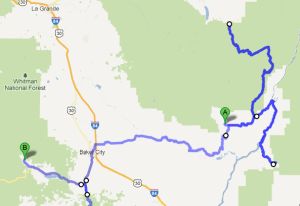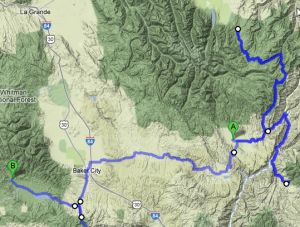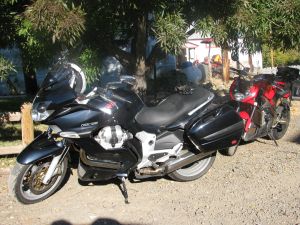 The bikes in glorious morning sunshine.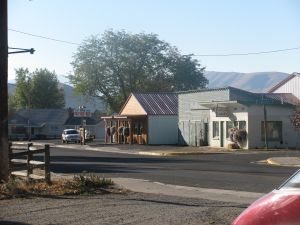 Halfway, OR on an October morning at about 7:30.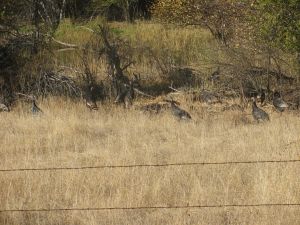 Wild turkeys on the side of the road.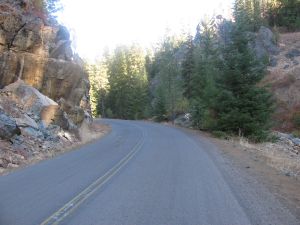 Heading up NF-39 towards Joseph. It's 55 miles to Joseph, but the north end of this road is unremarkable, so we did an out and back on about 40 miles of this road. No point in going all the way to Joseph since we've been there before.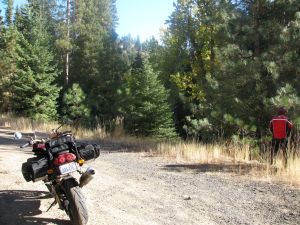 Paul taking a break on NF-39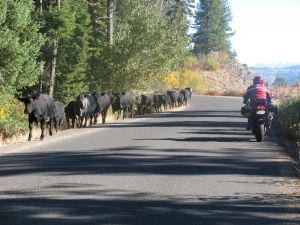 Just like last time we were here, we ran into a few cattle drives complete with cowboys on horseback.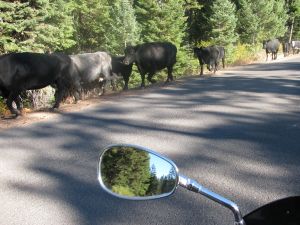 It's a little creepy being in close quarters with cattle on a motorcycle. They look at you with huge, bulging, panic-y eyes and skitter ahead to avoid you.

Paul overlooking Hell's Canyon, the deepest canyon in the US. One of the cowboys driving the cattle whipped out a digital camera and took a picture here while on horseback.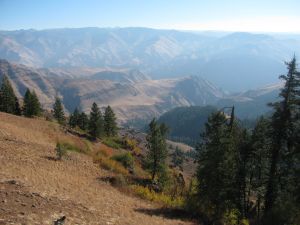 A view from the official park service Hell's canyon overlook.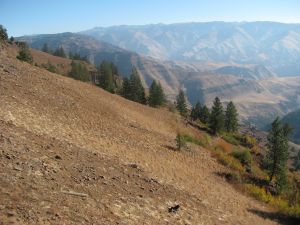 Another view into Hell's canyon.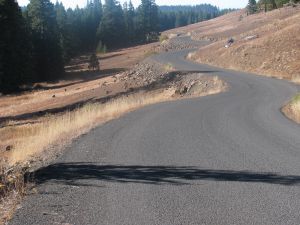 The three mile connector road between the turn-off from NF-39 to Hell's Canyon overlook is an awesome motorcycle road. We did it a few times before actually leaving the overlook.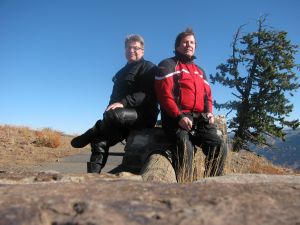 Jim (right) and Paul (left) at the overlook.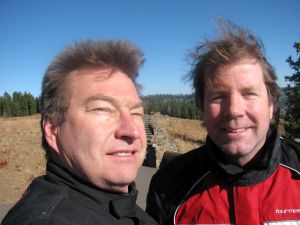 Jim and Paul again.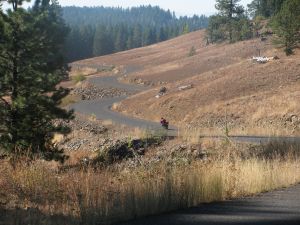 Paul "getting on it" on the wonderful three mile connector road.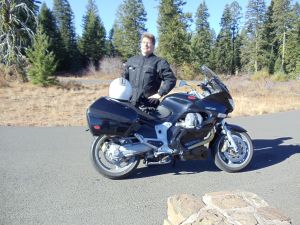 The Jimster at Hell's Canyon overlook with his trusty steed.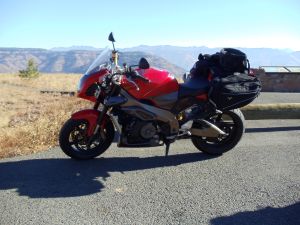 Paul's Aprilia Tuono at Hell's Canyon overlook.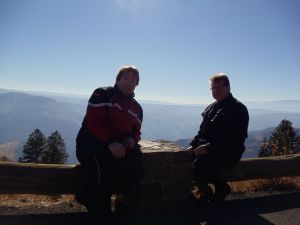 Paul (left) and Jim (right) at Hell's Canyon overlook.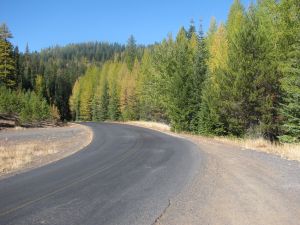 Further north on NF-39, with some golden tamarack trees.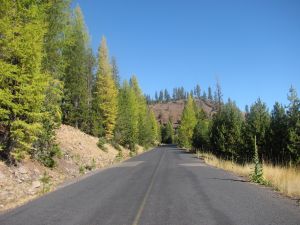 Blue, blue skies on NF-39.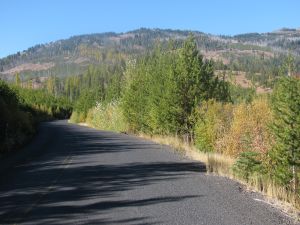 NF-39 goes over some pretty high passes on the way to Joseph.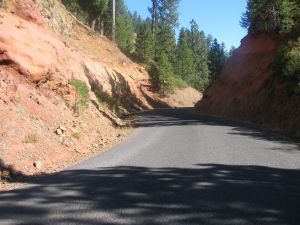 Neat, red rocks form a twisty on NF-39.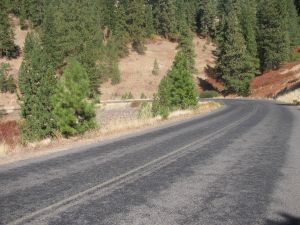 Southbound on NF-39 after turning around on our out and back.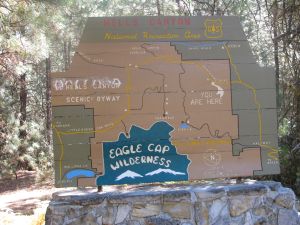 A friendly park service sign illustrating the area we were in.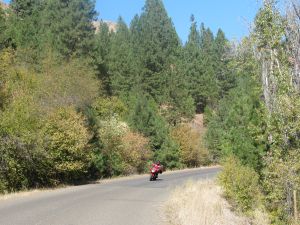 Paul near the south end of NF-39.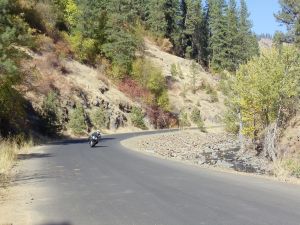 Jim south-bound near the south end of NF-39, and near its intersection with Rte. 86.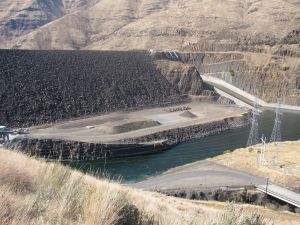 The Brownlee dam between Oregon and Idaho. This is where Idaho Rte. 71 begins to the south of the dam.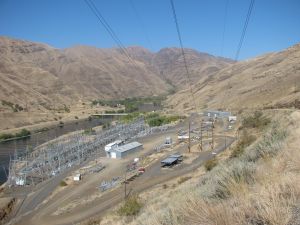 Electric equipment by the Brownlee dam.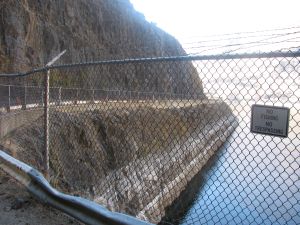 Rte. 71 is carved into a cliff by the dam. Pretty exciting to ride along.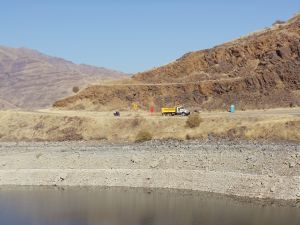 Jim visible as the black speck to the left of the dump truck, just south of the Brownlee dam on Idaho Rte. 71.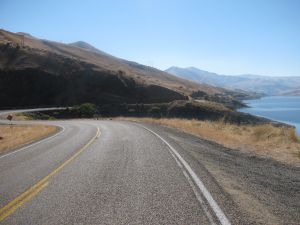 Looking south on Idaho Rte. 71. Truly a destination highway. Amazing linked curves with excellent, smooth, well-engineered pavement.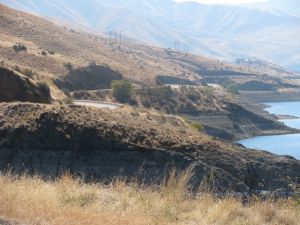 A zoomed shot showing how the road snakes along cuts in the hilside by the river.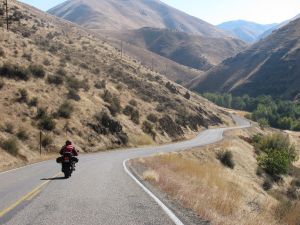 Rte 71 eventually heads away from the river and on to Cambridge, Idaho. We only went as far as the Gateway restaurant.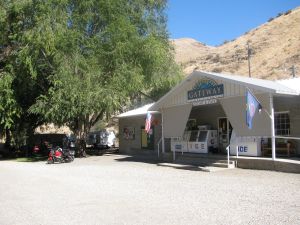 The Gateway restaurant on Rte 71. A fine place for lunch via motorcycle.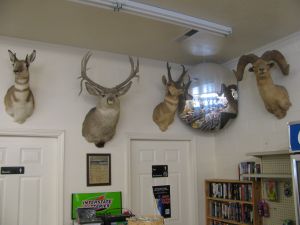 This here's huntin' country. Mounted kills in the Gateway restaurant.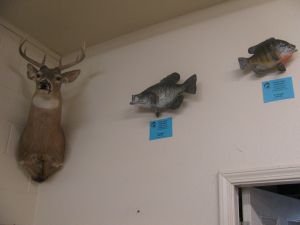 I liked the little fish juxtaposed to the deer.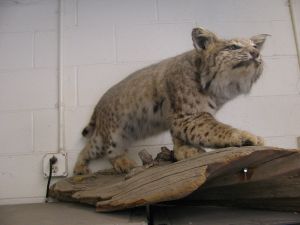 Rrreorrwww!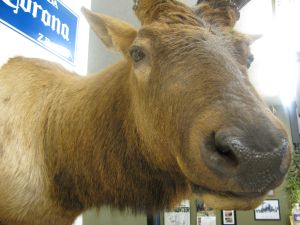 Auggghhh!!!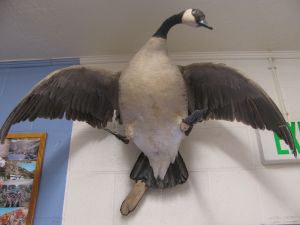 Isn't this kind of sick?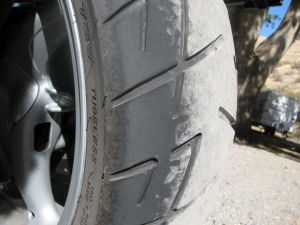 Chicken strips getting smaller again.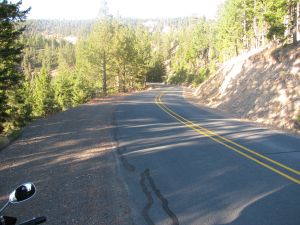 We made the requisite visit to Dooley Mountain road en route between Baker City and Sumpter, OR.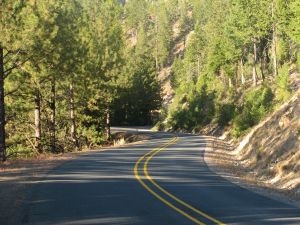 Dooley Mountain road is a pretty well known motorcycle road, but too many inside corners have gravel on them for me to let loose. Seems it's always this way too.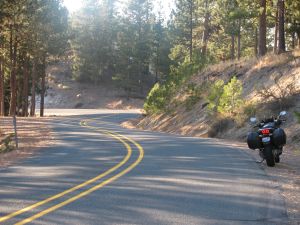 Nice curves though.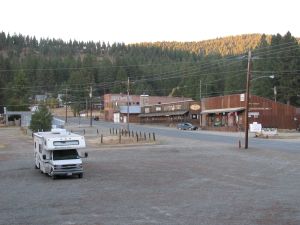 Evening in Sumpter, OR, our destination for day 2.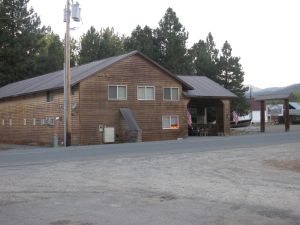 Lodging in Sumpter. This hotel like many businesses was for sale. I'm guessing that it gets harder and harder to live in the boonies when gas prices keep rising. Expensive to go buy supplies, and fewer tourists to generate income for the town.