Jim and Paul's Big Exciting Eastern Oregon Motorcycle Ride - Day 3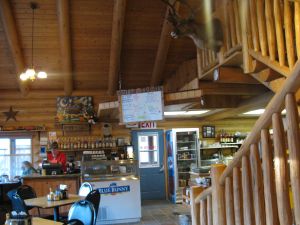 Breakfast in Sumpter at The Scoop.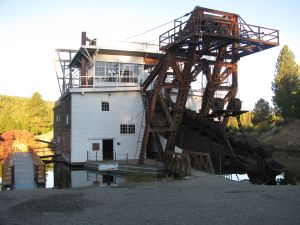 This here is the Sumpter Dredge. I almost couldn't believe it. It's a gold mining device that floats in its own pond, digs dirt from the front, process the gold out of the dirt, and then pushes it out the back. In doing so it digs its own pond to navigate. The plaques say it went "all over the valley"!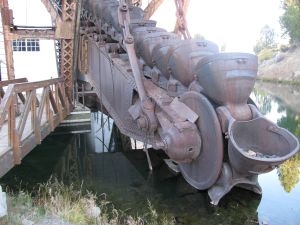 The digging scoops.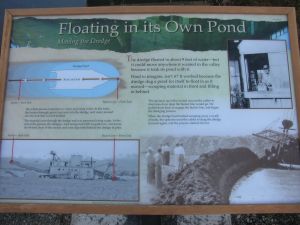 Park service info about the Sumpter Dredge.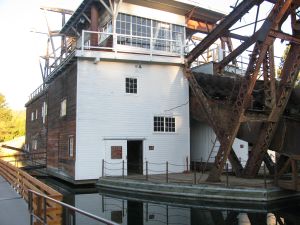 It was big, really big.

Machinery inside the dredge.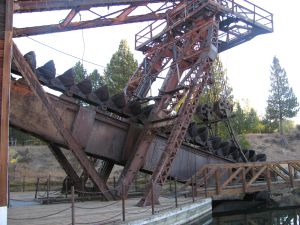 The dredging scoops.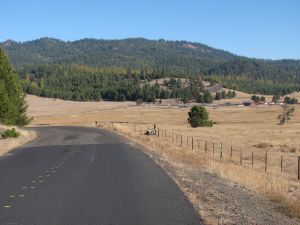 We got a pretty early start that day and decided to try (gasp) a new road that we hadn't been on before. It was NF-51 north of Granite that lead to Starkey.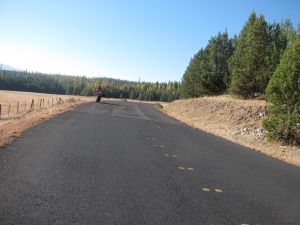 NF-51 on the south end went through deep forest with tall fir trees, but eventually it opened up into a big, beautiful farm field.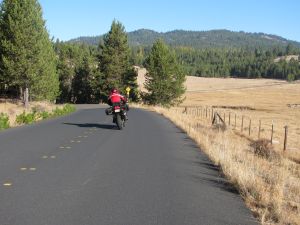 Paul on NF-51.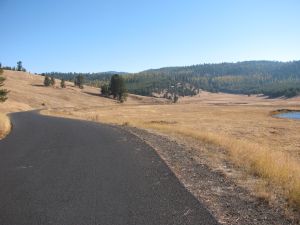 NF-51 snaking along a hill side.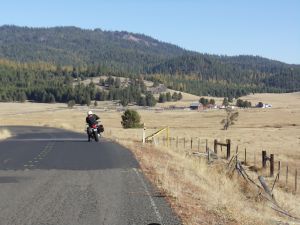 Jim north-bound on NF-51 on the way to Starkey. The road broke out of the deep forest here into a beautiful field with a farm.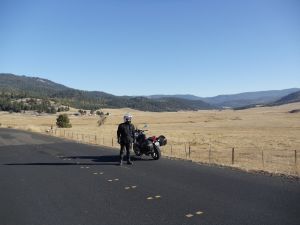 Jim, again on NF-51 after breaking out of the woods.

A river flowing along-side NF-51.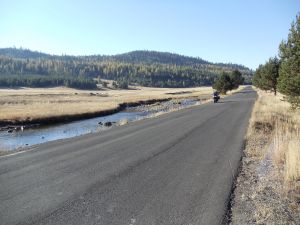 Day 1 - Jim, again on NF-51, approaching the awesome, north section.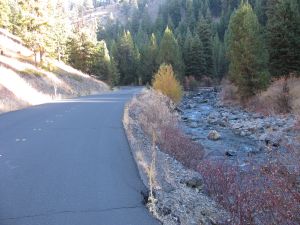 Pretty fall colors on NF-51. We discovered that the north end of NF-51 is one of the best motorcycle roads in the state. Perfect, wide pavement with linked corners, with posted limits varying between 20 and 35mph. No banking or hills, just flat, smooth, track-like pavement with no traffic. Of course we did it twice.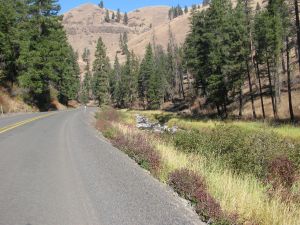 After leaving NF-51 we hit 244 and then got gas in Ukiah. Anytime you're in Ukiah it's a good idea to do an out and back to the south on 395 through the Ukiah-Dale corridor. Besides being stunningly beautiful, it has prolonged, linked curves typical rated at 35mph. Very fun, although this year the pavement seemed to have faint washboard ripples that weren't there a couple of years ago.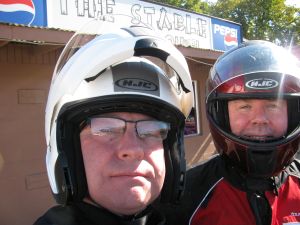 Selfie in Heppner, after completing the crossing from Ukiah on Willow Creek road.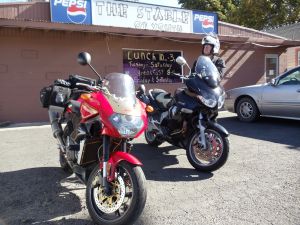 Day 1 - Lunch in Heppner. The Stable is a reliable, reasonable place to eat.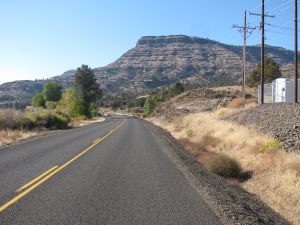 Heading south on 207 from Ruggs, through Hardman and on down to Spray. Paul didn't like the chip seal pavement, but it was pretty darn curvy, and beautiful.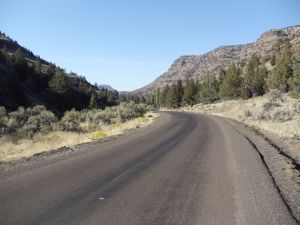 Day 1 - South end of Rowe Creek/Twickenham Rd.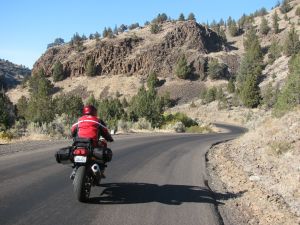 Paul entering Rowe Creek/Twickenham road from the south end after riding 207 from Service Creek (again).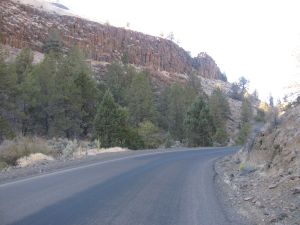 Rowe Creek/Twickenham road is sigularly beautiful. It has amazing diversity of scenery, starting with the dramatic basalt canyons at the south end.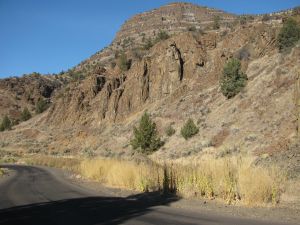 Dry fall grasses at the base of a basalt outcrop.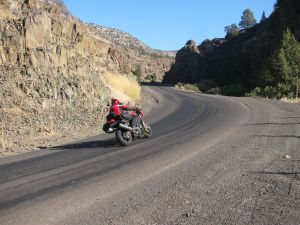 Paul going up the canyon.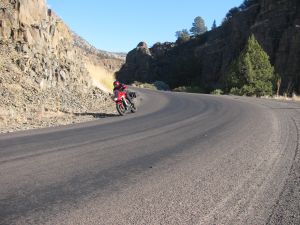 Paul coming down the canyon.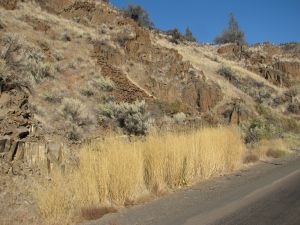 More grasses, plus interesting basalt.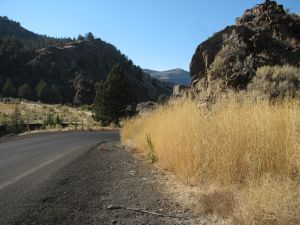 I liked the grass.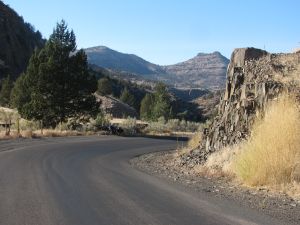 Just another great curve, with no traffic.

In the cool canyons of Rowe Creek/Twickenham Rd.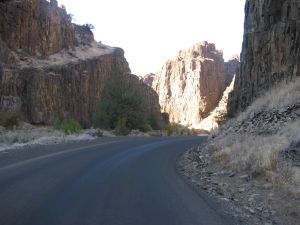 The canyons around Rowe Creek/Twickenham road are truly stunning. The first time we went through them we just stopped thought, "wow".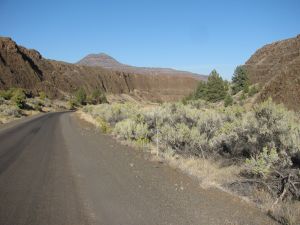 More Rowe Creek/Twickenham road scenery.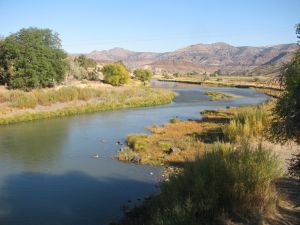 The John Day river at the Twickenham bridge, looking east.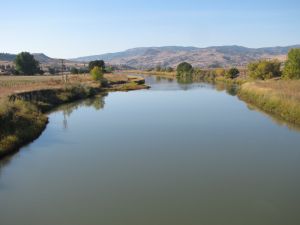 The John Day river at the Twickenham bridge, looking west.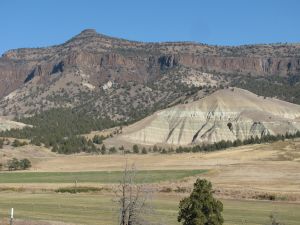 Painted hills in the foreground with basalt cliffs in the background. You occasionally see painted hills peeking out from hillsides as you drive around this area. Colors include maroon, purple, green, black, white and orange.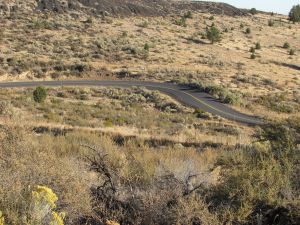 After an invigorating ride on Rte. 218 from Fossil to Antelope (another one of the best roads in the state), we're back at the horeshoe curves just south of Shaniko.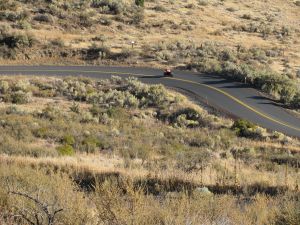 Paul climbing up the Shaniko horseshoes.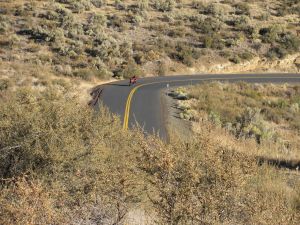 Paul on a curve.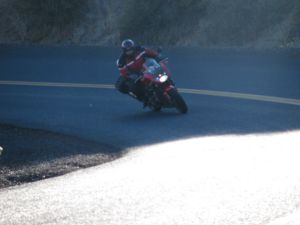 Paul on a Shaniko horseshoe curve, Rte. 218.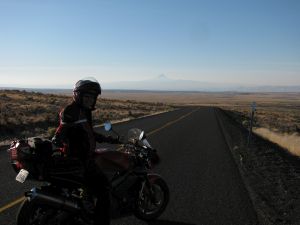 Paul on the final 26 mile stretch on Bakeoven road from Shaniko to Maupin, with Mout Hood in the distance.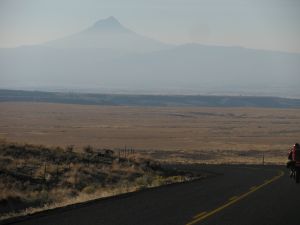 Mount Hood, approaching Maupin.