Jim and Paul's Big Exciting Eastern Oregon Motorcycle Ride - October 2012
Here we go again, another ride in eastern Oregon. But why not? It's beautiful! There's no traffic! There are incredible, twisty roads! This time we trailered to Maupin and rode approximately 1,000 miles in three days. Made it to our motel by about 5:45 each evening, early enough to avoid most of the deer. The fall colors were great, as was the weather. You can't complain about mid 70s in October, along with blue skies.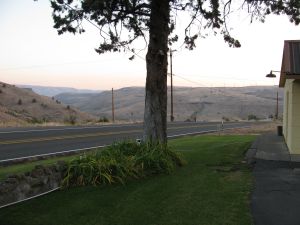 Early morning in Maupin, looking north from our motel's grounds down the Deschutes river valley.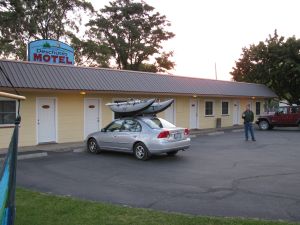 Our humble lodging in Maupin, the Deschutes Motel. I'd stay there again. We had a suite with our own bedooms for about $80.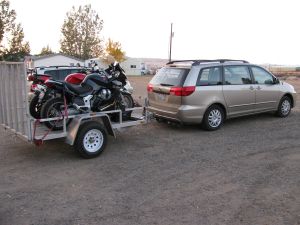 The rig. Paul bought a very nice lightweight aluminum trailer with big wheels and a good ramp for loading and unloading. The Sienna pulled it just fine.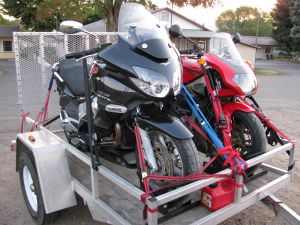 The bikes lashed to the trailer. My Moto Guzzi Norge in the foreground.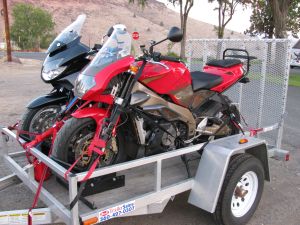 Paul's Aprilia Tuono (rhymes with 'guano') in the foreground.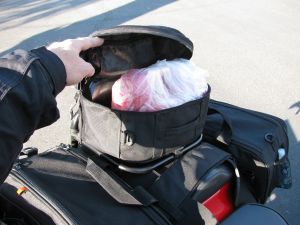 Paul brought a one gallon gas can to extend the range of the Tuono's 4.8 gallon tank.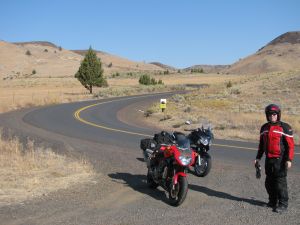 Stopped just north of Antelope on Rte. 218. Paul's one gallon gas can leaked, and the plastic bag wasn't containing the leaked gas. He left it on the side of the road by some tires, and picked it up on the way back on the third day.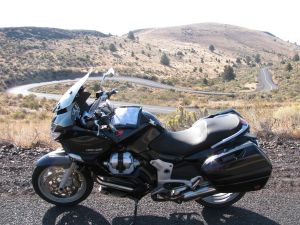 The Norge overlooking the famous horseshoe curves just south of Shaniko on Rte. 218. You can find many other pictures of these curves on the internet.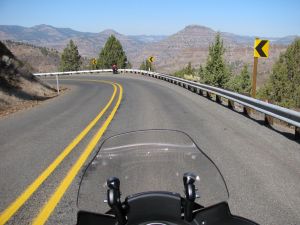 Looking northeast on Rte. 207 between Service Creek and Mitchell. We just did an out and back from the junction of 207 and 18 near Service creek, up the first pass. The curves on that section are worth at least one do-over. We rode this section again on our way back on day 3. Highly recommended!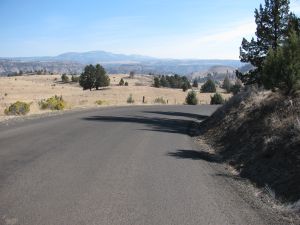 Coming back down the pass on 207 to the John Day river valley.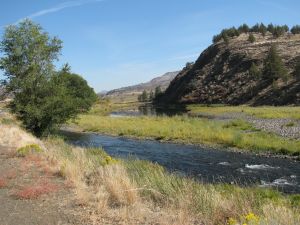 Back down in the valley along side the John Day river. I did a 4 day float trip on this a few years ago. It was lots o' fun.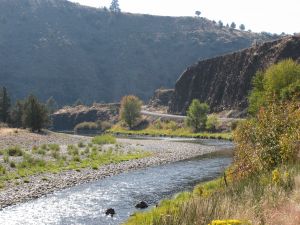 Again, the John Day.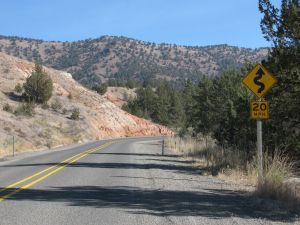 Heading east on 402 to Long Creek.

Nice curves and geology on 402.

Nice curves and geology on 402.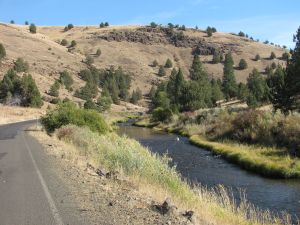 East-bound on perhaps one of the most beautiful roads in Oregon. The Galena-Susanville-Bates road. Middle fork of the John Day river pictured.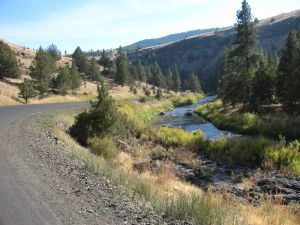 Another view of the Galena-Susanville-Bates road.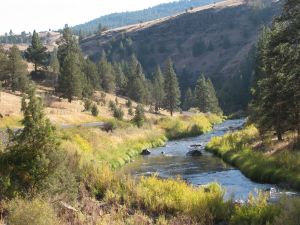 Another view of the Galena-Susanville-Bates road.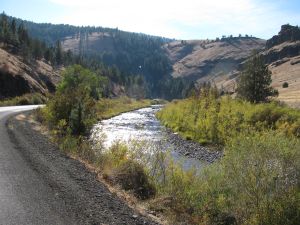 Another view of the Galena-Susanville-Bates road. Did I mention that this was beautiful?

Open range cattle on the Galena-Susanville-Bates road. You know they're coming when you see cow pies on the road.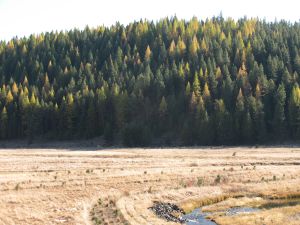 Tamarack trees (the golden ones) on a hillside on the Galena-Susanville-Bates road.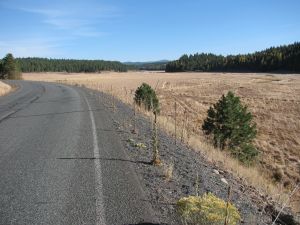 An open field on the Galena-Susanville-Bates road.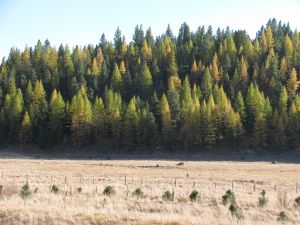 A closer view of tamarack trees.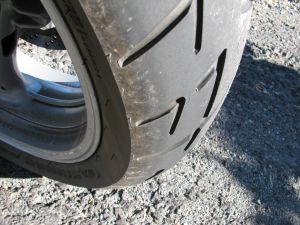 Chicken strips getting smaller.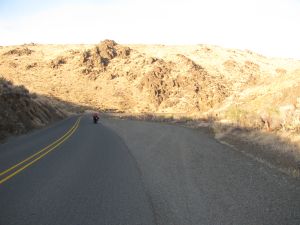 Getting late in the day now, on Rte. 86 east from Baker City on the way to Halfway. You might even say halfway to Halfway from Baker City. 86 is a pretty decent motorcycle road that has many sweepers. It's pretty straight at the west end, but elsewhere you're usually leaned over to some extent.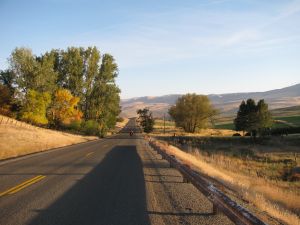 Approaching Eagle valley on Rte. 86, with some nice fall color and low, evening light.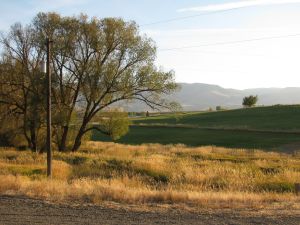 Evening in Eagle vall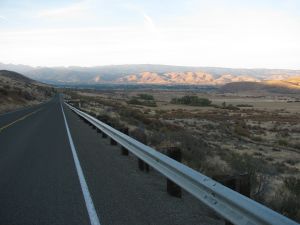 Pine valley, with the town of Halfway in sight. Just in time before "deer o'clock".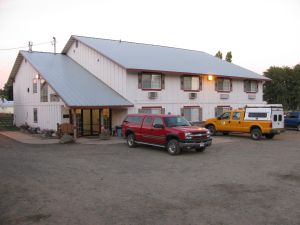 More humble lodging. This time in the town of Halfway. Another decent, affordable motel. I'd stay here again.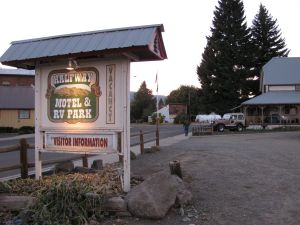 Our lodging, the Halfway Motel & RV Park.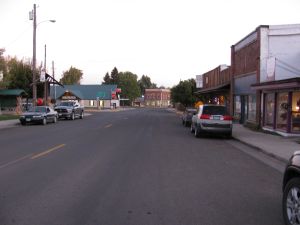 Halfway on an warm autumn evening. This town seemed pretty small, but they have two grocery stores and a population of around 500. A person could live there.

Dining in Halfway was less than successful. The Wild Bill restaurant served this as "rare prime rib". Paul likened it to beef jerky.