WA & OR Motorcycle trip - May 11-14, 2006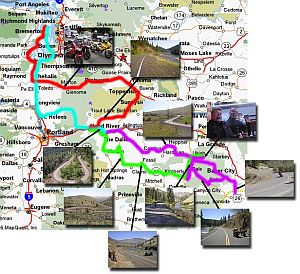 Day 1

Day 2

Day 3

Day 4
Last year's trip to Oregon was so fun that we decided to return to some of the same areas, but stay mainly in eastern Oregon. We planned for four days like last year, with a stay at Lehman Hot Springs. We got some great road suggestions from Scott Summers who sold me my Aprilia Falco. Some really exceptional roads for twisties and sweepers in eastern Oregon include:
Rte. 97 between Shaniko and Antelope (8 miles, twisties)
Rte. 206 between Heppner and Condon (43 miles, twisties and sweepers)
Rte. 245 over Dooley Mountain, south of Baker City (about 15 miles, twisties)
Rte. 28 between Antelope and Fossil (35 miles, twisties and sweepers)
Rte. 7 between Sumpter and Austin Junction (about 10 miles of sweepers)
Forest service road between Ukiah and Sumpter (48 miles of twisties and sweepers)
These roads are a long way from major cities like Seattle or Portland, but if you can make it out there, it's well worth the trip. Plan your gas stops as distances between towns can be far, and towns can be very small.