Mohave Lake trip with Frank - 1/2021
My friend Frank Kaplan and I had been hearing about Lake Mohave, between NV and AZ south of Las Vegas as a winter windsurfing/foiling alternative to Baja destinations for a while. Due to COVID concerns, we decided not to go to La Ventana this winter, and instead planned to sail at Mohave Lake for a couple of weeks. I'd been monitoring the weather down there, and an early January departure seemed reasonable for predictions of good northerlies.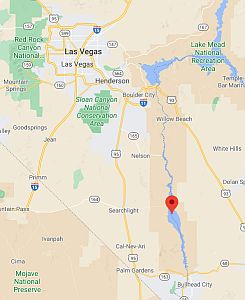 Red marker shows Mohave Lake. For north winds you'd typically sail from the east side of the south end. Just north of Bullhead City.
Frank left a day earlier than I on 1/9 so he could buy a foilboard in the SF Bay area and visit his Dad in Walnut Creek on the way down. Purely for the sake of adventure I decided to follow the quick route that Rick Martin uses to get down to Mohave. That's Rte. 93 right on down through Nevada from Twin Falls Idaho. I sent emails to friends and family and posted messages to NW Windtalk throughout this trip about what we experienced. Here are these posts with pictures.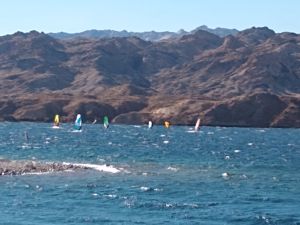 Typical crowd on a good day.