Jim's home | Windsurfing home | This trip's home
Mohave Lake trip with Frank - 3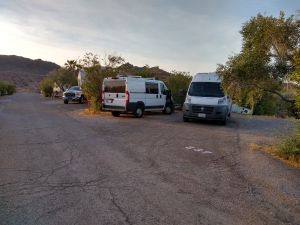 Our Promaster vans at the Katherine Landing campground.
At the lake now in our campground. Rendezvous'd with Frank this morning at Cabinsite Cove, which is the main place to sail here. It's inside a national park. Frank's and my senior discovery passes covered the $5 entry fee. It also reduced our campsite fee from $20/night to $10/night. So that's $5/person per night. Pretty good. Hot showers too. The nearest town is Laughlin, NV, which appears to be yet another "gaming" town in NV. I'm still bewildered how/why people actually go to casinos.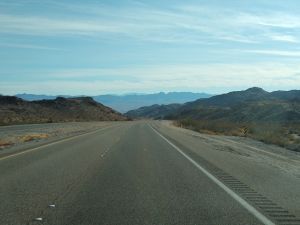 On the way to the lake from Searchlight, NV.

The road leading down into Katherine Landing campground and marina.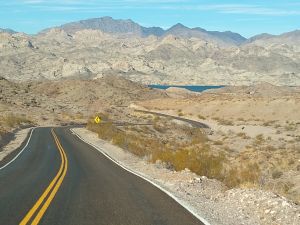 The 2 mile long road between Katherine Landing campground and Cabinsite Cove.
We consorted with the motley group of mostly 60+ year old foil people there were at the launch area. Many our age, grizzled, graying yet youthful. Looking forward to hanging out with them during this time. Dana who owns Promotion Wetsuits is here. Greg Glazier, team rider for Slingshot is also here. Video of him on youtube here:
Wind was light today. I windsurfed a bit on some biggish gear but never really felt the love. Tomorrow though. Hope it's not too strong.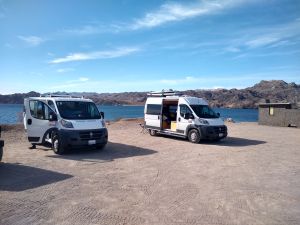 Our vans at Cabinsite Cove.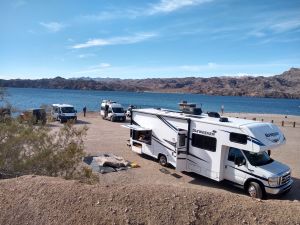 View southwards with Greg from LA's RV in the foreground.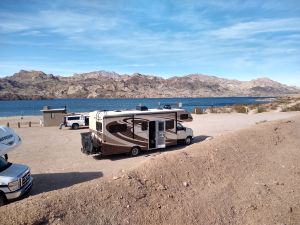 Northwards.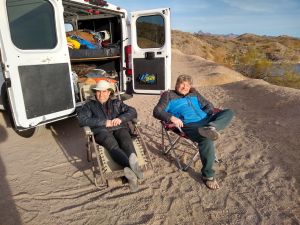 Frank and I relaxing in the early morning chill.
Apparently there are small, sand colored scorpions here that are very poisonous. We were told about a guy that had to go to the local ICU and was in the hospital for 3 days after being bitten. Elgin, our neighbor at the launch site showed us his UV light flashlight he uses to check for them in his RV. He showed us a picture of one glowing green in the purple light he found when he was simply testing his light. Nobody seems to be wearing flip flops here.
Shared dinner with Frank. Tomorrow should be good.