Jim's home | Windsurfing home | This trip's home
Mohave Lake trip with Frank - 6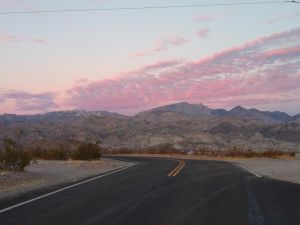 Early morning clouds on the 2 mile drive to Cabinsite Cove.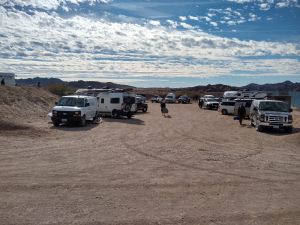 Parking lot filling up on a weekend morning.
Mid Monday morning now. Wind is supposed to be strong today. A day or so ago the forecast was for 30 with gusts to 50. Been downgraded since thankfully. Heard a new term from Elgin, "tarped out". You really want a tarp to rig on here due to the rocks, gravel and sand. When the beach is covered in tarps, it's tarped out.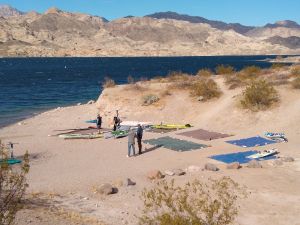 Tarps at the finner's launch cove.
Frank had a scary incident yesterday. His single-bolt mast base separated from his foil board. He tied his rig to a footstrap and then proceeded to get the base's t-nut back into the board's mast track. The nut kept turning sideways but he finally got it. At one point he had 4 separate parts to deal with (board, rig, base and t-nut). Took him about 20 minutes in that cold water to get it all back together.
Had a nice ukulele/guitar jam session with campsite neighbor Greg last night. He's been playing for 2 months and knows 4 or 5 chords. Nice singing voice. We did Friend of the Devil and Country Roads. Pretty fun. We've been hanging with an Los Angeles contingent of Bill Steinbeck (possibly related to the author), Greg and Richard. They come here a lot. Apparently in October the water temp is in the 70s with air temps in the 90s. Very different than now. Frank and I agreed this is the most hostile place we've ever sailed.
Drove all the way through Bullhead City to get to Walmart yesterday. Didn't end up buying anything there but got to tour the town. What a serious shithole it is. Giant strip with endless jet ski rental places, vape stores, tattoo parlours, convenience stores and fast food. Then on the other side of the surprisingly narrow Colorado river is Laughlin, with it's high rise casinos. Truly a place of scum and villany. I wouldn't want to be here in the summer. Apparently the lake is filled with jet skis.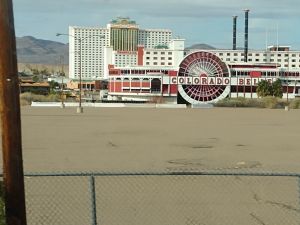 A casino in Laughlin.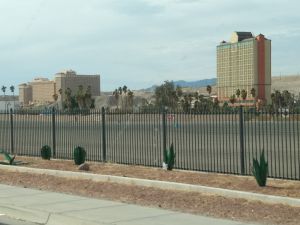 More casinos.
This is truly a harsh place. No trees anywhere. My lips have never been so chapped. Finally broke down and bought some Burt's Bees lip balm.
Have struggled a bit keeping my batteries charged. The low sun angle really affects charging from my 4 100 watt solar panels. Have changed the angle of how I park so no shadows are cast on my panels, and have also washed my panels. After that, batteries were back up to nearly 100%.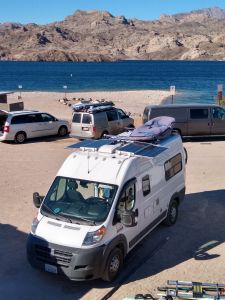 Solar panels deployed, washed and angled slightly down to the south.