Jim's home | Windsurfing home | This trip's home
Mohave Lake trip with Frank - 5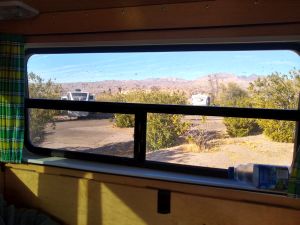 View out my van window in the morning to the west. Have had some nice crimson desert sunsets.
Today was "Super Swell Saturday" in Hawaii. Maybe you didn't hear about the swells at Jaws or Waimea in Hawaii today. It was a 5 year high and we got to watch real time surfing and windsurfing there. Dana, who owns Promotion Wetsuits suddenly showed up at our little corral of vans and RVs here at the campground with a tablet mounted on a tripod. So we had drinks while watching it. Pretty fun. Dana seems to have a surfing background from long ago. Also had good swells on the lake today. Wind was a brisk 20 to 30 knots with higher gusts. I was on a 4.4 meter sail and a 106 liter board. People seem to sail slightly floaty boards here to increase their odds of getting back if something goes wrong. This due to the cold water and limited shore access. Anyway it was a good call for me. I hadn't sailed winds that strong in a long time, and it was tons of fun. 3 to 4 foot rolling swells that were fun to jibe off of and between. Big gusts rolled through all day that were pretty challenging to deal with. Yesterday was so gusty I barely sailed. Much steadier and better today.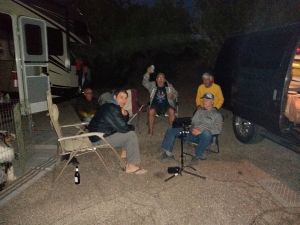 From left to right, Greg from LA, Frank, Bill from LA, Dana in the foreground, Andy from LA in the backgroud.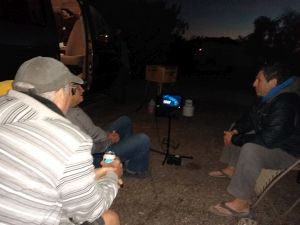 Watching Super Swell Saturday on Dana's tablet.

Since it's a weekend, the parking area at the launch was more crowded than ever. We've changed our practice of having coffee and breakfast in the campground, and instead left the campsite at 6:45 AM and had coffee and breakfast at the launch site. Got primo parking that way.

A few people kite here, but mostly it's finners, windfoilers and wingfoilers. Some kiters I've talked to here say they think it's a dangerous place to kite. The "beach" is actually a field of cobblestone sized rocks. At least once a day I've seen a kite slam down into the ground super hard. Today Mandy of Stephan and Mandy from Prescott, AZ got pulled about 3 feet up into the air and slammed down on her back after Promotion Dana asked her to hang onto his kite bar. His kite was tied to a signpost. She's not a kiter and accidentally powered the kite up. We agree that Dana should have asked her if she knew how to kite before doing this. Frank got to witness this kitemare.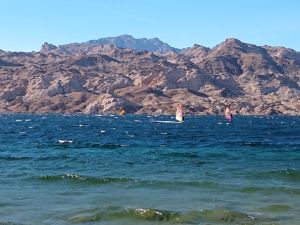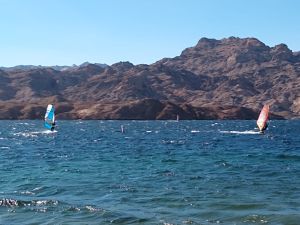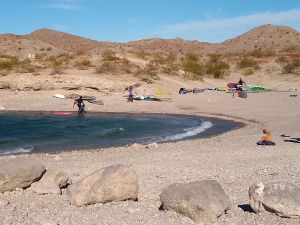 The cove upwind of launch where most finners launch.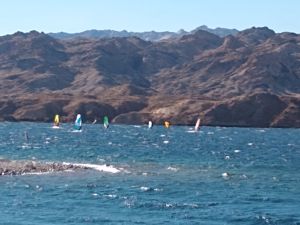 Windsurf sails outnumbering wings.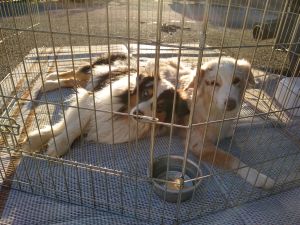 Glenn from LA's dogs.