Jim's home | Motorcycle home | This ride's home
WA, OR, ID, MT Motorcycle Trip - June 16-19, 2007
Home | Day 1 | Day 2 | Day 3 | Day 4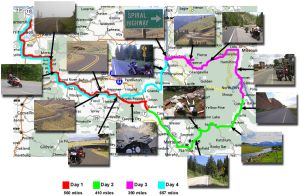 This years "big" motorcycle ride seemed in question this year. Dave Sutter installed risers and wide, upright handle bars on his Aprilia Falco for a more upright riding position. It looked like fairing mods would be needed, which he didn't have time for due to a busy work schedule. But the bars were high enough to clear the fairing, and our schedules opened up in mid June for our now-traditional four day ride.
I had visions of a huge loop across northern Washington on some of the routes I did on my northern Washinton and British Columbia trip, then south down Rte. 97 by Coeur d'Alene Lake, across St. Maries to Regis road just southeast of Coeur d'Alene, over to Missoula, Montana and back across Lolo Pass, then over to Lewiston, Idaho to ride the Sprial Highway, down SR 129 and Rattlesnake Grade in southwest Washington, and back across eastern Oregon on the wonderful, traffic-free roads we've ridden on prior trips in 2005 and 2006, with a final leg up the infamous FS 25 just east of Mount St. Helens.
Then, I added up the mileage. Whoops, not enough time for that in four days of riding. Dave said he wanted to ride Rte. 93 in Idaho in Idaho, and some additional research showed that Rte. 21 in Idaho was rated as a "twisty" road. We began to see a different loop, omitting the northern route, and getting over to Idaho and Montana and back via eastern Oregon. This was still *a lot* of miles. We're not talking about a lot of miles on interstate. These are mainly two lane roads with many rated as "twisties" and "sweepers". But, it looked possible, even with a planned stop at Pine Flat hot springs in Idaho.
The first and last days of the trip were long. Day one was 560 miles. Dave and I split up on the morning of the fourth day. He went home from Lewiston via Interstate highways to make the day as short as possible. I had my mind set on riding Rattlesnake grade, and spending more time around Ukiah, Heppner and Condon down in Oregon. Day four for me was 657 miles, with most of it on curvy backroads.
This was the second multi-day trip I've ridden on my 2002 Honda ST1100. I put Helibars and a Russell Daylong saddle on it, and was really happy with the comfort level. No "butt burn" ever. A "twist assist" on my right hand grip, a throttle lock, highway pegs and heated grips helped too. I believe this trip was what Honda engineers had in mind when they designed the bike - Many miles on curvey roads per day. Dave seemed happy with his new riding position on his Falco too.
The Highlights
As always, the roads in eastern Oregon are a treat. Many roads are very twisty and/or sweeper-like. Engineering and pavement quality is usually great. We found little gravel there. Also, there's very little traffic (and law enforcement), to the point where you'll ride a half an hour on great roads and not see another vehicle.

FS 88 from Rte. 90 on the Lewis River to Trout Lake in Washington was great! Varied between a two-lane road and a one-lane road with turnouts. Very twisty, good pavement, beautiful western Washing forest scenery. Beware, there are a few, short gravel sections.

Rte 21 in Idaho from Boise to Stanley, hooboy! Despite the Sunday traffic near Boise, this road was fun, fun, fun. Tons o' twisties going up and down over mountains. Great pavement and engineering. Beautiful Ponderosa Pine type forest scenery with big vistas. Oh to be a sport bike rider living in Boise, and we saw more than a few.

The southern half of Rte. 93 between Stanley and Salmon, Idaho was a road with many flavors. Like Rte 21 at the south end, with lots of twisties, then sweeper after sweeper to the north with amazing scenery. Cool rock and mountain formations abound, with great views of the Sawtooth mountains.

Big surprise, and possibly the best road on the trip, the first eight miles of Rte. 11, the road from Greer to Headquarters in western Idaho. Just the twistiest climb up a mountain with the nicest pavement and engineering that you'll find. Truly incredible. Little traffic too.

Rattlesnake grade on SR 129 in southwest Washington. This lived up to it's reputation. I loved the sign that said 25 mph rated curves for the next 13 miles. It was true! A massive descent down into a deep canyon to the Grande Ronde river and then back up again. You could see the tiers of switchbacks looking down or up depending on where you were. Beware though, I encountered cows on the road near the bottom of the canyon.
Letdowns
FS 25 on the east side of Mount St. Helens has fallen into major disrepair. The fill parts of the cut and fill road construction have slid in many sections, especially at the north end. It's still a great route to get to FS 99 to Windy Ridge, and to Rte. 90 along Swift Reservoir to the town of Cougar, but I don't think I could call FS 25 a destination road at this point.
Rte. 12 over Lolo Pass in Montana is a great cruiser road, but it's definately not a sport bike road. Beautiful, winding, yes, but you will not wear out the rubber on the sides of your tires there. It's basically engineered for a 65 mph speed limit, so to really enjoy the curves you'd need to ride at over 100 mph, which you wouldn't want to do for various reasons (limited visibility, moderate traffic, law enforcement present on weekends, etc.).
Home | Day 1 | Day 2 | Day 3 | Day 4