Jim's home | Back to La Ventana home
Back to La Ventana Mexico with Frank
La Ventana 1
Next
It's now the end of day 4 on my trip to Baja with Frank. We're in southern Baja on the shores of Laguna Guerra Negro camping with our Port Townsend friends Erik and Alice. I doubt we'll make it to our destination, La Ventana tomorrow due to the 500+ mile distance from here. Will probably stay at Puerto Escondido and have a 5 hour drive the day after tomorrow. So 6 days on the road as the song goes. Everything's gone well so far. My aging tires are holding up well along with the new radiator installed a couple of weeks ago. You don't want to break down here. I thought driving around Death Valley last winter was spooky and potentially dangerous. Baja is much worse. Most of the roads have no shoulders, so if you break down you can' pull over. We saw a truck today in that exact predicament. Poor souls.

My van just prior to leaving Poulsbo. One SUP and 3 windsurf boards on the roof. 3 gallon gas can on the back.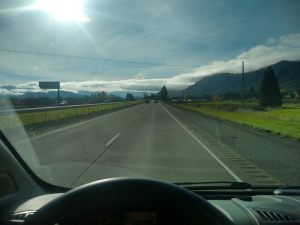 Sunnier skies in southern Oregon southbound.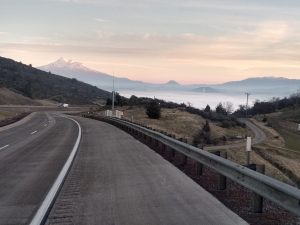 Mount Shasta in the distance along with some fog.
Frank's driving his Ram Promaster van, and I, mine. We rendezvous'd at an abandoned agricultural facility 9 miles south of Yreka, CA on the first night that proved to be an excellent bootleg campsite. Quiet, no one around. We parted ways the next morning so Frank could visit his Dad in the Bay area while I headed to Modesto to visit my cousins Bob and his wife Barbara. Had a great breakfast at the HiLo cafe in Weed, CA,which is named after Abner Weed who bought a sawmill and hundreds of acres in the 1800s for $400. Resumed my southward journey the next morning with the amazing number of tractor trailers out there. So many Amazon Prime trucks! I was actually glad to see a Walmart truck. Then up over the 4000' pass by Pyramid Lake and Sawtooth mountain. What a hill climb. My van is heavily loaded. Then into rush hour traffic through the San Bernardino valley, yuck.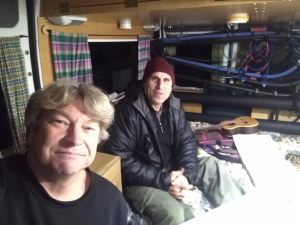 Frank and I at our bootleg camp at the end of the first day.
I rendezvous'd with Frank, Erik and Alice at a campground on the Salton Sea in southern, CA. It's the largest lake in CA, formed when the Colorado river was accidentally diverted to a valley that's below sea level. Once home to resorts and housing developments, the lake is now drying up, leaving behind apocalyptic scenes of dilapidated structures. Agricultural run off and thousands of dummy bombs dropped in practice for the Hiroshima and Nagasaki bomb drops has left behind a toxic soup of heavy metals including selenium and cadmium and spent uranium from the dummy bombs. 26 WWII era bombers crashed and lie at the bottom of the lake. Half of them allegedly still have the remains of their crews aboard. Should be interesting when the lake dries up.
We awoke at 4:00 AM to get an early start to the border. You want to get as far south away from the border towns on your first day in Mexico. That's where the dangers lie. Indeed, Mexicali was a genuine shit hole. Heavy air pollution, garbage everywhere, poverty, grim people, etc. Further south things get nicer, but Mexico is certainly not another Switzerland. It was broad daylight when we uneventfully crossed the border. Everyone says, don't drive at night in Mexico. The free range cows like warm asphalt and lurch into the roads unexpectedly. I came close to hitting one today. Passing through San Felipe I smiled when I saw the gas station that Frank and I coasted into when we ran out of gas 2 years ago coming home. Now I have a 3 gallon gas can bolted to my van's back door. San Felipe is where you start getting nice views of the Sea of Cortez. The water is blue and beautiful but the land is barren, void almost any vegetation and volcanic in appearance.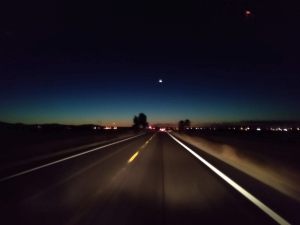 Sunrise after leaving the Salton Sea state recreation area campground. My alarm went off at 4:00 AM that morning.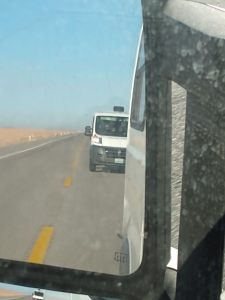 My view of Frank on our way south.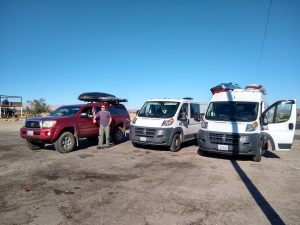 Frank standing by Erik and Alice's truck after putting some distance between us and Mexicali.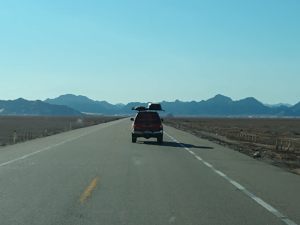 Erik and Alice southbound across the vast expanses of Baja.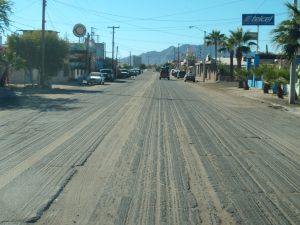 Your basic Mexican town road. This might be San Felipe.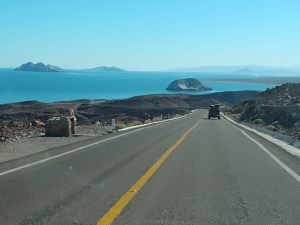 First good view of the Sea of Cortez.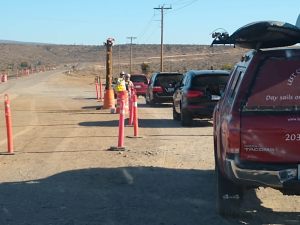 Military checkpoint.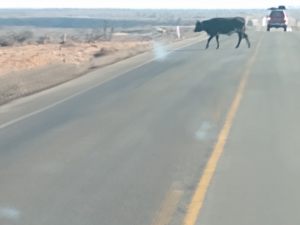 One of the reasons it's not good to drive in Baja at night.
Some time later we headed west across the peninsula on the Gonzaga Cut, a route that leads over to route 1 that takes you all the way south to Cabo's San Lucas. The landscape changes to boulders and Saguaro cacti, and the road gets curvy through the hills and valleys. Good to finally get to our campsite today after a long drive. Our campground is on a bay famous for whales. Erik said last time they camped there they could hear whales breathing at night. Unfortunately we're about a month early to see them on their migratory route. The road to the campground goes by an interesting salt works, with huge evaporative ponds and massive salt deposits. The guy at the gate who signed us in asked us "You have a teep for meee?" Frank and I each gave him 20 pesos ($1)
Erik and Alice let their dog loose where we camped. 2 coyotes immediately came zooming in, obviously intending to kill and eat their dog. Erik and Alice freaked out and yelled for their dog to come back. Good thing she did.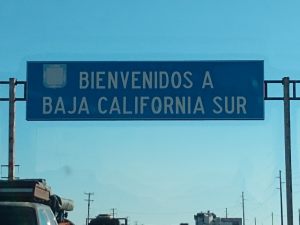 Welcome to Baja south!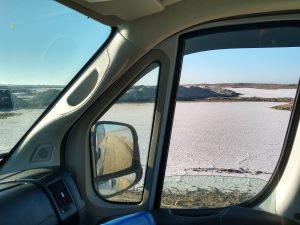 The salt works just outside of Guerrero Negro.

Our campsite on the bay just west of Guerrero Negro.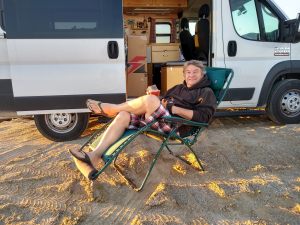 Moi relaxing with a golden beverage.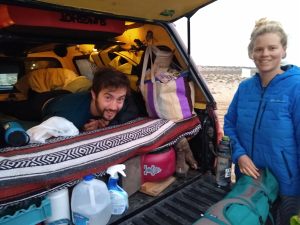 Erik and Alice.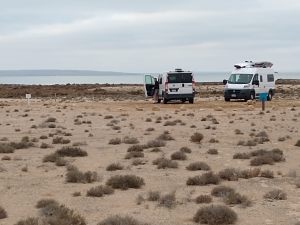 A view of the bay by our campsite.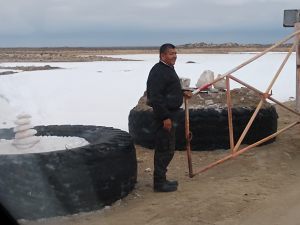 The guy who mans the gate to the camp area. When I drove through he asked me, "A teep for meee?"
Next