Jim's home | Back to La Ventana home
Back to La Ventana Mexico with Frank
La Ventana 9
Next

Time is getting short here. At the latest we'll leave on February 4th. Probably do some sight seeing on the way home. Paddleboard and camp at Bahia de Los Angeles, hike through the giant cacti at the Valle de Los Gigantes (8 meters high 12 tons).

Been windy lately with no forecast for it to let up. Got so windy yesterday that I couldn't sail my smallest gear comfortably. I heard there were gusts above 40 mph. Supposed to be 20-24 today.

CLICK HERE for a youtube video of windsurfing on a big wind day (gusts to 35 mph).

Seen some interesting animal life lately. A sea turtle almost 3 feet across a few feet from my board while sailing. A mantra ray with a wingspan of 2 or 3 feet that jumped high or of the water 14 times. On its last jump we were facing each other, eye to eye about 15 feet apart. I could see its fleshy antennae (feelers?) on the sides of its head waving around. Great horned owls live in the palm trees over our campsite. This morning a guy was walking his pet ostrich on the beach.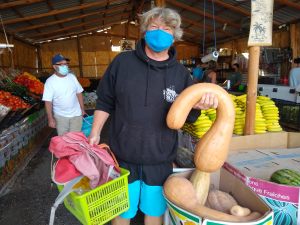 Me at the produce market. I did not buy that gourd.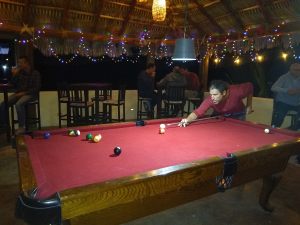 Frank lining up a shot at Teddy's restaurant/bar. 2 years ago this table was outdoors at Tony's Pizza Place.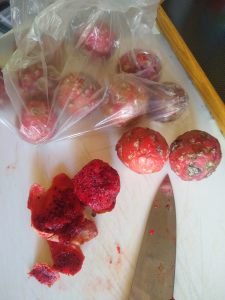 Pitaya fruit. They grow on a certain cactus plant, are a bit like a kiwi fruit and are very high in vitamin C.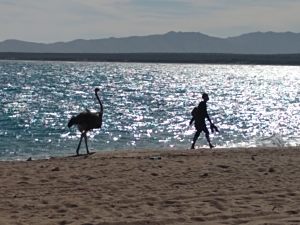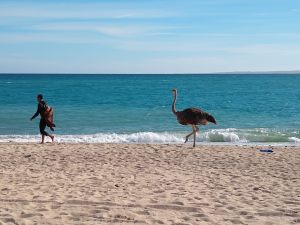 A guy with a pet ostrich on the campground beach.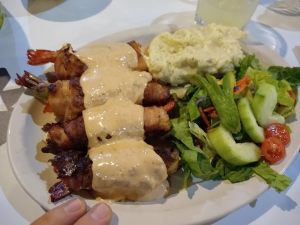 In my opinion, this is the best restaurant meal you can get in La Ventana. It's the camerones relleno a la diabla from Marisco's. Big shrimp stuffed with cream cheese and a poblano pepper slice, then wrapped in bacon, baked or broiled, then slathered with spicy cream sauce. Very rich.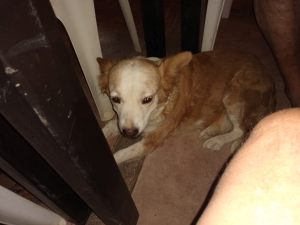 A Mexican dog sitting under our table by our feet while eating at Marisco's.
Next