Jim's home | Back to La Ventana home
Back to La Ventana Mexico with Frank
La Ventana 10
Next
Tomorrow is our last free day here. We pack the day after then leave the next morning. Sweet day on the water today. Longest paddle board venture to date. I brought my fishing rod with a lure and fished from my paddle board. My feet were hanging over the edge of the board and a Spotted Porcupinefish bit my big toe. Scared me because I wasn't looking down at the time. A few minutes later I caught that fish, then pulled the hook and let him go. A few minutes after that I caught him again! I then moved to a new location and caught a Flag Cabrilla about 6 or 8" long. Too small for eating so I let him go. The wind picked up on the way back turning the afternoon into a long, excellent windsurfing session.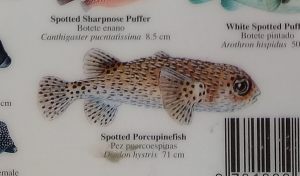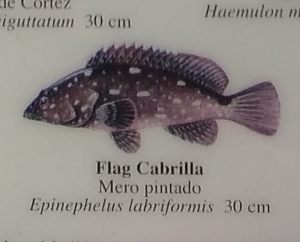 The 2 fish I caught while trolling from my SUP. I caught the same Porcupinefish twice after it bit my toe.
Other people are leaving the campground now. Sad to see them go. Campers shuffle to different/better sites when this happens. Reminds me of when the sumer locals and tourists left Ocean City Maryland after Labor Day when I ran a bike shop there in the 80s for the summer. The town went from a million people to 10,000 over a couple of weeks. I sold my Costco tent garage and decided to abandon my solar shower set up. Packing will be way easier and make less stuff to schlep home.
Frank dislodged his van from our campsite a few days ago and we went on a road trip to Cabo Pulmo and Los Barriles. He'd been to both places in the 80s and wanted to see what they're like now. We snorkelled at a national marine sanctuary there along the edge of huge slabs of rock that went way deep in the water. Fun to snorkel by underwater cliffs. Great fish there. The roads to Cabo Pulmo were a mix of hard washboard and deep sand. Treacherous. Frank drove in a rather spirited manner, giving his van's suspension a good workout.
CLICK HERE for youtube video of snorkeling at Los Frailes near Cabo Pulmo.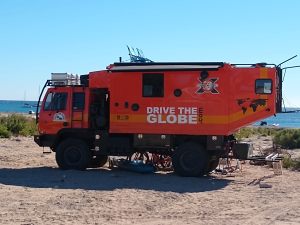 The DRIVE THE GLOBE vehicle. It's a Mercedes Unimog. If you're into overland adventures, check them out.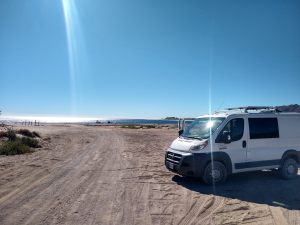 Parked near the beach at Los Frailes before snorkeling.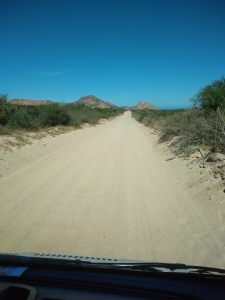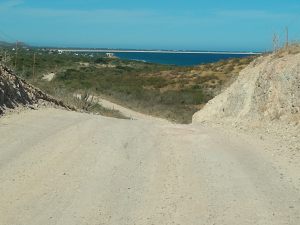 The roads around Cabo Pulmo. Lots of sand and washboard surfaces.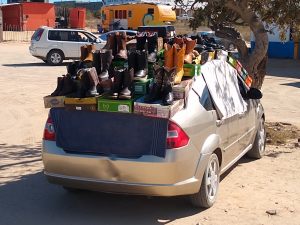 Someone selling boots and shoes from their car near Los Barriles.
We also went snorkelling by the 1535 restaurant yesterday where we had lunch after snorkelling on the day Dave got his truck stuck in the sand. Pretty good fish there, but there were also tiny jellyfish that would mildly sting your face. Brought my GoPro camera on that trip, and also on the Cabo Pulmo snorkelling trip. Will have a number of snorkelling videos on youtube in a while. Stay tuned for that.
I bought a string of solar powered lights for our deck at home and brought them here. They charge all day via a little solar panel and stay lit all night. A sensor detects nightfall. Deb and I never actually witnessed the lights coming on. One night weeks ago I sensed that it was time for them to come on, and they did. It was 6:12 PM. We cheered. Since then we've witnessed them coming on several times.
My next and last Baja email will come after I get home, and include links to youtube videos. We'll probably go dark internet-wise on the way home, at least in Mexico.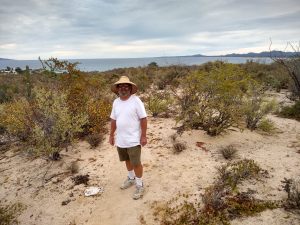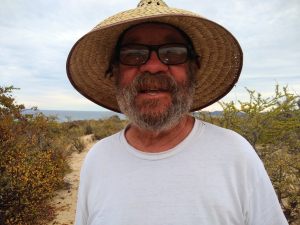 Friend Dave on a short hike through the cactus trails above the campground.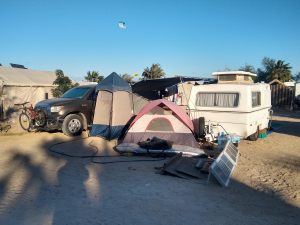 Dave's camp.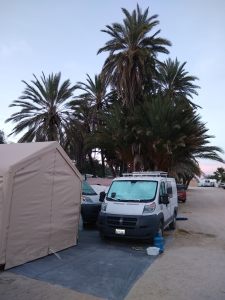 Great Horned Owls live in the palm trees above our campsite. They'd hoot throughout the night. Campers on evening walks would sometimes stop to watch them by our vans.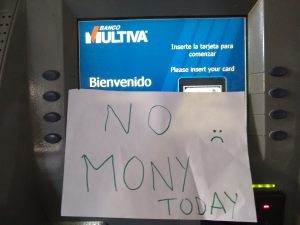 Mexican ATM.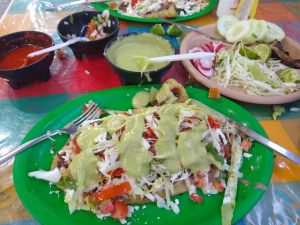 Huarache al pastor from Dona Paty's restuarant. Friend Dave's favorite dish there.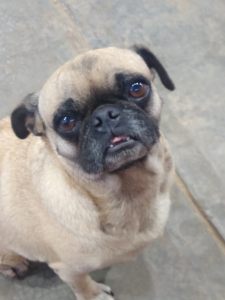 One of the many dogs that hang out at Dona Paty's restuarant. They're really not friendly.
Next