Jim's home | Back to La Ventana home
Back to La Ventana Mexico with Frank
La Ventana 3
Next
4 days of no wind.
Tomorrow the forecast is for 18-22 mph winds (yay!). Then 4 more days of wind well above 20 mph, yay again. Will be a different person in 5 days. Regardless, no wind days have been nice. Good to slow down and read books. Been out on my paddleboard (SUP) a couple of times. Today brought snorkeling gear and towed my SUP by its leash on my ankle while snorkelling. Amazing fish!!! Many huge pufferfish, black with purple spots more than a foot long and as big arount as a caneloupe. Watched an octopus. Saw triggerfish, wrasses and skipjacks. Spiny urchins, green and red corals, Got stung a few times by tiny tiny jellyfish. Met a French Canadian guy who agreed that the snorkelling was good, but warned, "the snakes!" I asked "sea snakes?". He said yes and that their venom will kill you "in a few seconds". They're striped with yellow markings. Incredulous I said have you seen one? He said yes, just a few moments ago! I confirmed this with a friend who said they're not many off the beach here. Good to know.
Farmer's market today, but nothing too exciting there. Went shopping yesterday uptown at Oscarita's, the "big" grocery store in town. It's recognizable from the street because you can see shopping carts in front. The sign is too sunbleached to read. Good store, though as friend Erik said, the meat freezers look like "murder" (blood in the bottom). Good produce and other fresh food. Went to the Pescaderia Perla (Pearl Fish Store) yesterday and got 2 large, beautiful fillets for about $4. Fresh, incredible. I've come to realize that fish tacos are the perfect food. Delicious and healthy!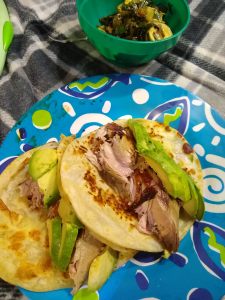 Delicious fish tacos cooked in my van.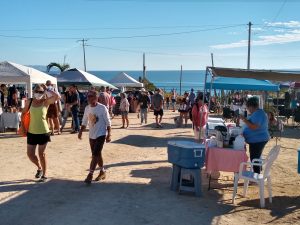 Farmer's market.
Had some excitement yesterday evening, as Frank was showering and I was about to prepare dinner, our neighbor pulled too hard on his garden hose and broke the PVC pipe with the hose bib our van's hose was connected too. Water gushed out of the broken pipe. I dug a drainage ditch with the hoe I'd brought to stop the water from entering the tent. Then alerted Tranquillo, the boss guy here, and in 20 minutes it was fixed! They had to shut off the water supply for the entire campground, so I suppose they were motivated. Great service though.
Looking forward to wind tomorrow.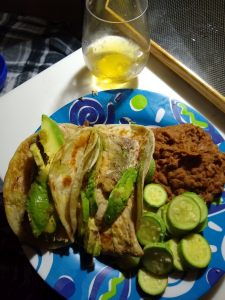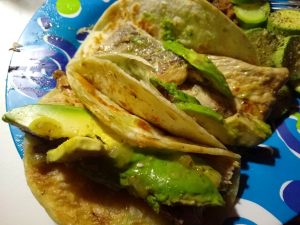 More fish tacos. So good!
Next