Jim's home | Back to La Ventana home
Back to La Ventana Mexico with Frank
La Ventana 8
Next
Been snorkelling with my GoPro video camera lately. Will make one or two videos on youtube when I get home. The fish and coral by the campground are pretty good, but there are a couple other places about a half hour drive away that are much better. Frank, I and three friends drove out to "the hotel" two days ago and had quite a day. The place is called that because the cartels built a big hotel by the beach, allegedly to launder money or for tax advantages, and never opened it. Now it's falling apart. Apparently this is common in Mexico. I rode with friend Dave in his 2 wheel drive truck while the other 3 guys drove in an SUV. Dave drove into soft sand and buried his back wheels 18" deep trying to get out. We lost an hour getting unstuck after much digging and with the help of someone driving a large SUV, and a 20' length of chain Dave had. The snorkelling was great though. A rocky, coral covered cliff follows the shoreline a couple hundred yards offshore. Purple, green and orange coral with wonderful fish. King Angelfish, wrasses, parrot fish, puffer fish, Yellow Tails. We even saw a Morey eel about 5 feet long, as thick as someone's calf. Will send a link to the video, including the getting stuck debacle after I get home. We had lunch at the 1535 restaurant by the water afterwards. It's on the Bahia del Suenos, which means Bay of Dreams. Two years ago when we were here it was called the Bahia del Muertos, meaning Bay of Death. Legend has it a plague ship was moored in the bay under quarantine, and some number of people on board died from the disease. I guess the restaurant people were happy when they renamed the bay.
CLICK HERE for youtube video of snorkeling at Los Frailes near Cabo Pulmo.
CLICK HERE for youtube video of snorkeling Shell Beach near Bahia de Los Sueños.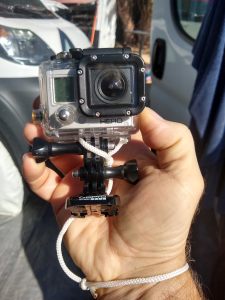 My GoPro camera with a makeshift leash for snorkeling.
Legend also has it that in 1923 there was a big flood where the La Ventana campground is now. Two arroyos empty into the campground, and back then numerous people died in the flood. After that they prohibited building permanent homes or business in that low area. Thus, the campground.
Our neighbor Mark thinks he has COVID. He sounds pretty bad, with respiratory congestion. He's isolating himself in his RV though. I told him to let us know if he gets really bad.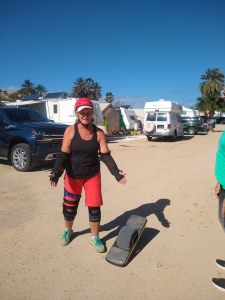 A gal learning how to ride a One Wheel. She was pretty good at it by the time we left.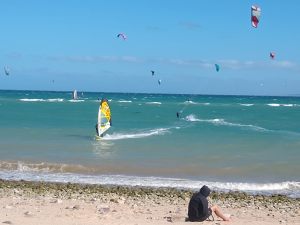 Typical windy day at the campground.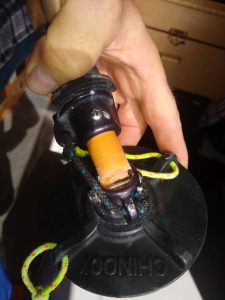 One of several equipment failures. A broken tendon on the universal joint that connects the mast to a windsurf board. Glad I caught it before going out on the water, and glad I had a new, spare tendon.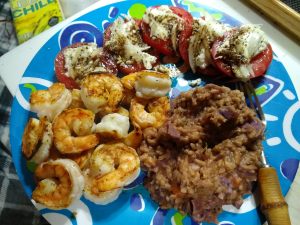 More shrimp!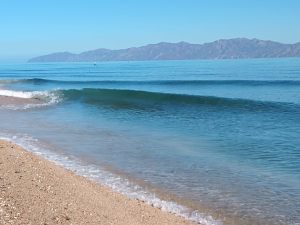 Isla Ceralvo in the distance. It's about 12 miles across the water to reach it. Tom and Arnie say on an ideal wind direction it's about 25 miles round trip on a foil board. 35 miles if not ideal.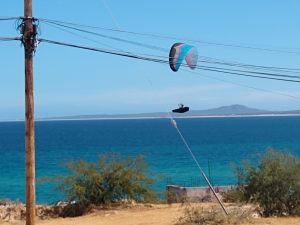 When the wind is easterly, paraglider pilots fly the bluff north of the campground.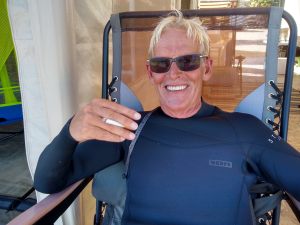 Dr. No, I mean Tom Hedman, relaxing after a foiling session.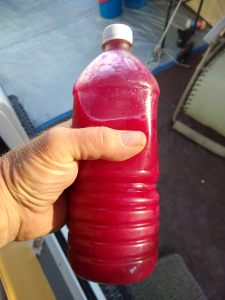 Freshly squeezed beet and orange juice. It's an interesting combination. I really like beets, but not sure I'd drink this stuff regularly.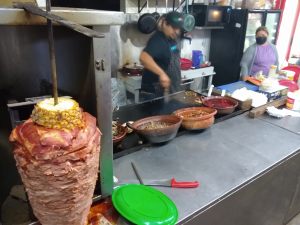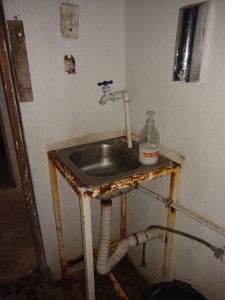 Scenes from Dona Paty's restaurant.
Next