Jim's home | Back to La Ventana home
Back to La Ventana Mexico with Frank
La Ventana 6
Next
Flying home for Christmas for 5 days tomorrow. Have a COVID test scheduled at 4:30 today. The rules say a test is required "no more than 1 day prior to flying". Seems ambiguous to me. Does that mean 24 hours? Even if that, I think I'm OK. It costs $45 here in La Ventana, half that in La Paz 40 minutes away if you have a ride. I don't.
It's been windy a lot lately. Can't remember how many days in a row I've been sailing. Am tired now after a 3 hour strong wind session. Am actually looking forward to a break. Saw 2 manta rays yesterday, and today a school of flying fish and about a hundred little blue skinny fished that were all airborne flying right into my legs. Yikes! The water's still warm but getting cooler. Evenings are also cooler, requiring a hoodie for outdoor lounging.
Yesterday we had a mildly alarming rain storm that sent campers running to secure things when sudden, big wind gusts came with sheets of rain. It ended up being just a drizzle, but my van's batteries charge got pretty low. My solar panels are flat rather than sloped, and the rain seems to make them more dirty rather than less. Frank and I washed our panels. Much better charging then. I like seeing my battery gauge at 100%.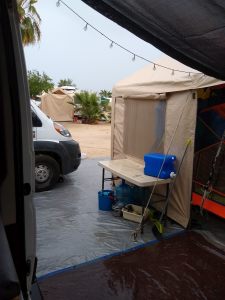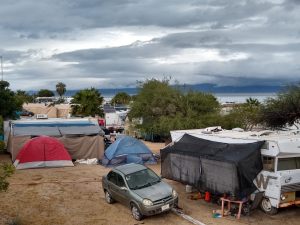 Wet tarps from rain, and the threatening skies.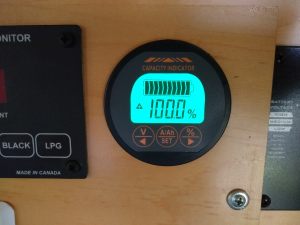 My battery gauge showing them at 100% charged. Makes me happy.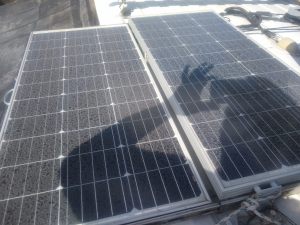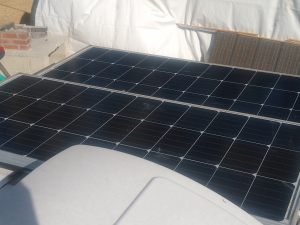 Dirty, then clean solar panels. The dust accumulates pretty quickly.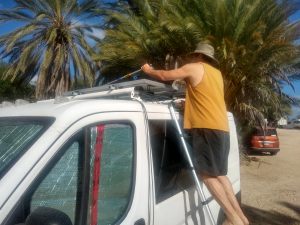 Frank cleaning his panels.
Have taken about 1 1/2 hours of GoPro video while sailing. Have my camera mounted on my helmet. Today I pointed the camera backwards for a while. Fun to watch the wake. Will make a youtube video when I'm home for xmas.
Our neighbor Mark invited Frank and I over for a fish BBQ the other night. I was tasked with making a salad. Hung out with nice people. Mark's from Holland but immigrated to the US years ago. His friend Fabio is from Italy but lives and works in the US now. He has a Promaster van too so I got a good picture of our 3 Promasters all parked together.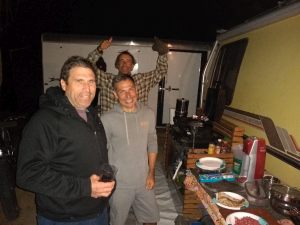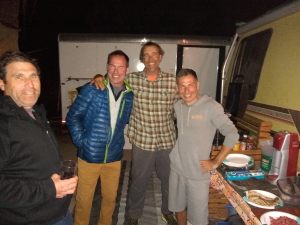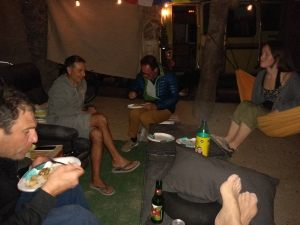 Dinner at our neibor Mark's. Mark, the tall guy, is originally from the Netherlands but emigrated to California years ago. Fabio in the gray shirt is Italian, but works in California.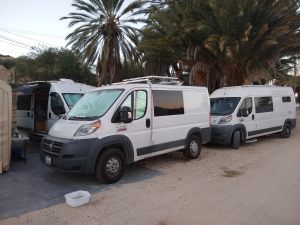 Fabio has a Ram Promaster too. His is on the far right next to ours.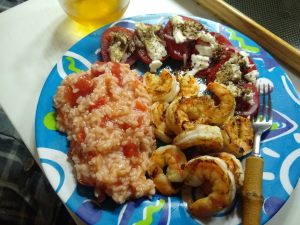 Grilled shrimp with Old Bay seasoning, rice with diced tomatoes.

Erik Brown with his foil gear.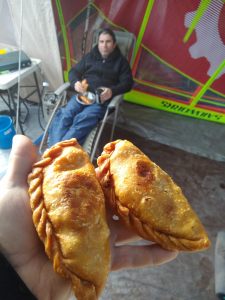 Chicken empanadas for breakfast. They come around the campground every few mornings selling them for about a buck a piece. Delicious.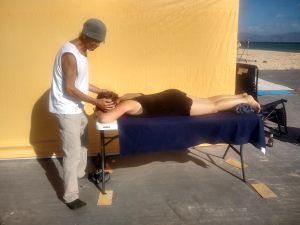 "Ping pong" Tom giving a chiropractic adjustment. He's a retired chiropractor, now full time traveller and kite foiler. This woman was injured when she was hit by a loose sign in strong wind.
Next