Jim's home | Back to La Ventana home
Back to La Ventana Mexico with Frank
La Ventana 2
Next
It took 2 more days of driving to reach La Ventana. We spent the next night by the water at Juncalito near Puerto Escondido. Free to camp there. I tried fishing but lost my lure on the second cast. Oh well.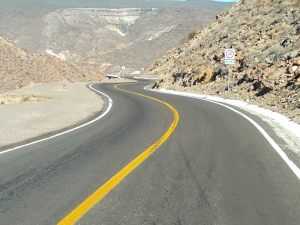 Curvy roads near Santa Rosalia.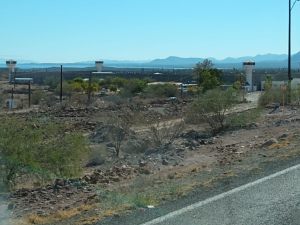 Baja's prison, located near Santa Rosalia. Don't want to go there.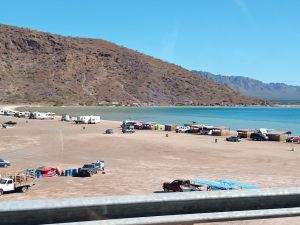 Playa Santispac, a beautiful beach. We camped there on the way home.

Playa el Requeson. We camped there on the way home on our last Baja trip.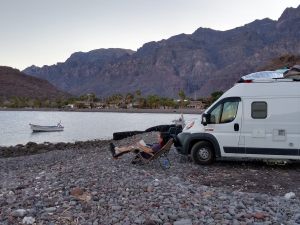 Tricky to find free waterfront campsite near Puerto Escondido. Very nice! Quiet too.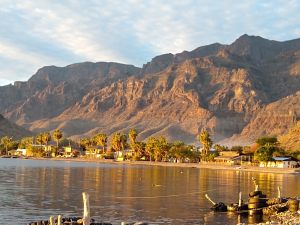 Morning light at that same campsite.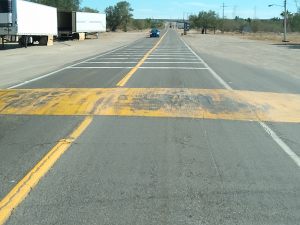 A tope (giant, car totaling speed bump) with its paint still visible. Note the gouges on it where cars going too fast hit it.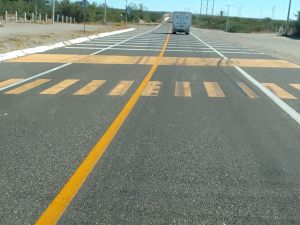 A fake tope. Paint but no bump. Kind of like those painted stripe cattle guards, but for people.
Been at the campground 4 days now. Set up well with tarps laid down, solar shower, good fresh water, batteries charging to 100 percent by early afternoon, plenty of food. Frank's setting up his solar panels today for food refrigeration.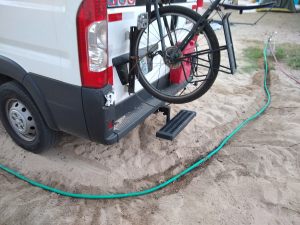 Trench dug for water hookup to my van at La Ventana's campground.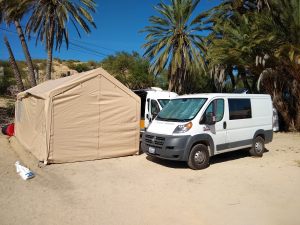 Our camp after setting up the Costco tent and the shade cloth.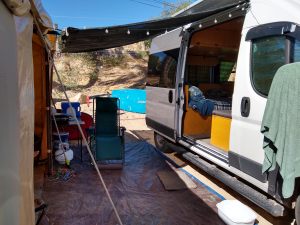 Our outdoor living room.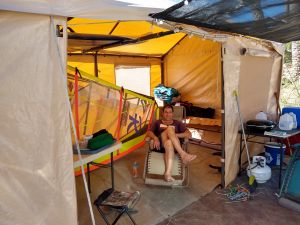 Frank relaxing in the sail barn.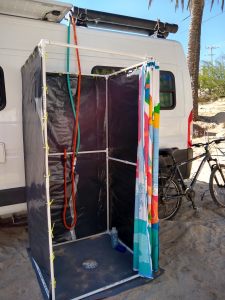 My solar shower system. Water feeds into one end of the black plastic pipes on the roof, then down out of the other end to the shower. Worked great on a sunny day, at least for the first person who took a shower.
Campground is PACKED! Supposed to be first come first serve but people have been buying sites for their friends. Had a terrible time with a woman that bought a site with her husband for friends arriving on the 15th. It was actually 2 sites and we were assigned the better half by the guys who run the campground, Hector and Tranquillo. It was all resolved yesterday in a kind of kangaroo court with Frank and I, the opposing couple, Hector and Tranquillo, and 2 translators. In the end it was all "No problemo".
So we heaved a big sigh of relief and focused on getting our camp set up. El duche solar (solar shower) works very well. The wind picked up yesterday by 2:30. Frank only hydrofoil windsurfs these days. I old schooled it on a vintage but fast slalom board (passed every other windsurfer I encountered). So wonderful to fall into warm water. The bigger swells further out we're 4 to 5 get in height, some with steep faces. Encountered a school of hundreds of small silver fish skimmering over the water surface at one point. Soon after encountered a school of thousands of needle fish jumping out of the water all around me. Made me scream. One got stuck on the deck of my board for a few seconds wriggling around with its slender body and needle nose. Yikes!
Light wind today, but there's still hope.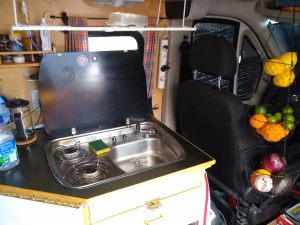 Kitchen in my van.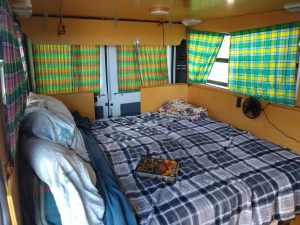 Van interior.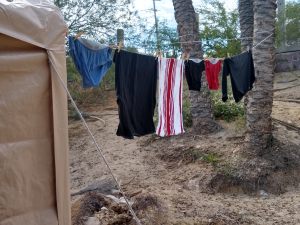 Laundry day.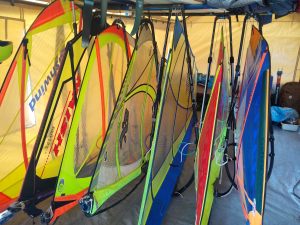 The sail barn before Frank rigged a few more sails, include an 8.5 meter sail.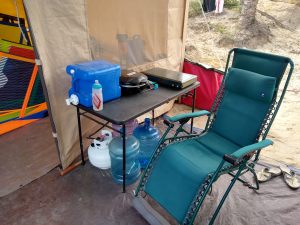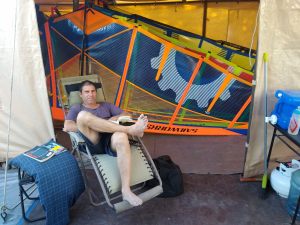 Where Frank and I sat. We rearranged things as time went on.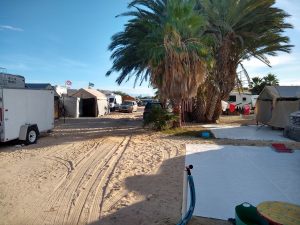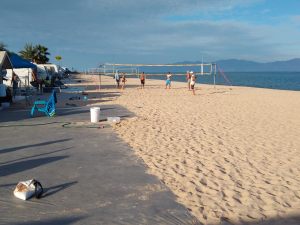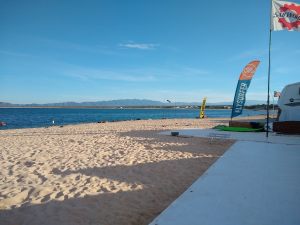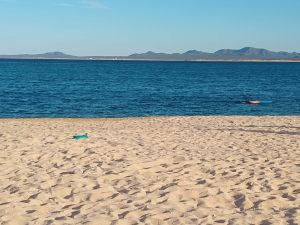 Views of the campground and beach.
Next