Jim's home | Back to La Ventana home
Back to La Ventana Mexico with Frank
La Ventana 5
Next
I decided to fly home for xmas on 12/22 and fly back on 12/27. Am really looking forward to seeing everyone then. So many things happening in peoples' lives. Have arranged my 2 hour shuttle each way to/from the airport with an allegedly reliable guy who speaks English well named Samuel.
The days go by with more sailing and more fish tacos. Pics of my Bonita fish tacos from last night. Seared on the outside and pink on the inside. Garnished with sauteed Poblano peppers, purple cabbage an onions, then topped with a couple slices of Avacado. Hoo. Frank and I ate "Super burritos" for dinner last night at a restaurant, and we had lamb tacos at the farmer's market the next morning. My tummy felt funny after that. Think I'll stick to cooking as much as I can.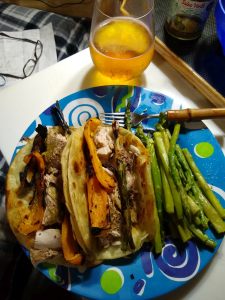 Yay! More fish tacos!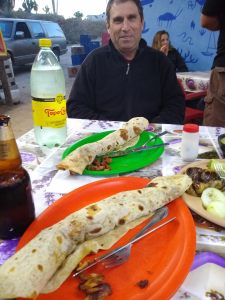 Frank with a super burrito from Dona Paty's restaurant near the campground.
We went to 2 open mike nights the last couple of nights. I was curious to see how many people played from sheet music vs. memory (very few) and how many people played covers vs. original music (a minority). Some very talented people here. The bars are interesting. The bar itself has an actual roof but the rest of the area is open air with festive lights and sun screens hung overhead. Very pretty.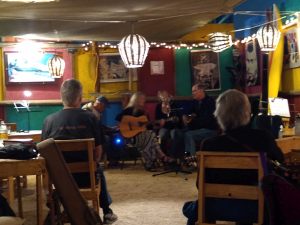 Open mike night at Baja Bites.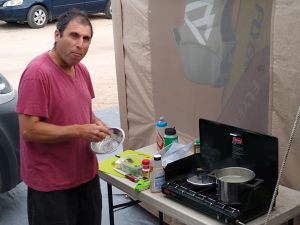 Frank's got his kitchen set up and has been doing more and more cooking.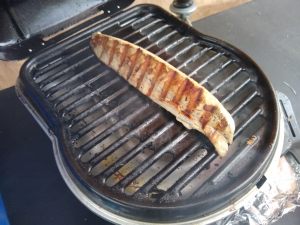 A very nice slab of Bonita fish. This probably cost about $4 US.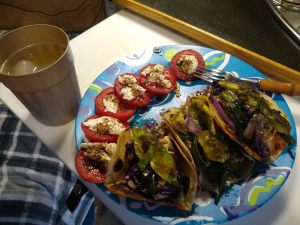 More fish tacos. This time with tomato slices topped with goat cheese, thinly sliced red onions, balsamic vinegar and pepper.
---
Pictures below show various aspects of campground life I found interesting. There are many *very* nice camp set ups.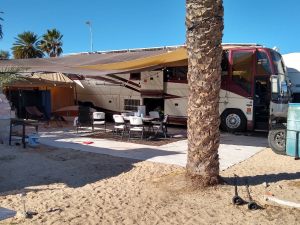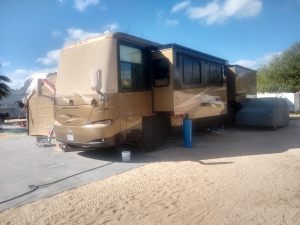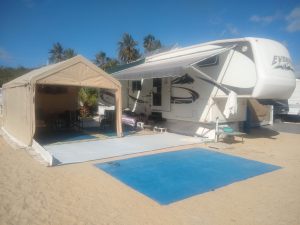 Luxury camping in La Ventana.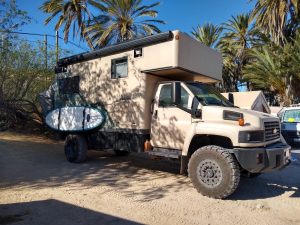 A burley overland vehicle.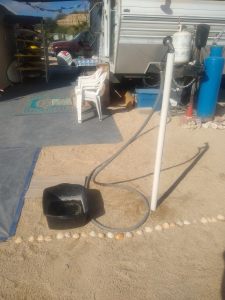 A foot bath at the edge of someone's tarps. A strict protocol requires you to rinse off wet sandy feet before stepping on a tarp. Throughout the day you'll hear the wsshht-wsshht sound of people sweeping tarps. Friend Arnie uses a rechargeagble leaf blower.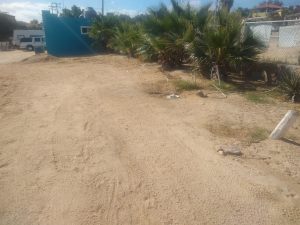 The campground's RV dump station.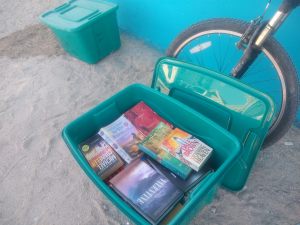 The book bins by the bathroom. Take em' and leave em'. More and more people are paying for internet access in the campground, but reading is still very popular.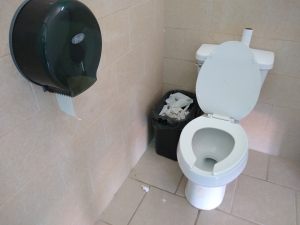 Campground bathroom. Toilet paper goes in the trash can, not the toilet. Heads up on this to those coming to Mexico for the first time.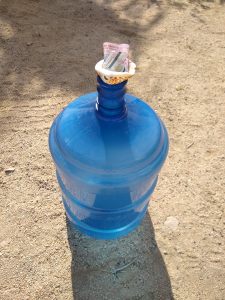 An empty purified water jug set out with 20 pesos (a buck) for the water vendor. They come every day but Sunday.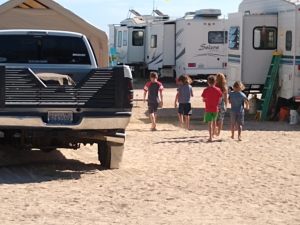 Kids in the campground. No shoes, no cell phones, no helicopter parents.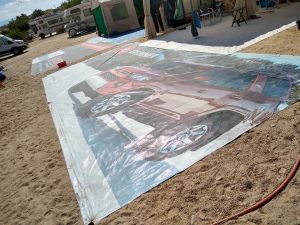 Thrifty campers buy used billboard material rather than tarps to cover the sand.
Next