2 Month windsurfing trip to La Ventana Mexico
La Ventana 6
Previous | Next
Buenes tardes mi amigos (Good afternoon). "tardes" relating to "tardy" meaning late (in the day). I've had to say that 3 times today, and I have trouble rolling my Rs on that one. Am internetting at Baja Joe's after a good yet light wind day. SUP'd for a couple of hours this morning, first north up the beach, then back to our campground, then south a ways, and again home. Clear water. Not too many interesting fish, but some. Lots of snorkellers out, and many other SUPers too. Mellow morning after that, and then tried sailing with my hydrofoil windsurfer. Tried taking it out yesterday, but due to light wind had trouble getting up on a foil. Today, there was more wind, so I foiled. I have a long way to go with foiling. It's not so easy. Most other people on the water were kite foilers. There are way more this year than last year. Watching kite foilers is fun. In my opinion they're the most amazing way to sail ever. So fast, 30 knots of speed in 8 knots of wind! And silent.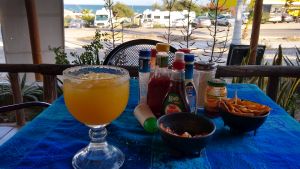 Margarita, chips and salsa at Pablo's, across the street from the campground. Too easy to go there.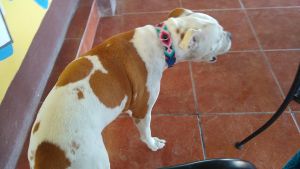 A dog that seems to hang around Pablo's a lot.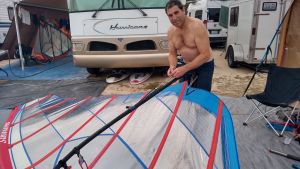 Frank rigging his modified Sailworks Retro, now with cambers.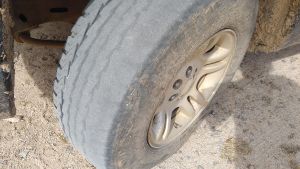 Typical Mexican truck tire.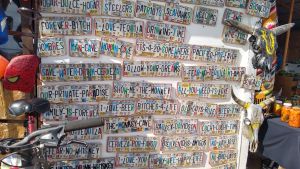 Tourist trinkets for sale.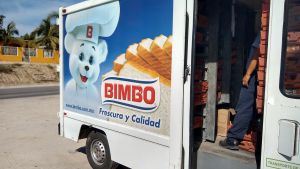 Bimbo baked goods.
You never really know what kinds of seafood you'll find at the farmer's market. One time someone was selling octopus.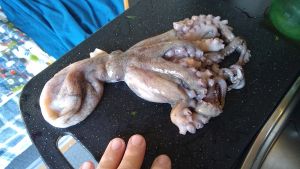 Fresh from the farmer's market.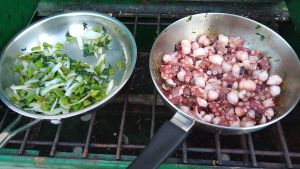 Peppers, onions, cilantro and octopus.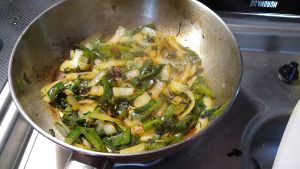 Peppers and onions frying.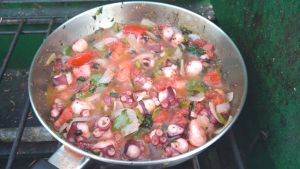 A little chewy, but delicious.
The water vendor makes the rounds through the campground daily. A 5 gallon jug's worth of water costs 16 pesos (about 80 cents USD). You pay a deposit on the jugs, then leave them out by the drive with the pesos on top, and then you get fresh water. The propane vendor came today too. One only exchanges bottles, the one today only fills tank permanently mounted on RV's. So I'm back up to max water and propane capacity, plus my solar batteries reached 100% charge today. It's a beautiful thing.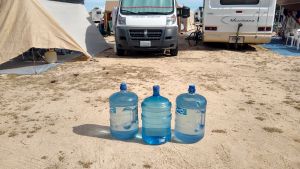 Drinking water delivered to our campsite.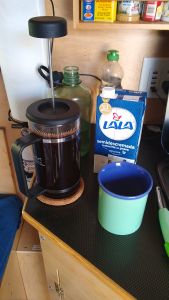 French press coffee in the mornings.
Pancho, Mica and I rode bikes to my favorite La Ventana place to eat seafood, Marisco's. Had a conch seafood cocktail, and then pescada a la diablo (fish in spicy cream sauce). Margaritas too of course. Pancho typically has pina coladas instead. On the way home we played pool on an outdoor table at Tony's Pizza Place. 2 and 2 for us.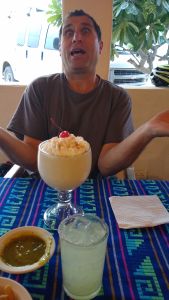 Frank with a pina colada at Marisco's restaurant.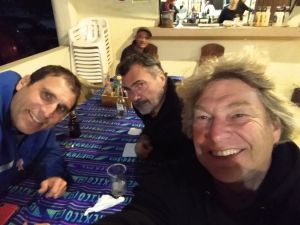 Frank, Mica and I at Marisco's.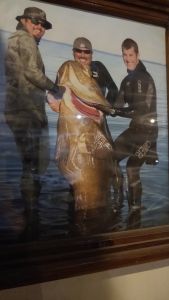 On the wall at Marisco's. Photo of a spear fishermen hauling in a monster. They have the best seafood.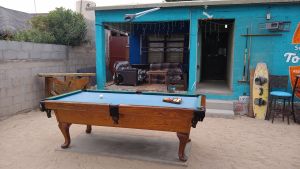 Pool at Tony's Pizza Place. Novel playing pool outside.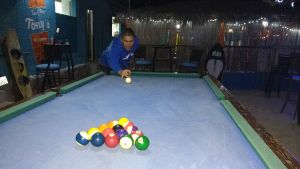 Frank takes a shot.
Previous | Next