2 Month windsurfing trip to La Ventana Mexico
La Ventana 1
Next
Hello all, it's now day 3 in La Ventana. Frank's Spanish name is Pancho and mine is Jaimie, pronounced hy-mee. We've decided to call what we're doing, The Adventures of Pancho and Jaimie. It took us 5 days to drive here. Walmart parking lot in Redding on the first night, Home Depot parking lot in San Diego on the second night. The following morning we crossed the border to Tijuana at about 6:30 AM. No lines, but they had us pull over to the giant X-ray machine and they X-ray'd my van and Pancho's trailer. Giant thing on steel rails. They asked us "Pets?" (We said no) and then had us stand behind a tall, thick concrete wall while the machine scanned our vehicles. Then they waived us through. Pancho was driving, and he got us through to Ensenada. I took over from there. We had traded off driving in the US, but I've been the one driving in Mexico.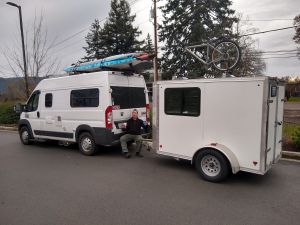 Frank sitting between my van and his trailer eating fast food somewhere along I-5 in Washington. Cold. Gray skies. But not for long!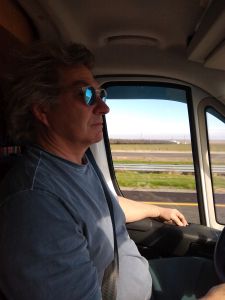 Me driving, somewhere in central/southern California.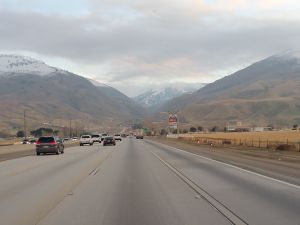 Approching "The Grapevine" north of Los Angeles.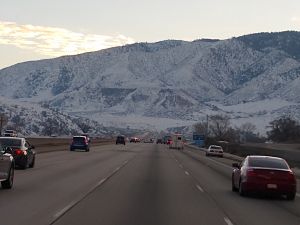 Snowy mountains in The Grapevine. I was surprised to see this much snow this far south. There were many people at the top of the pass, sledding and frolicing in the snow. Guess that's a novelty if you're from LA.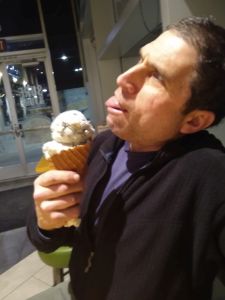 Frank eating ice cream near San Diego.
The coast road from the border was spectacular. High cliffs, beautiful blue ocean and good sized/formed crashing waves below. Like lots of Mexico, there's plenty of poverty here with run down buildings everywhere. Seems like 2/3 of commercial buildings are shuttered. Ensenada and the farm towns through Baja's bread basket are really sketchy. Bad pavement everywhere. Beat up cars, ramshackle buildings, scrawny dogs. However I admire Mexicans. They seem to have a strong sense of family. Children seem loved and cared for. They're resourceful and can fix things when needed. You have to get used to certain things. Toilet paper is usually not supplied, and goes in the trash, not the toilet. People turn on their left turn signal to say it's safe to pass. Stop signs (Alto) can be pretty hidden. We coined the phrase "Where's Alto?", like "Where's Waldo?". Plenty of road hazards. Many rows of metal bumps usually precede the giant speed bumps or humps. Or, they can just appear out of nowhere and not be painted. Locals often don't stop for Alto signs. Vados, washes where flood waters cross roads are common and can be damaging to cars if driven across too fast. We passed through maybe 5 military checkpoints. The guys have camouflaged fatigues, face masks and big automatic weapons. They searched my van a couple of times. One guy was really interested in my cigar cutters. He asked me "Weed?". I said no.
Baja is a lot greener than I thought it would be. There's the bread basket agricultural area, and then the curvy mountain roads (curva peligroso). We saw a number of adventure motorcyclists, and I think it would be a spectacular motorcycle ride to the tip of Baja, but with some long, boring straight sections. Out of the 3 days of driving in Mexico, I'd say 60% of it was curvy mountain roads. Pretty good pavement on them too. We spent our first night in a fishing village, actually in a Pemex facility right on the beach. Pemex is the big gas station chain. A nice guard who saw us trying to turn around said it'd be OK if we stayed in the secure area.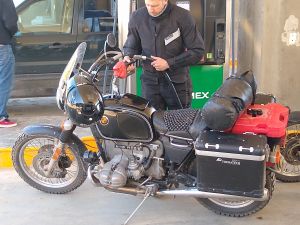 Adventure bike rider refueling somewhere in northern Baja.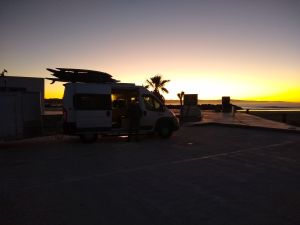 Camped at the Pemex facility.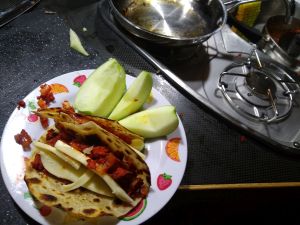 Dinner in the van at the Pemex facility.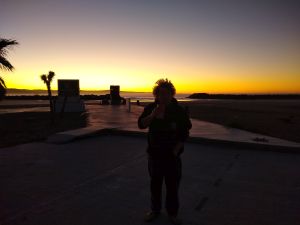 Me enjoying a beverage, first evening in Mexico.
The next morning we found ourselves locked in. Pancho got the guy to unlock the chain gate and gave him some pesos. Second night was in a grocery store (Mercado) parking lot. Some "bums" as Pancho called them tried to sell us a handful of asparagus and then asked if they could wash our van. They eventually left and we had a peaceful night. Cooked pork pesto pasta with sweet potatoes.

Escaping the Pemex facility in the morning.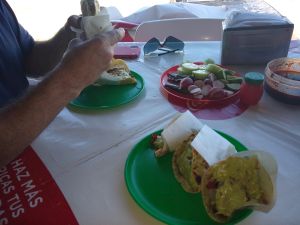 Lunch in Santa Rosalia on the Sea of Cortez. A rather industrial but nice town. Super good tacos!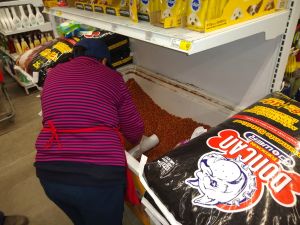 Shopping in the grocery store in Cuidad Insurgentes. Bulk dog food here.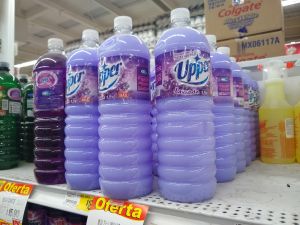 I would be hard pressed to drink whatever this is.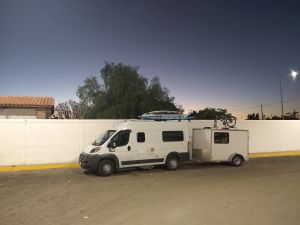 We camped in the grocery store parking lot.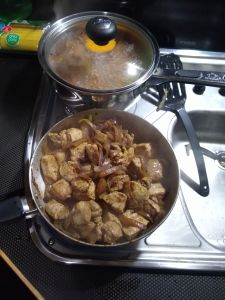 Pork pesto pasta dinner at the grocery store.
The variety of cacti in some ares is spectacular. Some places had incredible boulder gardens amongst the cacti. Further south things got less poverty stricken and we went through some beautiful areas on the Sea of Cortez. We then made to La Paz, which is the large city about 45 minutes from La Ventana. Spent too much time there in big box stores trying to find white gas for the Coleman stove (no luck), and more propane for the grill. Bought about 15 gallons of water from a vending machine and put it in the van's big water tank. Haven't gotten sick so far from it. Got to La Ventana about mid-day and found an OK camp site. Set up our 10x20' tent for storing gear. That was complicated. Still needs tweaking. Then went to dinner at Pablo's across the street since neither of us felt like cooking. They have good margaritas there. In the morning worked on organizing stuff and monitoring my solar charging set up. It's easy to get obsessed with the state of your batteries that run the fridge and interior lights. A 20 amp in-line circuit breaker used with the charging system from the alternator on the way down kept tripping. The battery charge got way down to 50-something percent, which was freaking me out. Pancho had an extra 30 amp one so I swapped the 20 amp one with that and the batteries were up to 100% in a couple of hours. We're now charging with the solar panels on the roof. A big test, since I wasn't sure the panels I installed would be sufficient to keep up with the fridge. It's the end of the day now, and they're at 97.5%, so I think it'll be OK, especially since there were some clouds today.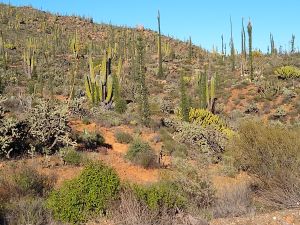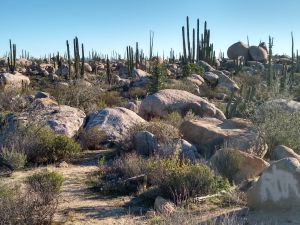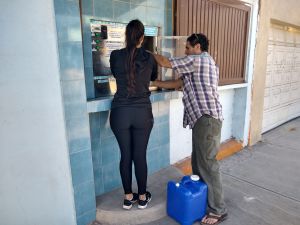 Frank buying drinking water from a dispensing machine, with a little help.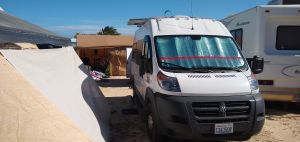 Our first camp site. Pretty tight quarters.
People here are nice. We've met people we know and had dinner with a nice guy Tom Sullivan last night. More kiters than windsurfers, but plenty of windsurfers though. I sailed today for a few hours in good winds. Weird to exercise after being sedentary for 5 days. Felt good. Big swell. Pretty water. Warm. Mmmmm, good. Lots of foiling activity here. Kite foilers, windsurfing foilers and "wing foilers" that ride a little foil board and propel them selves with a small wing with an inflatable leading edge. Pretty weird. Mica will probably arrive tomorrow. The campground is nearly full, so I hope he finds a spot. He's got 2, 10x20' tents with him, so will take up a bunch of space. Well, time for dinner now.
Next