2 Month windsurfing trip to La Ventana Mexico
La Ventana 11
Previous | Next
We're in a no-wind period here. The rain storm that's been affecting the Pacific NW extends all the way down here. There was even a 50% chance of rain last night, but none materialized. Solar panels aren't charging much right now due to overcast skies (see attached pic). Will wash the dust off them today to see if that makes a difference.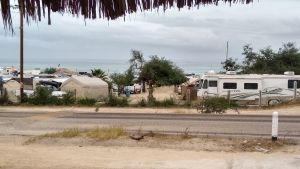 Cloudy skies, no wind.
I fixed Tom Headman's foil board the other day. He "went over the handlebars" the other day after his foil hit a line of floating rope about a mile off shore. Floats made from empty pop bottles tied to floating rope have been appearing lately. Tom thinks it's disgruntled fishermen setting booby traps. He's taken to filling the bottles with water to sink them and then collecting the rope they're tied to. Anyway, I brought epoxy, resin and fiberglass with me and was able to fix the crack on the nose of his board from that wipeout. He bought me a case of beer for payment. By the way, "Corona virus" down here refers to (Corona brand) beer. Ha. Arnie, Tom's foiling pal also hit a float booby trap yesterday, so I'll be fixing the nose of his board today. He's offering to let me try a different hydrofoil for my board since I'm having significant frustration with learning this crazy sport. We'll see if it helps.
Arnie's an excavation contractor from SE Washington and owns a house down here. He has no qualms about enforcing his right of way on the water with kiters. He hit a kiter a while back, causing the kiter to get stitches. The kiter as it turns out is a known, violent person with restraining orders on him. He became irate after the collision and has threatened to kill both Tom and Arnie. Confronted them in a store and said "You're dead. You're not leaving Baja. I'm going o kill you." Yikes eh? Tom and Arnie now have a restraining order on him.
Crappy sleep last night due to an unsettled tummy. Should have washed those scallops before cooking them in garlic and butter. Had a fabulous piece of fish the other night on the barby. Will miss delicious, cheap fish back home.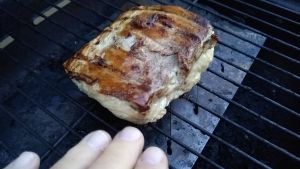 Previous | Next