2 Month windsurfing trip to La Ventana Mexico
La Ventana 4
Previous | Next
Second day of no wind. That's OK. After 3 days of great windsurfing I'm fine with a break.I like most others in the campground have been spending time improving our site and doing chores. Did laundry today for the first time. I have a 3 gallon plastic bucket, a short plunger and some powdered soap. Fill the bucket with water, add soap and clothes, plunge vigorously, drain, rinse, repeat until clean. Then wring out clothes and hang on a line. They're almost dry now after a couple of hours. Makes you realize how a lot of the world does this. There are a few outdoor hose bibs around the campground, and one on the side of the bathroom near us. People screw on those "y" adapters that make it so you can attach 2 hoses. Then they attach ever more y adapters so there are 4 or even 6 hoses coming off a hose bib. Trenches are dug across the sandy road to route a hose to their RV. Whatever works!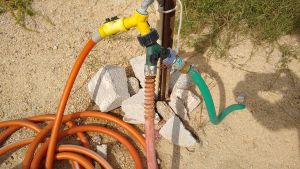 Hose connections at the campground.
Went snorkelling a bit today in the very calm waters to see what fish I could see. No fish as it turns out. So I swam back in and got my paddle board. Also brought a "jigging" fishing rig, which is just a spool of line wrapped around a dowel with a couple of hooks on it and a weight at the end. Cut up some spam, put it in a plastic bag and headed out from the beach. The beach in front of the campground has a wide band of rounded rocks sized like a pineapple down to an apple. Hard to negotiate in bare feet. Some industrious soles moved rocks aside in a 5 foot wide swath to allow easier entry into the water. That's where I went in. The water is very clear today. Closer to shore and at some point formations there are rocks and brown (living) coral. That's where the fish are. There are fish as you'd find in Maui, trigger fish, puffer fish, angel fish, various other colorful smaller fish, and also some 2-3' long greenish gray fish that are skinny like a snake. Lots of urchin. I trolled with my jig rig with no results. Then I sat still in about 5' of water and just lowered it straight down. A puffer fish about 8" long nibbled, I tugged, and he was caught. Hauled him aboard feeling a bit embarrassed since it's not an eating fish. I pulled the hook and he slid back into the depths. Then I just sat there tossing bits of spam, watching the fish feed. Pretty fun.
Went to an open mike night at Pablo's last night. Got there early and got good seats near the front. Standing room only. All the musicians new each other and pal'd around. Some were professionals. The highlight was when a 7 piece group was playing a rockin' Ry Cooder number and an alto saxophone started wailing from the back. The player walked to the front to cheers and joined the band. He was *really* good. Great vocalist woman sang Love me Like a Man by Bonnie Raitt later. Fun night. One woman played a ukulele at the end. My time will come.
It was farmer's market day today. Used to be up the road a ways, now it's right across the street from the campground. I woke this morning to the sounds of vehicles and set up noises from the vendors. The amount of jewelery there is overwhelming. Lots of cool pieces. I bought some produce and bread, then some weiss wurst from "The Sausage Lady", who was clearly German. Looking forward to that tomorrow night. Tonight however, Pancho and I will be eating the shrimp I bought from a campsite vendor. The campsite vendors are pretty neat. It's nice having the world come to you. Have bought water twice now. 10 gallons (2, 5-gallon jugs) is 32 pesos. The exchange rate is currently 20 pesos to the dollar. Tomorrow morning the propane vendor who fills tanks on RVs is supposed to come in the morning. I can hardly wait!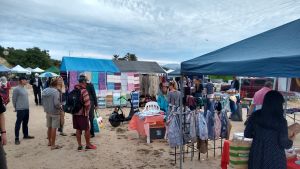 Farmer's market.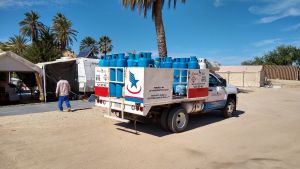 Propane vendor in the campground. They swap out the big blue tanks. Another propane vendor fills built-in tanks.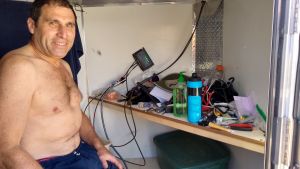 Pancho's been working on his solar/battery/fridge system with mixed success. Picture below with him amidst his stuff. Pancho himself will admit he's organizationally challenged.
Supposed to be 22-26 knot winds tomorrow. Back to work!
Various camps: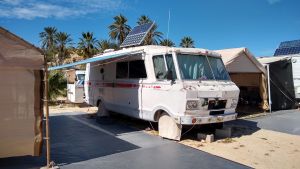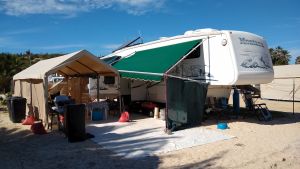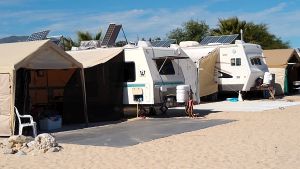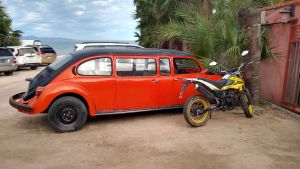 Stretch bug in front of Baja Joe's.
Previous | Next