2 Month windsurfing trip to La Ventana Mexico
La Ventana 5
Previous | Next
Another missive from South of the Border. Had good but gusty wind today. It's called "El Norte" and means strong winds from the north with clear blue skies. Saw a guy walking up the beach with an annemometer and asked "Well?" He said "23!", then "19!". So up and down mainly in the low 20 mph speeds. Switch to smaller gear today, from a 5.8 meter sail to a 5.0, and from a 120 liter board (in volume) to a 106. Much more manageable and fun. It can get crowded on the water here. With all the different kind of things moving around (windsurfers, twin tip kiters, surfboard kiters, wind foilers, kite foilers and wing foilers), it's hard to predict where anyone will go in the next few seconds. They all sail differently. Windsurfers are usually aware of right of way on the water. Starbord tack has right of way, port tack should yield. When on the same tack, the downwind sailor has right of way. Starboard tack is when your right hand is forward on the boom when windsurfing. There's a bit of conflict sometimes between kiters and windsurfers, kind of like between snowboarders and skiers. I'm not certain that kiters are routinely taught the right of way thing. They also don't seem to visually clear their turns before changing direction. Just have to stay aware of what's going on around you all the time.
I took pictures of showers today, the home built ones, and the official campground bathroom ones. People get pretty creative to ensure a warm shower. I'm OK with the cold one in the bathroom. Campsite shower stalls here: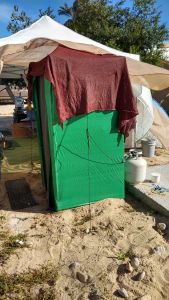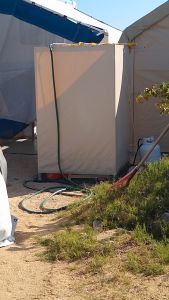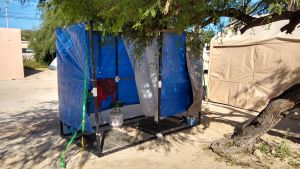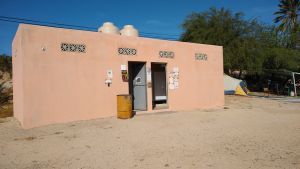 One of 3 bathrooms in the campground.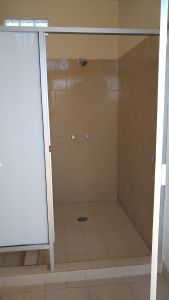 Decent showers, though not heated. Low flow too. Hmmm, maybe not so decent.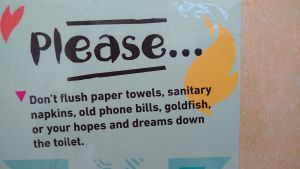 Sign by the toilet.
I was talking to a fellow named Stan today. He said he was all worn out from sailing a 12 meter kite (on the large size) in gusty winds for 2 hours. I asked him how old he was. He said "74. You know I'm not a young chicken any more." My neighbor from Quebec (pictured below) said he only sailed an hour today due to a bum knee. I asked him how old he was. He said "81." How's that grab you? 81. He has a big class A motorhome that he leaves down here year round in the storage place off season, along with his little car. $2/day for the RV, $1/day for the car. Then he just flies down instead of driving. He did drive down for 7 years before switching to this method. Anyway, seems like good things to do to help you live longer, and happily, are to have good things to look forward to and to stay active.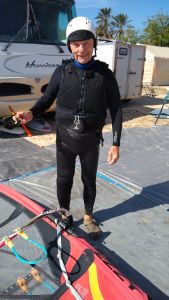 81 year old neighbor just in from 1 1/2 hours of windsurfing.
Beach pics: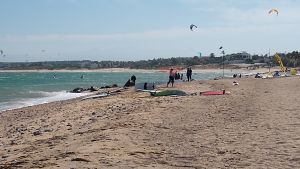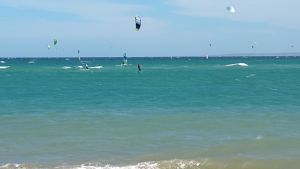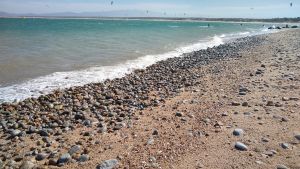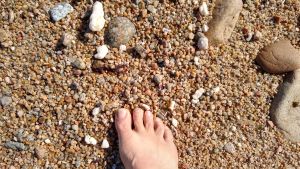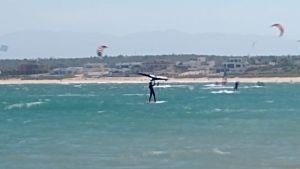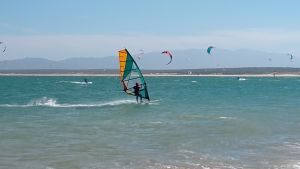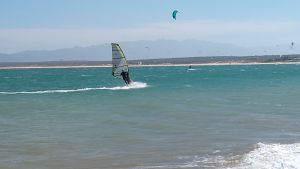 Previous | Next