2 Month windsurfing trip to La Ventana Mexico
La Ventana 12
Previous | Next
Went on my first hike yesterday, up a sandy "road" across from the campground, then on to pretty well marked trails, then up arroyos and across untracked terrain. There's a range of low mountains, maybe 2,000' feet high a few miles from the campground. Had wanted to get to the tops of them, but hiked to the base of that range instead. Probably an 8 mile hike. Everything is completely exotic. With recent rains, the landscape is really green. Great variety of cacti, shrubs and squat trees. Big sharp thorns everywhere. Have to be careful pushing through the brush. 2 giant rabbits ran past me. A type of tree shown in one of the attached pics has what appeared to be extremely swollen trunks. It was pretty much impossible to get lost. Go up the gradually sloping land towards the mountains, go back dowhnill to the main road, campground and beach. La Ventana has garbage pickup now, and stores don't give away plastic bags with purchases. I've been told the junk in the arroyos is much better now than it used to be, but the rough tracks going up the arroyos are lined with dumped garbage. Pretty depressing. You'd think they'd pick one or just a few spots to do this, but it's all over the place. See attached pics of garbage and a close up of many empty boxes of Viagra!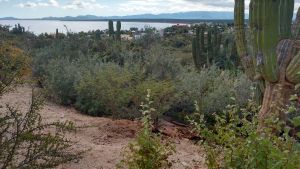 Looking east down towards the water from the rising trail.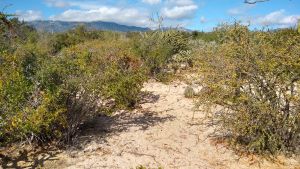 Mexican scrub.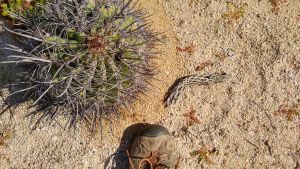 Barrel cactus.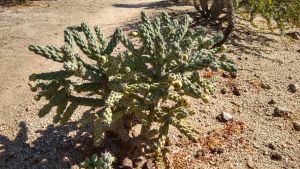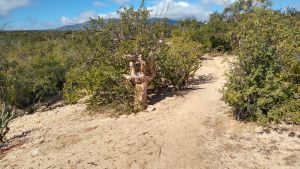 The trails were pretty easy to follow.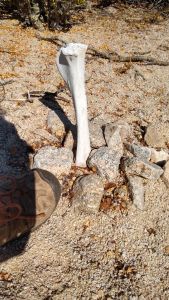 Sometimes marked with bones!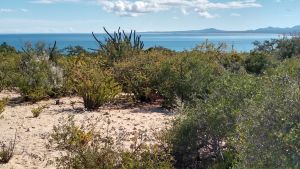 Looking back down to the water.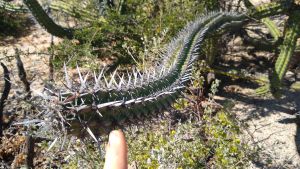 Careful!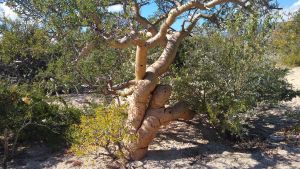 Swollen tree trunk.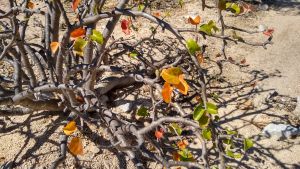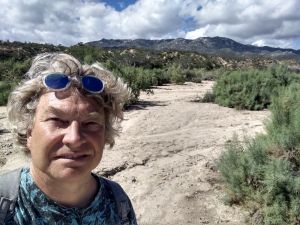 My goal was to hike to the base of the mountains in the background.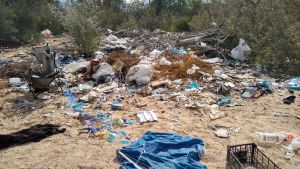 Garbage in an arroyo.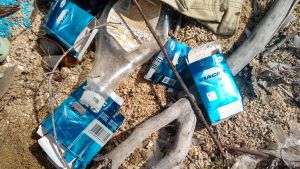 Viagra boxes in the garbage.
Big laundry day. Washed sheets and pillow cases after a month. What fun. Had a nice talk with Deb on the phone during my hike. Cell phone reception is excellent up there. Will be glad to see her. Supposed to be big wind tomorrow after a long spell of none. Seafood dinner at Marisco's tonight with my Serbian friend Mica to celebrate the Chinese new year. Jeri, tell Chris I was sorry to hear about the Superbowl.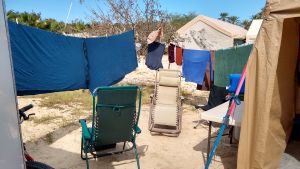 Drying laundry at the campsite. Didn't take long in the sun and breeze.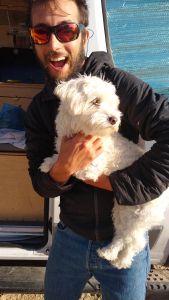 Neighbor Erik. That's not his dog.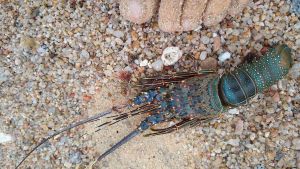 A tiny dead shellfish (lobster?) on the beach.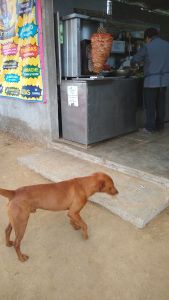 A dog hanging around the meat skewer at Taqueria dona paty.
Previous | Next