2 Month windsurfing trip to La Ventana Mexico
La Ventana 9
Previous | Next
I played/sang an open mike night at Pablo's (across the street from the campground) on Thursday. Only did one song, by Sam the Sham and the Pharos, called "Little Red Riding Hood". There were maybe 50-80 people in the place, some of them performers. I was second to last. Stood outside the back door looking in for about 10 minutes before I went in and signed up. Was sort of an out of body experience watching myself write my name on the list and then sitting down with dread. There are some very good singers and musicians that perform there. When it was my turn I started out saying this was my first open mike night. Plenty of appreciative applause and whooping when I said that. Smiles when I said who the song was by, and when I mentioned it was popularized by the Royal Guardsmen on the same album that included Snoopy vs. the Red Baron. Most people in the audience were old enough to remember the song, and their faces seemed to light up the moment I sang "Hey there little red riding hood...". The song requires howling at various points, and I did howl. Blew one chord, but otherwise played OK. Lots of applause with hoots and hollers at the end. One guy said "Nailed it!" as I walked past him when I was done. Next day at the farmer's market, people I don't know walked up to me and shook my hand and said congratulations, or "that was great", etc. There are a fair number of songs performed that people wrote themselves. So I'm writing one know about kiters and windsurfers for next Thursday. There's some animosity between them, much like skiers vs. snowboarders. Right of way on the water is a constant issue for me. Anyway, the first verse goes:
I'm a windsurfer, not a kiter
I'm a lover, not a fighter
So just give me a half an acre so I can jibe
Hope to have verses about kiters' irritation with windsurfers leaving their gear all over the beach and the right of way issue.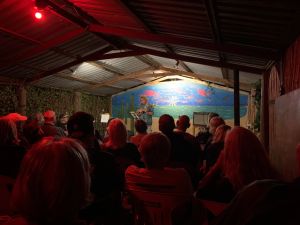 Me singing "Hey there Little Red Riding Hood" at Pablo's open mike night.
2 days of no/low wind yesterday and today. That's OK. I'm lying low a bit due to a water-clogged ear and a strained abdominal muscle. We had big wind 2 days ago and it took a toll on me. Have flushed my ear with hydrogen peroxide 3 times now, with alcohol once and it's still clogged. I don't think I have a hernia. Pancho told me he had one. The doctor told him to take a breath, close his mouth and nose and try to breath out. When he did, a bulge occurred near his groin indicating that he did indeed have a hernia. I tried this, and thankfully no bulge occurred.
Was walking back from buying beer at the local little store, with my six pack hanging from my fingers. A big SUV approached me with huge tires and wheels, jacked up.I was thinking to myself, that looks like a useful vehicle for down here, when the dude in the passenger seat saluted me by holding a beer in an icy cold pint glass up out of the window. You get away with more stuff in Mexico than you do in the states.
Previous | Next