2 Month windsurfing trip to La Ventana Mexico
La Ventana 3
Previous | Next
At Pablo's again with Pancho and Mica. Mica's trying to pick his Spanish name right now looking at Google. He just picked Miguel. So Pancho and Miguel.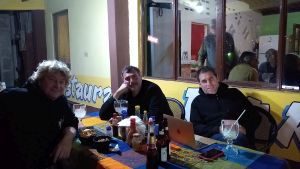 Drinks at Pablo's with Pancho and Miguel.
I think we've been here a week now, so 1/8 of the way through. Sailed 3 days now. Today, spectacular. Big swells all over the place. Fun to peel off the top of the wave down into the trough and do a jibe. The water is green-blue towards the shore and dark blue about 1/4 mile out. Windsurfers tend to go about a mile or 2 out. Interesting to be sailing outbound for a while and realize you're he only one out that far. Then carve down a big swell face to jibe shorewards. Fun! See the forecast below. It's complicated. There have been rains recently and the plants are really green. It makes the daily thermals less strong. Great for the last 3 days though. We'll see.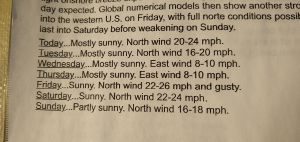 Pretty darn nice forecast.
Got 15 gallons of water from the campsite water vendor today. It filled my 30 gallon tank up all the way due to the slight slope I'm on, and the water already in there. All is OK now. One gets concerned when any of various things go low down here. Water, propane, battery level. It was 48 pesos per 5 gallons, so about $2.50 for 5 gallons. Totally worth it. I let Pancho charge his cell phone via my batteries today and ran my fairy lights (draped outside my van) for the first time today.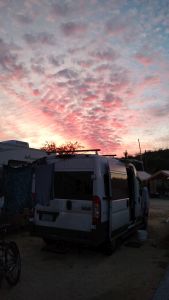 Sunset in the campground.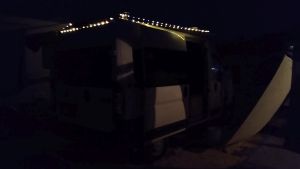 Fairy lights on my van.
Previous | Next