2 Month windsurfing trip to La Ventana Mexico
La Ventana 8
Previous | Next
Been cooking fish lately. There's a fish vendor at the south end of town that sells very good fish. Fresh fillets with no bones. It's a small place and there's just one cooler with the 4 types of fish they had displayed. I choose Bonita a couple of days ago and got a big piece that's lasted me for 2 meals, plus leftovers, for about $4. Slathered it with Italian salad dressing and put it on the grill. Spritz with water when flipping to keep it moist. I think it's the best fish I've ever had. Made it into 2 big tacos last night, and had it with rice, beans and avocados tonight. So delicious.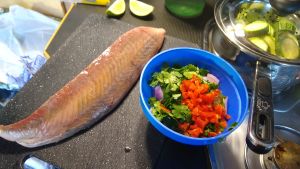 This Bonita is the best fish I've ever tasted.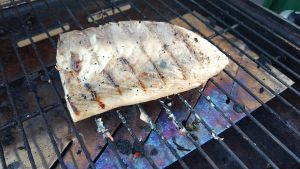 A chunk of it on my grill.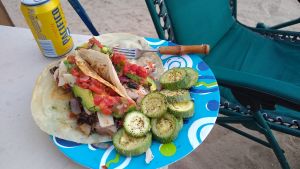 Fish tacos and zucchini.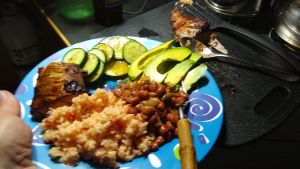 Fish.
Been windsurf hydrofoiling lately during some light wind days. Am getting better each time. Can go for long reaches now without crashing or smashing back down to the surface. Pretty fun slicing though and above the water silently at high speeds. There are maybe 10 windsurf foilers here. Some are very, very good. Watching them jibe is sublime. Pancho's getting pretty good now and pulls off some smooth jibes regularly. I on the other hand plop back down to the surface, tack, and then work to get back up on a foil again.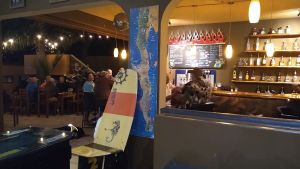 Baja Joe's interior where I'm internetting now.
Previous | Next