2 Month windsurfing trip to La Ventana Mexico
La Ventana 14
Previous | Next
Having a pina colada here at Baja Joe's with Pancho. We've both been sick with a bad cold for the past week. Lots of congestion. Glad to be on the tail end of it now though.
Finally went spearfishing with my pole spear, not my spear gun. The pole spear is about 5 feet long with 3 sharp prongs at the tip, and a loop of surgical tubing at the back end that you stretch and release to shoot the spear. Pancho and and I got a ride to a good snorkelling spot about a half hour drive from La Ventana with Tom Sullivan and his friend Trish in his 90s era Dodge van that's powered by propane. It stalled 4 times before we left the campground. We blocked the main road through town for a few minutes while he tried restarting it. I sat in a lawn chair in the back. I've snorkelled at this place before. It's pretty good. There's a tall coral shelf you can cruise along where fish like to hide and come of of voids and shelves in the coral. Pretty much like Maui in terms of variety and color of fish. Lots of trigger fish, angel fish, clown loaches, puffer fish and the like. Spear fishing totally changes snorkelling. Suddenly you're looking for big fish instead of pretty fish. Shooting the pole spear is pretty intuitive after the first shot or 2. Your range is really only about as long as the spear, so you gotta get close. I took home 2 fish. It took me 3 shots to get the first fish. After missing the first time I basically hunted that fish and finally got it. It was colorful and not as big as I'd hoped I'd get. Then I got one more that was bigger. Good enough for tacos! My spear hit a 3rd fish, but it got away. Trish, Tom's friend, is a vegetarian and was pretty peeved about me pole spearfishing. She called them "aquarium fish". Anyway, they were delicious.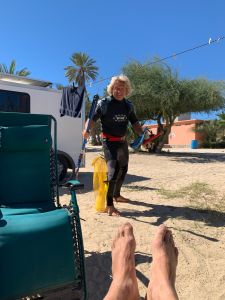 Going spearfishing. I tried using my cheapo spear gun. It was defective so I used my spear pole instead.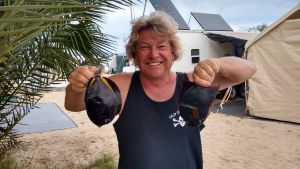 My catch.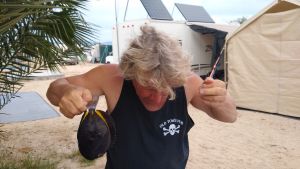 Whoops! They're pretty slippery.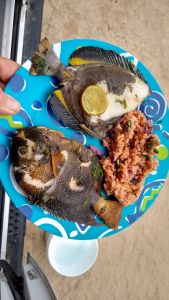 Cooked.
Pancho and I went for a mountain bike ride on "The south trails" just outside of town. They're great! Mostly level with maybe a 50' variation in vertical gain/loss. Twisty, winding, marked paths with wonderful desert plants. Lots of huge cacti to duck under. There were lots of signs identifying and describing specific plants.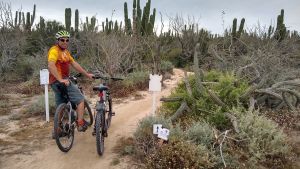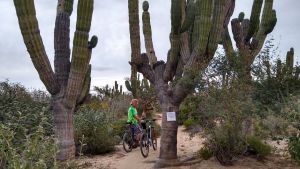 We had a dearth of wind while Pancho and I were sick. Maybe that was good so we could take it easy. Great wind the last 2 days though. Had a major breakthrough in foiling yesterday. Was able to foil without crashing or foiling out for unlimited length reaches. I didn't want to stop. Just wanted to foil on and on. Learned how to go upwind instead of a beam or broad reach. Learned how to handle gusts and stronger winds. The new foil is really great. It's fast. Had one explosive wipe out near shore on the way in when I got going way faster than I wanted to be going and then just lost it. Broke a buckle on my harness. Dave, one of the Bakersfield boys chuckled when I got in and said "that was some wipeout you had there". Today Mica and and I were out together. I got in front of him, he caught up, and we sailed at super high speed maybe 8 feet apart from each other for a good quarter mile or so. He was making Tarzan calls and I was woohooing. You're not supposed to sail so close to each other since anyone can catastrophically wipe out at any moment and take down the other person too. Crazy fun though.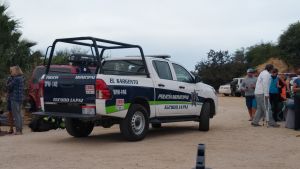 A police truck at the farmer's market. They're equipped with benches in the back. I guess you could arrest 8 people at once and handcuff them to the roll bar.
Only 10 more days to go until we leave for home.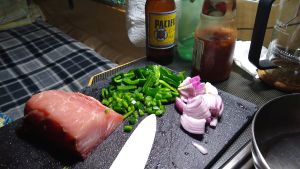 Another fish dinner.
Previous | Next