2 Month windsurfing trip to La Ventana Mexico
La Ventana 13
Previous | Next
Pancho thinks he cracked a rib diving for a volleyball. Landed with his fist between his chest and the ground. He's also at the tail end of a cold with a cough. Hurts like hell to cough with a cracked or broken rib. Sailing is difficult too. He's considering flying to San Francisco to spend a week or so with his Dad, getting back in time to pack up for the drive home. He'd have to take a shuttle van to/from Cabos San Lucas where the airport is. No flights in and out of La Paz (closer) from the states. We paid for the remainder of our days in the campground today. Our plan is to leave for home on the 24th.
Went out to dinner at Marisco's the other night. I had Rellenos camarones a la diabla and a caprese salad. That's shrimp in chile rellenos with a spicy cream sauce. So fantastic. Frank had a gargantuan plate of pasta a la diabla. Still making tacos in my van. Fish and chorizo are my favorites. So great having the produce and seafood vendors prowl the campground in their pickup trucks. I bought trigger fish today. Orange/beet juice shown in a pic below. Good for making margarita-like drinks.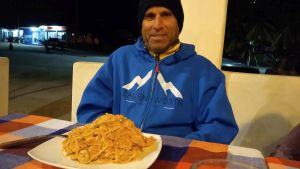 Pancho with his pasta a la diabla.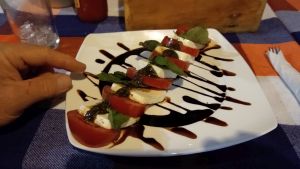 My Caprese salad.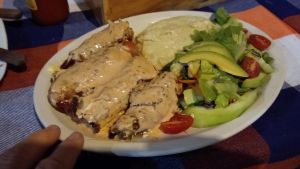 My camarones a la diabla. Best thing on Marisco's menu if you ask me.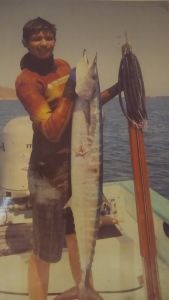 Another spearfishing photo on the wall at Marisco's.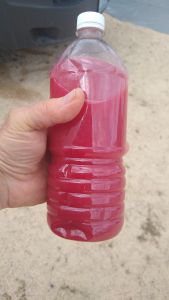 Fresh orange and beet juice.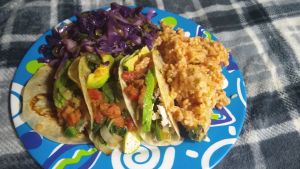 Trigger fish tacos.
I bought a new hydrofoil from Arne, of Tom and Arne. All carbon fiber. New, $2,400, but for me, $500 used. Killer deal. Tom's last name is Headman, and Arne's is Hettman. Reminds me of the 2 cops in the Tin Tin books, Thompson and Thomson. I tried the foil the day after I bought it. It's more stable than my original one. I had a tendance to "foil out", where the wing on the foil would fly up and out of the water, resulting in smashing back down on the water from nearly 3 feet high at about 20 mph. Violent and terrifying. Didn't foil out once on my reach out away from the beach. Much better.
The last 2 days of wind have been spectacular. Mica and I did some drag racing across the swells yesterday. Fun to be right next to someone going 25 mph across swells 4 to 6 feet high. You really have to watch what's coming up. So fun though. It does get spooky when you're the farthest person out from shore. That seems to happen at about the 2 mile mark in my estimation. 2 days ago I had a harness line break while heading back towards shore, but way out there. That's a loop of line that hangs from the boom. You wear a seat harness with a hook that hooks onto the harness line. It lets you hang from the boom without wearing out your arm muscles. It broke with an explosive pop that resulted in a wipeout. Then had to sail more than a mile back in without using my harness. Whoo, I was sore that night.
Previous | Next