30 Days in Europe with Evan
June 19, 2013 - Spain
Next
Getting to Spain... First a car ride to the ferry (thank you Max), ferry ride to Seattle, light rail ride to the airport, a 5 hour flight toPhiladelphia, a 1:45 layover, an 8 hour flight to Barcelona, then a 20 minute bus ride to downtown Barcelona. Saw snowy Pyrenees on the way in, they're much bigger than I thought they'd be. 60 degrees in Barcelona, sunny. Had an easy time finding the Aerobus to Placa de Catalunya after going through customs. Got the 1 euro map at the tourist info center, then walked down Las Ramblas to our hotel, Opera Rambla. Dropped of bags and took a daypack with bare essentials (flops, water, maps) with us. Despite being sleep-deprived (effectively no sleep for me on the Barcelona flight), we made a go of touring the town. Went through the Boqueria market first. Lots of great looking seafood and fish I'm not familiar with.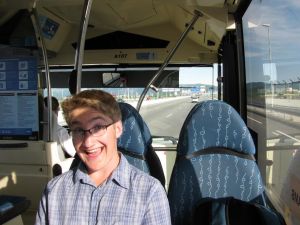 Evan on the bus from the Barcelona aiport to downtown.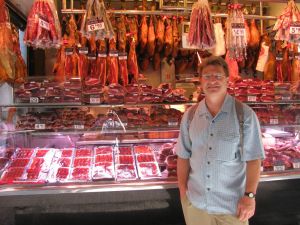 Me at a meat stall in the Boqueria market.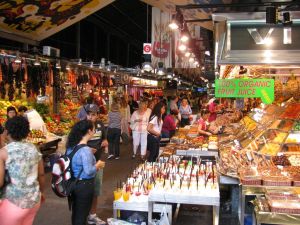 Stalls in the Boqueria market.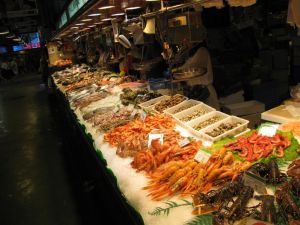 Lots o' seafood.
Walked into the Barri Gotic, toured the very impressive Cathedral of Barcelona. It's huge. Towering stone columns with vaulted ceilings. Paid the 3 euro fee to take the elevator to the roof. They were working on the roof, installing new stones and tiles. Nice views out to the Mediterranean. Saw the geese in the cloisters, and the fountains. Beautiful.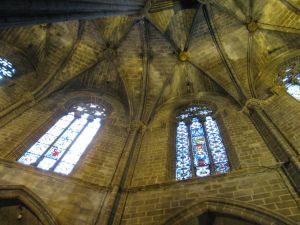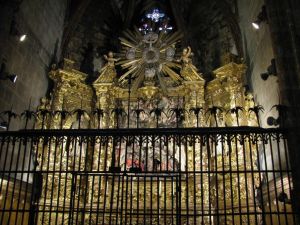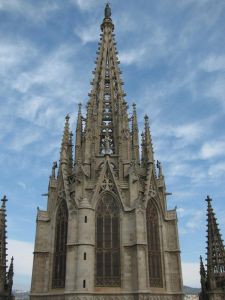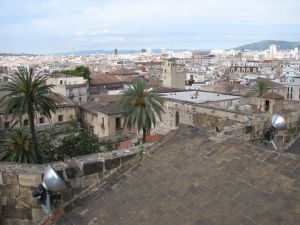 View from the cathedral roof.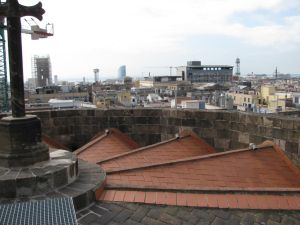 View from the cathedral roof.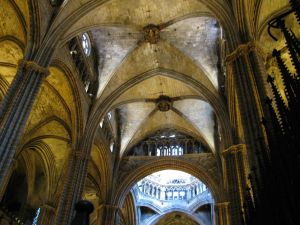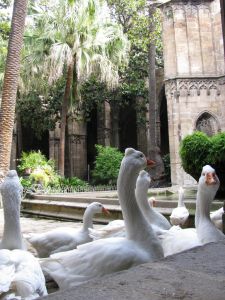 The geese in the cloister.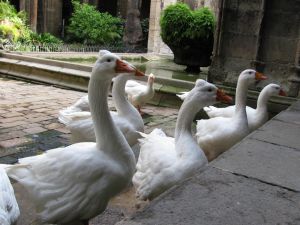 Geese in the cloister.
Walked on down to the waterfront. Many mopeds, many people on rental bikes. Switched to flip flops and stored the shoes, much better. Decided to eat. Evan wanted one of the sandwiches we saw earlier, salami and cheese for him, cheese and tomato for me. Eh. Back to the tourist information office at Placa de Catalunya where we bought SARFA bus tickets to Cadaques and Figueras for the next legs of the trip. Then into the metro. Had some trouble with the ticket machines since they wouldn't take a 50 euro note, my debit card or my credit card. Had to buy a chocolate croissant to get change. A 10 euro note worked, and we bought a 10 trip pass. Evan's better at dealing with ticket machines than I am. 2 trains later we were at Gaudi's Familia cathedral. It's very much under construction and largely shrouded in safety netting. Still impressive. Didn't go in because we were there at the worst possible time and the line was super long. Back to the metro and our hotel where we checked in and took a nap. Wow. Did we ever need the nap. Did the laundry in the hotel sink thing and hung clothes by the window.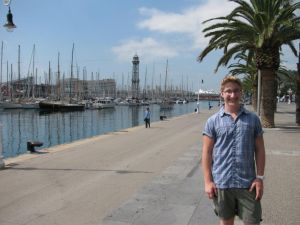 Evan at the waterfront.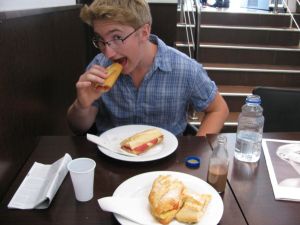 First meal in Barcelona. Not too adventurous, a sandwich.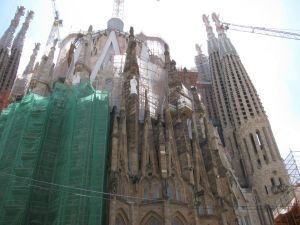 Gaudi's Familia cathedral, shrouded in scaffolding.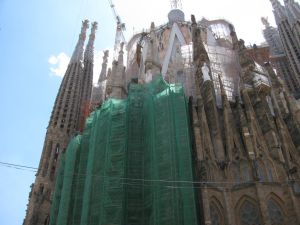 Gaudi's Familia cathedral.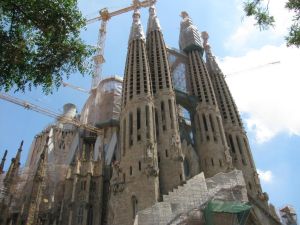 Gaudi's Familia cathedral.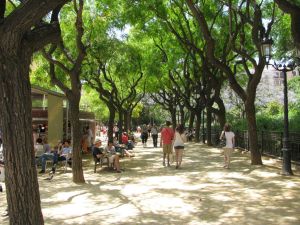 A park across the street from Gaudi's Familia cathedral.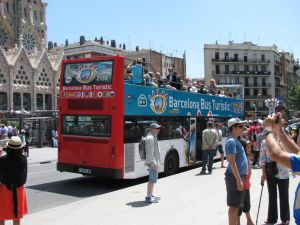 A tour bus near Gaudi's Familia cathedral.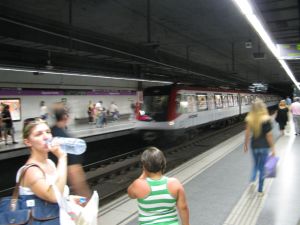 A Barcelona subway, on the way back to our hotel from Gaudi's Familia cathedral.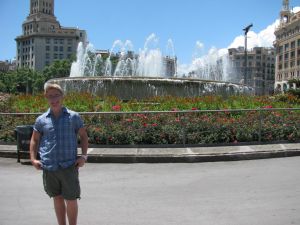 Back at Placa de Catalunya.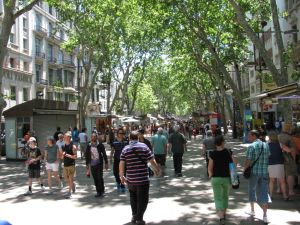 Las Ramblas, mid-day.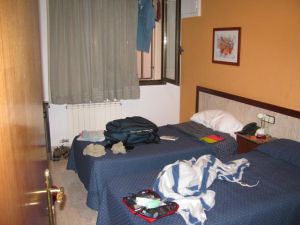 Our room at Opera Rambla, about a block off Las Ramblas.
Showered, changed, lounged a bit more and then headed out to dinner at about 8:00. Apparently locals eat after 9:00 PM, so we joined other tourists at the Rick Steves-recommended La Crema Canela chain restaurant not far from our hotel in the Barri Gothic. You'd never know it was a chain. Had a GREAT meal. Evan ordered beef with parmesean cheese on "rocket", which turned out to be some greens. I ordered tuna (rare) with a tomato salsa. Had a mozzarella, basel, tomato salad with oil that was very nice. That was the best tuna I've ever had. 2 nice glasses of house white. All this served at an outdoor table in a courtyard under an awning. Lots of passers by that were interesting to observe. Walked around the neighborhood afterwards and got some italian style gelati. At about 10:00 PM we were both tired and headed back to our hotel.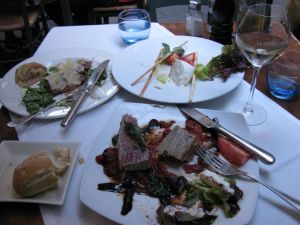 Dinner. Tuna for me in the foreground. Delicious.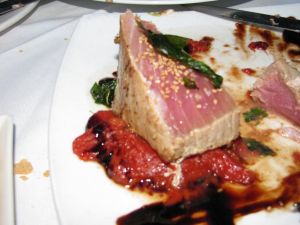 My tuna.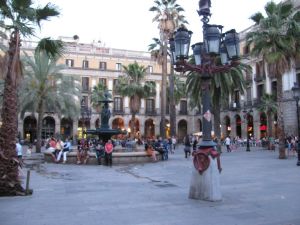 Placa Reila, next to our restaurant La Crema Canela.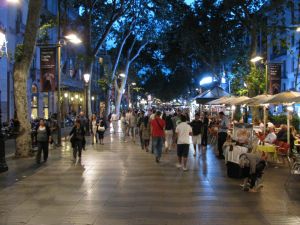 Las Ramblas at night.
Next