30 Days in Europe with Evan
July 1, 2013 - France
Prev | Next
Woke to clear, sunny skies. Packed. Hit a bakery on the way to the train station where we got a pain au chocolate, 2 croissants and one big cafe au lait for me. Made it to the train station with plenty of time. Saw a really interesting bicycle of sorts, somewhat like the pump bike I made years ago that operated by jumping up and down on it. This one was like an exercise machine where you stepped up and down to cycle connecting rods that went to a rear set of cranks that drove the rear wheel by a chain. Looked to be made of carbon fiber, and very expensive. This morning's newspaper said that there were 1,200 participants in yesterday's triathalon in Annecy.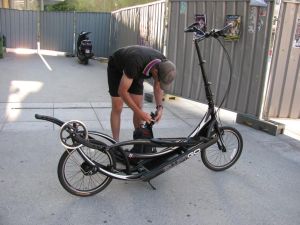 Interesting and strange 'bicycle' at the train station.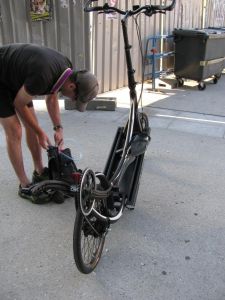 All carbon fiber. Must be very expensive.
Caught the 7:30 train from Annecy to St. Gervais, where then switched to a bus for the final leg to Chamonix. Interesting to watch the landscape change to larger and larger mountains. Then, there it was, Mt. Blanc. It's big and snowy. Lots of other large peaks nearby too. Chamonix is a pretty town. This place reminds be a bit of Whistler BC, but older and less Disney architecture as is in Whistler. I felt rushed to start hiking that day since it's supposed to rain on Wednesday and I want to get at least 2 good hikes in. Turns out the snow level is so low that some of the normally accessible hikes are snowed in and require using crampons. We bought the usual lunch fair at a grocery store, stopped in for advice and a map at the tourist office, then walked 10 minutes up the steep hill to the Planpraz lift, paid the 28 euro round trip fee for us and headed up.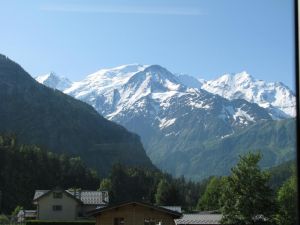 Our first view of Mt. Blanc.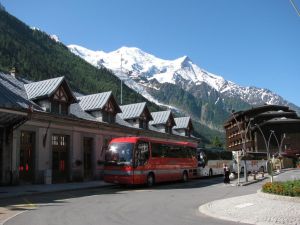 The Chamonix train station, evidently now only served by buses.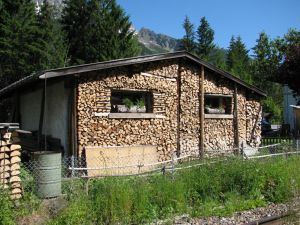 Firwood stacked by a building.

A stone roof.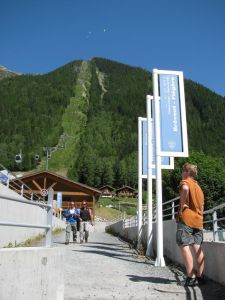 The Planpraz lift.
At first we were seated looking ahead, but then turned around to face to the rear where Mt. Blanc was. It got more and more spectacular as we rose, and eventually reached the top. Truly an awesome view. This was the paraglider pilot's launch site too. We sat and watched some take off and line up like in a parade to head out to the house thermal and then rise up.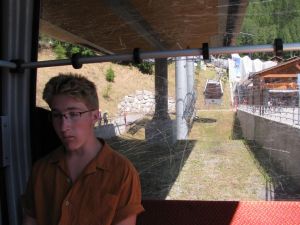 Evan on the lift.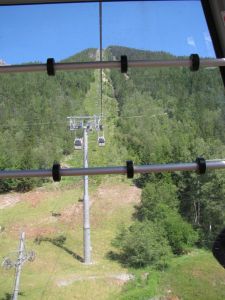 Heading up.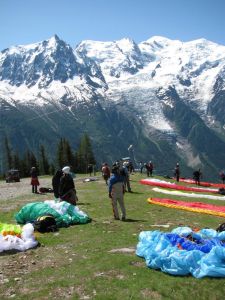 Paragliders at the top.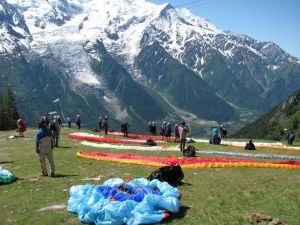 Their launch site.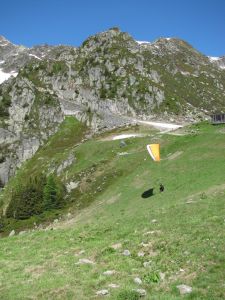 Launch.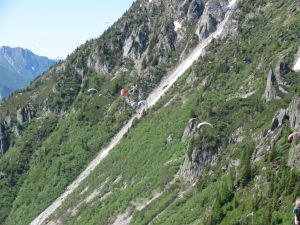 A parade of paragliders heading out to the house thermal.
We took this lift to hike the south "balcony", which doesn't gain or loose much elevation, but traverses a bench with constant incredible views of Mt. Blank, the Needles and the Mer du Glace glacier. It's about a 2 hour hike, but with a picnic lunch we made it about 3. Looked a lot like any hike in the Alpine lakes region of the cascades. Evan took of trail running near the end and doubled back to rejoin me. We lingered in some lounge chairs at the top of Le Flegere lift before heading back down. Then walked through trails in a nice park back to our hostel, the Chamonaird Volant. Definitely not a youth hostel. Everyone here is older, which is fine. I showered. We picked up some discs and headed back to the park for some impromptu disc golf. Then back to the hostel for a nap and some reading before dinner at 7:30. Went down to the main dining hall where shredded carrots, lettuce with no dressing, bread, spaghetti and a fruit cup were served. Pretty basic but plenty of it. Am upstairs in our room for 4 now. We're rooming with a French guy, and an American guy who's starting the 10 day Tour de Mt. Blanc hike tomorrow. He had to buy crampons.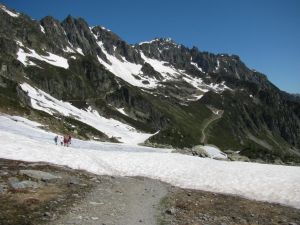 We begin our hike through some snow fields.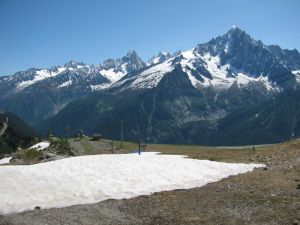 View across the valley.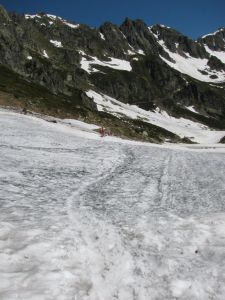 Hiking across snow.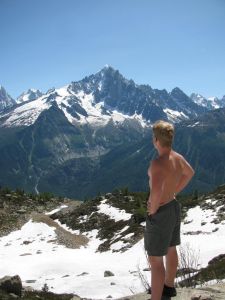 Evan enjoying a mountain view.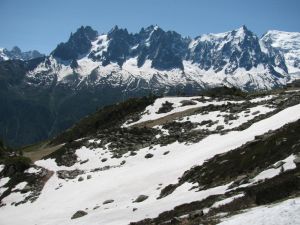 Looking across at The Needles.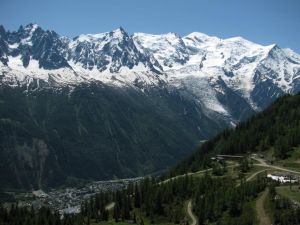 Towards Mt. Blanc.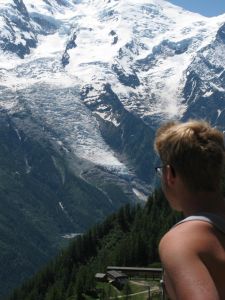 Evan again.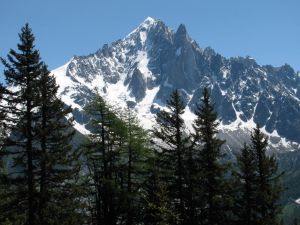 The Needles.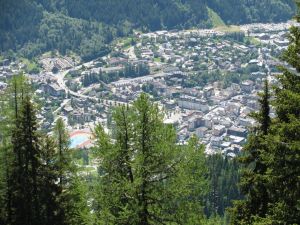 Looking down at Chamonix.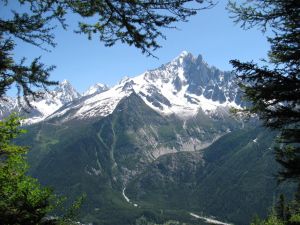 Across the valley.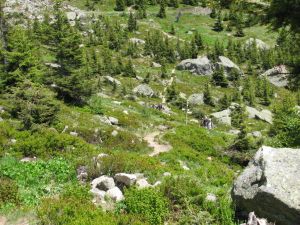 Our trail.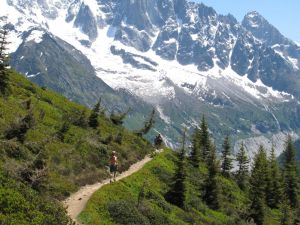 Evan trail running.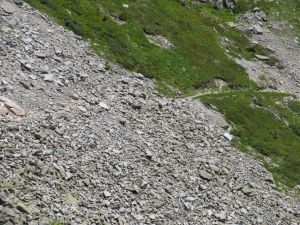 Evan disappearing.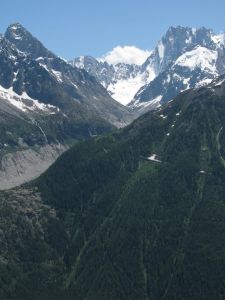 Looking up towards the Mer du Glace glacier.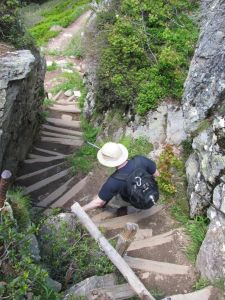 Steps on the trail.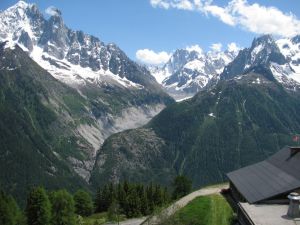 Again, the Mer du Glace glacier.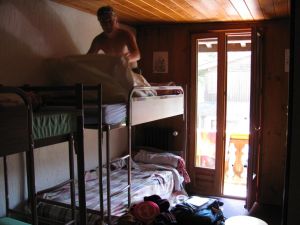 Evan making his bed in our hostel room at the Chamonaird Volant.
Prev | Next