30 Days in Europe with Evan
July 10, 2013 - Germany
Prev | Next
7:30 breakfast with frau Kurz. Took a picture of her with Evan like I did with Max 3 years ago, said our good byes and hoofed it on down into town to buy some goodies at the bakery for the long train ride. First St. Goar to Koblenz, then Koblenz to Oberhausen, then Oberhausen to Amsterdam.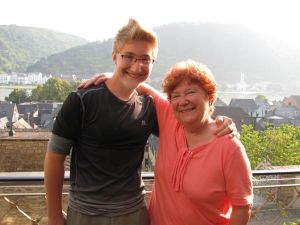 Evan and Frau Kurtz.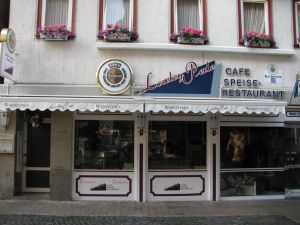 The Loreley Perle restaurant in St. Goar.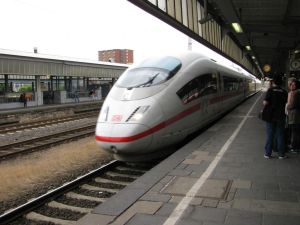 Our fast train out of Koblenz.
Got into town A-town at about 3:30 and easily found our way to Frederic Rent a Bike. It's pretty easy to navigate Amsterdam by following the well marked canals. They're really good about having street signs on each corner (hello, France???). We're staying in a really old house with about 4 floors. The path to our room is circuitous, with multiple staircases up and down, doors to open and close. Shower down the hall to the right, toilet and washroom through an inside door, and 2 outside doors and down a flight of stairs. Doors must be kept closed because of cats. Dogs are not to be petted because they're "unpredictable". Marte checked us in. He was born in this house and we're sleeping in his old bedroom, now named the "Picasso room". 2 single beds with a window out to a courtyard. It's quite and comfy, but funky. I went around the corner to talk with the bike shop guys and to see the bikes we'll have. Very upright riding position as is common with Dutch bikes, 7 speed internal hub gearing, and a rear rack. They have cheapo panniers for us to use that look like they'll be OK. Walked around in the rush hour traffic after that trying to find the recommended restaurant for dinner. Rush hour traffic here means thousands of bicycles. It's truly impressive, and you really have to check carefully before walking across an intersection before someone wearing a suit with a kid or two on their bike doesn't plow into you. To me, the bikes are really interesting. Lots of cargo bikes. They're long, with a big plywood box in the middle for hauling stuff and remote steering connected by a metal rod to the head tube shaft. Lots of bikes with porteur racks, which are sturdy tubular steel racks for hauling stuff mounted just in front of the handlebars. Also add-on kid seats and foot rests for perching a kid just in front of you. Many bikes with that, plus a kid seat in the rear!

Amsterdam canal.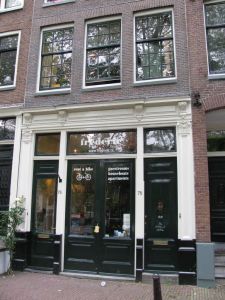 Frederic Rent a Bike B&B.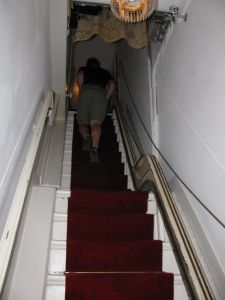 Night entrance stairs going up.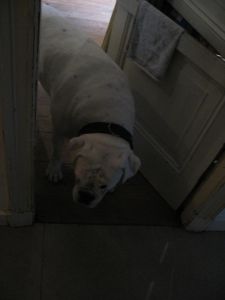 The dog you're not supposed to pet.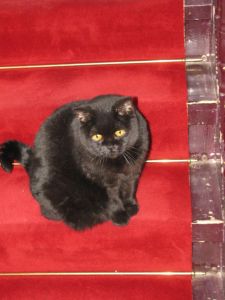 One of the cats you're not supposed to let through doorways.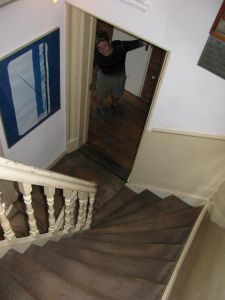 The other set of night entrance stairs going back down.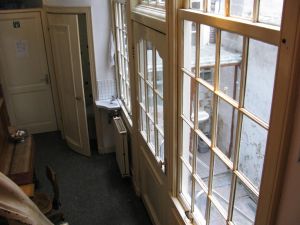 The bathroom is through the glass door, down the stairs and out in that courtyard.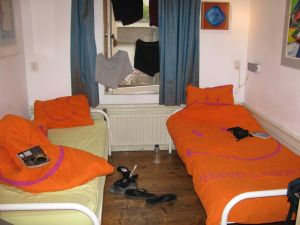 Our room at Frederic Rent a Bike. The Picasso room.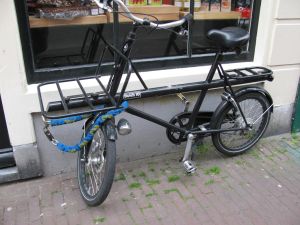 A cargo bike.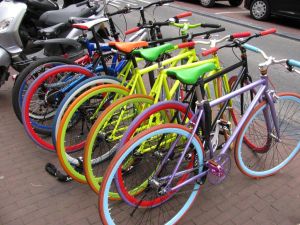 Bikes in Amsterdam.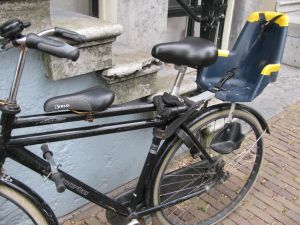 3 seats on this bike. Note the foot pegs below the front one.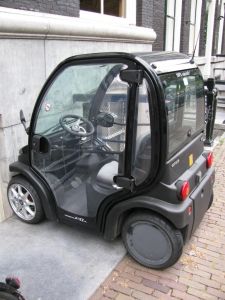 A small electric car.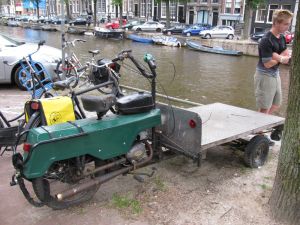 A 3-wheeled motorized cargo thingy.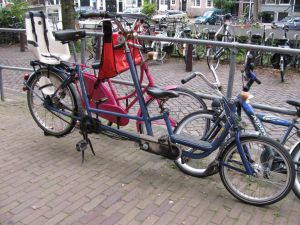 A kid-first tandem.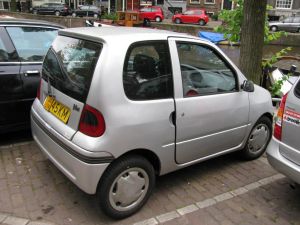 Yet another tiny car.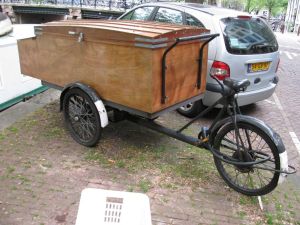 A cargo trike. At first I thought it was a hearse.
Evan and I went to an Indonesian restaurant called The Kanjtil Tiger for dinner. He had a single spiced pork dish with rice, I had one of the complete meals that includes 3 different meat dishes, 2 different veggie dishes, rice, and some interesting cracker-like things. Really delicious. Saw plenty of places to buy pot and other "energy" substances. Evan says he's not interested in seeing the Red Light district, but I'm thinking that all his friends will ask him about it so maybe I should march him right down there to see it. What do you say Debster? Tomorrow will start the day with the Rijksmuseum so Evan can see paintings by the Dutch masters. I love those folksy scenes and the amazing detail in their realism paintings of flowers. Maybe we'll see something by Heironymous Bosch.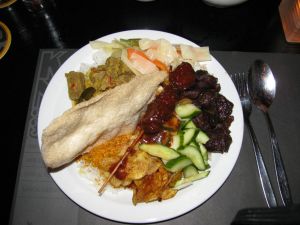 My 'complete meal' at the Kanjtil Tiger Indonesian resaurant in Amsterdam.
Prev | Next