30 Days in Europe with Evan
July 17, 2013 - Belguim
Prev | Next
Decent breakfast at the hostel, unlimited coffee. Bought a 5-ride metro pass and asked about buying train tickets to the airport for tomorrow morning. Then took the train 5 stops to Merode, where we got out to tour the Royal Military Historical Museum. It was pretty overwhelming. Endless displays of uniforms and weaponry. I can't imagine that any military museum is more complete than this one. Except for aircraft, most of the exhibits covered WWII and earlier, which was fine with me since I really came to see the aircraft. Indeed, they had a great collection of aircraft which I enjoyed. Spent maybe an hour and a half there. The Mercedes Benz museum is there too, but I figured it would pale to Munich's Transportation Museum which I've seen, so we headed back to the metro station. Evan's not into cars, so there's another reason to skip it. Had lunch at De Pestoli, which makes great sandwiches. Lots of Police in line there, so we figured it must be good and cheap too. It was, yum. They must go through hundreds of baguettes there a day. Time to do some shopping for souvenirs.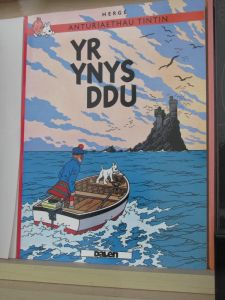 One can't help but wonder in what language this Tintin book is published.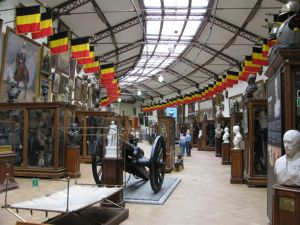 The Royal Military Historical Museum.

That's Evan.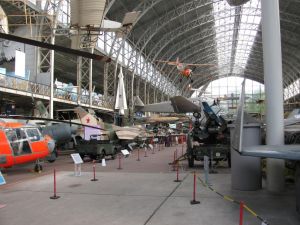 Aircraft in the museum.

A honkingly huge Sikorski helicopter.

Strange biplane where the lower wing also serves as the elevators.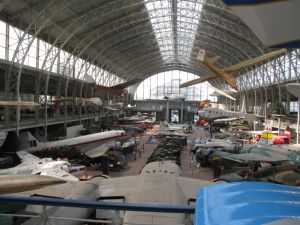 From the balcony.
Went to the Tintin store and bought some things for Deb, Max and I. Tintin merchandise must be tightly controlled. It's only sold in a couple of stores. You see no Tintin merchandise in the typical tourist shops selling Manneken-Pis statues and french fry refrigerator magnets. I've been to 2 other Tintin stores, one in San Francisco and one at Chateau Cheverny, which is what Captain Haddock's home is modeled after. There was much more inventory at Cheverny than either of the other 2 stores. We read that you can buy good quality chocolates in grocery stores that's much cheaper than that sold in stores like Godiva, so we hit a grocery store to buy chocolates. Also bought supplies for dinner since we were getting low on euros and didn't want to have to make another bank machine stop. Evan thought it would be fitting for our last dinner to be a baguette, some cheese, sausage, pate for me, and fruit. We fetched our bags from our locker in the hostel and took the metro to the Ste. Catherine district where our room at the Hotel Ibis was. Evan was happy to see that we were in a "real" hotel. There is something nice about having your own private bathroom plus air conditioning. After checking in we walked around the neighborhood. This is the fish market area evidently. There was a Nordsee there, which is a fast food seafood chain that sells great sandwiches. Max and I liked the one in Munich a lot. Unfortunately this one was closed while it was being renovated. So, we sat at a table in the square under some shady trees and I ordered a couple of Belgian beers. First a Chimay Blue, then an Orval. A father and young son were playing violin music there. The boy, maybe 10 years old at most had a normal violin, and the father played one similar to those that we saw in the musical instrument museum that had a brass horn used to amplify the sound. It sounded like gypsy music. In fact they looked like what you'd imagine a gypsy to look like. I gave the kid 2 euros when he held a cup out to me. No one else around us gave him anything. Eventually they left and an accordion player came. Nice to sit in the shade outside on a warm day and have good beer while listening to gypsy music. Eventually we headed back to our room and ate, read and slept.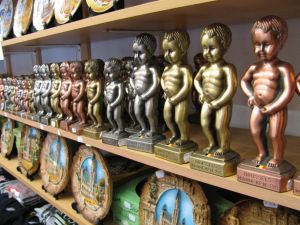 Manneken-Pis statues in a souvenir shop.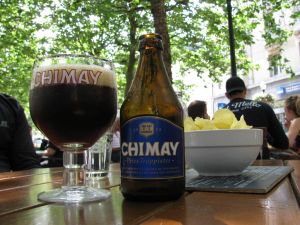 One of the more well known Belguim beers.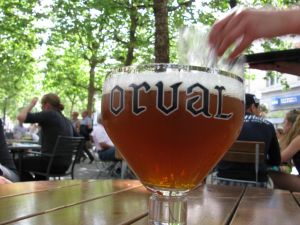 And another.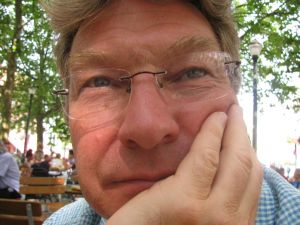 Moi, taken by Evan at a square in the Ste. Catherine district.
Prev | Next